Whether you have a broken garage door or need a replacement, our expert team of AAA Garage Door is here for you. If you want to increase security or want your home to look appealing, we can do it with the utmost precision and professionalism. AAA Garage Door is the best place for any garage door repair and installation in Auburn, WA. We meet all your needs!
Our knowledgeable technicians can handle a variety of garage door issues. Here is a brief description of our most frequent problems–
Broken Springs:

The door can be heavy and challenging to open or close with broken springs. Your garage door's balance and functionality can be restored by our professionals replacing the broken springs.

Malfunctioning Openers:

A garage door opener that isn't functioning can be annoying and inconvenient. Our technicians can identify and fix

garage door opener repair in Auburn, WA

, ensuring a hassle-free and dependable operation.

Misaligned Tracks:

Misaligned tracks may cause an uneven operation or a stuck garage door. Our crew will realign how to ensure your door slides along the rails easily.

Damaged Panels:

Cracks and damaged panels can impact your garage door's appearance and functionality. We provide panel repair or replacement services to restore your door's integrity.

Faulty Cables:

The garage door won't open or close properly if the cables are worn out or damaged. In such cases, our technicians will replace the defective lines safely and effectively. 

Garage Door Replacement: We evaluate your requirements, recommend the ideal garage door style, and guarantee a flawless installation. You can enjoy increased safety, improved energy efficiency, and stunning visual appeal with a new garage door with our garage door replacement in Auburn, WA.
Commercial Garage Door Repair: Our repair process includes commercial garage door repair in Auburn, WA, where our expertise includes skilled technicians who can repair doors in commercial properties.
Regular garage door maintenance is essential to ensuring its longevity and smooth operation. Our thorough maintenance services intend to stop potential problems before they become serious.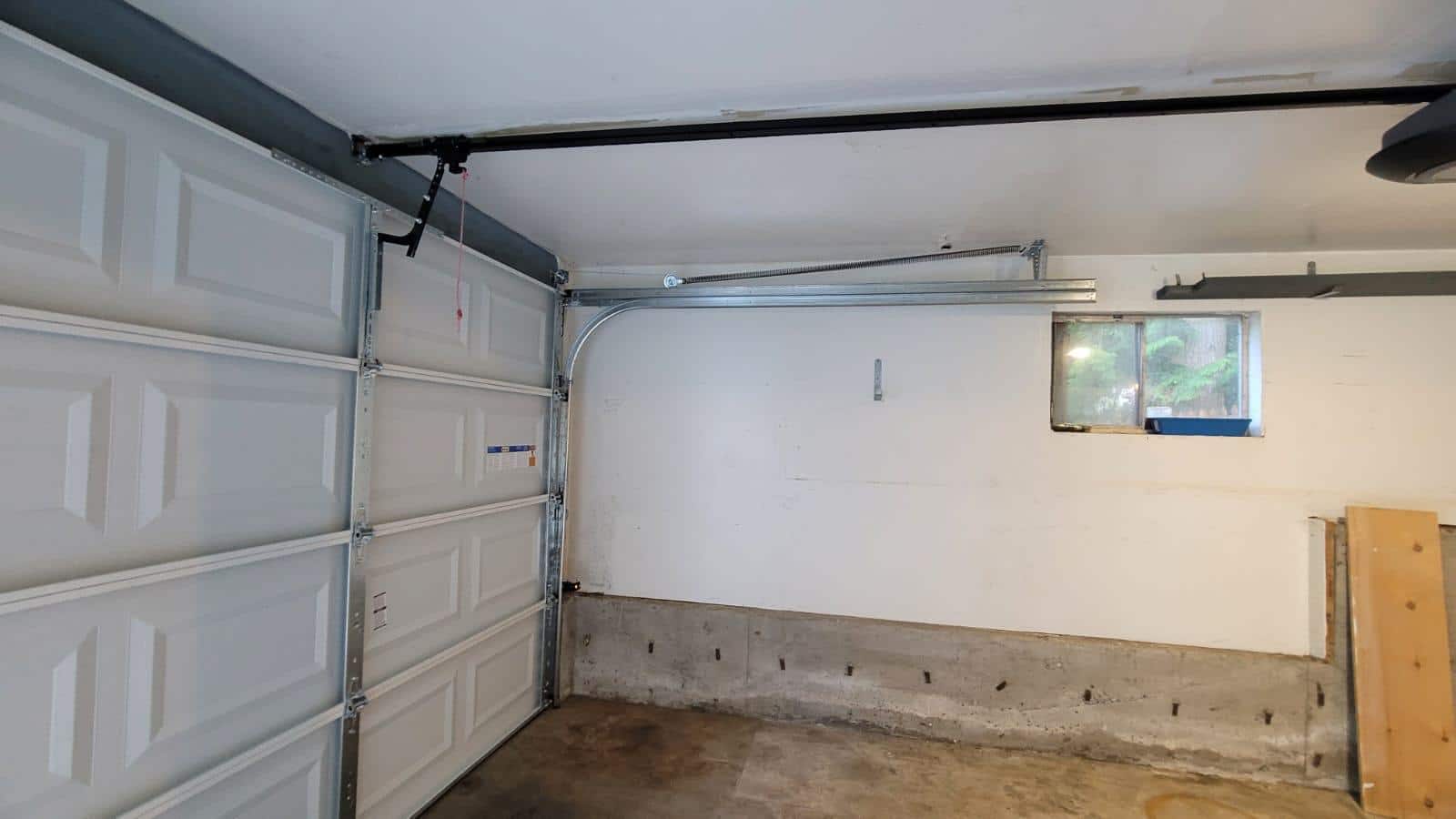 Garage Door Repair Process At AAA Garage Door
To ensure your garage door is in perfect condition, we thoroughly inspect, lubricate moving parts, tighten slack hardware, and make necessary adjustments. Our professionals use various tools to repair garage doors quickly and effectively. Such as–
Wrenches & Screwdrivers, 

Pliers & Pry Bars,

Hammer & Rubber Mallet,

High-Quality Lubricants,

The stock

 of Replacement Parts – Springs, Cables, Rollers, and Hinges
Our repair procedures are as follows–
✓ Inspection and assessment
 Our team of experts with years of experience and training will examine your garage door extensively. By doing this, we can identify problem areas and determine the extent of dysfunction or damage.
✓ Repair/Replacement
After the assessment, we decide whether a repair or replacement is necessary based on its results. After receiving your approval, our technicians will walk you through the suggested solution.
✓ Professional Repair
Our skilled technicians use the proper equipment and procedures to efficiently repair or replace the damaged parts of your garage door. Our services extend to commercial garage door repair in Auburn, WA, where we ensure the garage door to your commercial property is repaired properly. 
✓ Testing and Safety Check
 After the repair, we perform a test to check the door's functionality and ensure all safety features are in place.
✓ Client satisfaction
We value our clients and put a lot of effort into meeting your expectations and satisfying them with our commendable services. At our business, we prioritize your happiness. 
Contact our knowledgeable team immediately for efficient garage door installation, repair, and maintenance services in Auburn, WA. Work with experts like AAA Garage Door, as we are a team of trained professionals delivering excellence in all aspects of their work. You'll notice the difference when you work with professionals. We also provide garage door spring repair, openers, and parts in Auburn, WA. 
Benefits of Professional Garage Door Repair and Installation Services 
If you are looking for safe and secure garage door services, then choose us for your garage door services, and you can enjoy the following benefits with us–
We know how to handle any door, whether an old-fashioned overhead door, a contemporary sectional door, or a specialty door.

We know a broken garage door can interfere with daily activities and jeopardize security. We prioritize prompt service because of this and work to solve your garage door problems as soon as possible. 

Our team has 24/7 availability for repairs to get your garage door back in working order.

We can handle everything, from replacing openers and tracks to mending damaged springs and cables.

We provide affordable pricing without sacrificing the caliber of our work. Our objective is to offer affordable solutions that satisfy your financial needs.

Our expert garage door installation and repair services offer exceptional quality and peace of mind.
Range of Garage Door Options Available for Installation in Auburn, WA
AAA Garage Door delivers garage door installation service in Auburn, WA, for various garage door options to meet your unique requirements and preferences. We have the ideal garage door for you, whether you prefer a traditional design or a contemporary style. 
Our top picks are Standard Doors, Sectional Doors, Specialty Doors, and Commercial Doors. The traditional doors will give an elegant look to your door, whereas the sectional will save space and give a modern look. 
Don't worry; we have more. We offer custom specialty doors like carriage-style and glass doors if you have particular requirements or aesthetic preferences. Additionally, we provide various commercial garage door options for Auburn businesses, such as Rolling Steel, Sectional, and High-Speed Doors. You get to choose custom garage door options for your garage door installation. 
You can count on high-quality products and professional assistance when choosing AAA Garage Door for your garage door installation and repair in Auburn, WA. Call us immediately to discuss your garage door requirements and arrange a consultation.
Why Choose AAA Garage Door for Repair and Installation 
Our group of professionals has in-depth knowledge and practical experience working with different garage door models and brands. We value prompt, effective service because we recognize the importance of a working garage door. 
The caliber of our work reflects our dedication to excellence. We deliver exceptional results by utilizing premium materials and cutting-edge techniques. We truly believe that everyone should have access to high-quality garage door services. Because of this, we provide affordable pricing without sacrificing the caliber of our work. Contact us today.
We're Just A Call Away!
Trust our knowledgeable team to handle all your professional garage door installation and repair needs in Auburn, WA. Call us immediately at (206) 309-8798 to arrange a service or inquire.
Areas We Serve In Auburn, WA
We provide our garage door repair and installation services in the following Auburn, WA neighborhoods:
Auburn University
Cedar Brook
Windsor Forest
Windway
Willow Creek Farms
Frequently Asked Questions (FAQs)
The garage door repair cost in Auburn, WA, can range between $208 and $454 per project. The average price falls around $325. Factors that can impact this cost are:
The severity of the damage

The type of garage door

The parts required to fix the damage
Contact us directly to know the estimate.
The most expensive parts of a garage door are openers, springs, rollers, tracks, and panels. The opener repair typically costs $172 to $381 per project, while the spring repair can cost in the range of $150 to $350 per replacement. Moreover, the labor cost of installing a garage door panel can fall around $500, plus the cost of the panel that your garage door needs. The change in the cost depends on the gravity of damage to the part. To know what it will cost you to repair a specific part of a garage door, contact us directly.
Here is the process for fixing a garage door panel are:
Purchase a new, exact-fit panel

Make sure you have all the tools and equipment you need

Clamp one track below the roller and one above the roller using locking pliers

Remove the cable from the pin on the bottom edge of the bottom panel

Remove the lag screws from the bottom half of the hinge that connects the bottom panel to the second panel of the hinge

Install a new panel using the same screws and hinges
This process can be dangerous if you are not a professional. We recommend an expert technician from AAA Garage Door, Auburn, to do the job.
The typical price for a garage door installation in Auburn, WA, ranges from $1200 to $10,600 per installation project depending on your required garage door. At AAA Garage Door, we firmly believe that quality service shouldn't be compromised because of the price. To find out the exact price for your garage door installation, contact us today and get a reliable solution at a pocket-friendly price.
Follow the steps below to repair a garage door cable:
Determine the type of door and spring cable you have

Open the door as far as it will open and place a step ladder under the door

Take locking pliers and lock them onto the track below the last roller

Locate the broken cable above the upper corners of the door

Unwind the cable and remove it

Remove the other end of the cable from the pin located at the bottom of the door

Install the new cable the same way
Replacing garage door cables can be dangerous if you don't know what you are doing. Get in touch with a qualified technician from AAA Garage Door today.
Removing and installing a garage door takes 4 to 6 hours. A replacement door compatible with the existing garage door system will generally take less time. However, if a garage door needs new system installation with the new door, it can take more time. Contact us to know exactly how long it would take to remove and install a garage door at your house.
Follow the steps below to repair a garage door frame:
Gather all the tools

Remove the trim safely to protect it from breaking away

Remove the old framing

Replace the new jamb and make sure it's an exact fit

Push the new jamb into the position

Install back the trim 
This procedure can be dangerous if you are not cautious. We recommend hiring a licensed professional to repair your garage's frame.
Yes. In many cases, a dented garage door can be fixed using grit sandpaper and filler for a fine result. The dent's extent determines if the repair technician can fix the dent. In cases where the dent is severe and extends to multiple panels, a garage door replacement may be necessary.