Are there spring problems causing your garage door to not operate properly? You may have a problem with your springs if you experience issues with your garage door, including uneven movement, difficulty opening or closing, or strange noises. We at AAA Garage Door are here to offer the ideal solution because we recognize the stress of broken garage door springs. Both torsion and extension garage door springs can have problems that our qualified technicians can easily fix. We are your dependable partner for timely and effective garage door spring repair in Tacoma, WA. So why wait? Get in touch with us right away.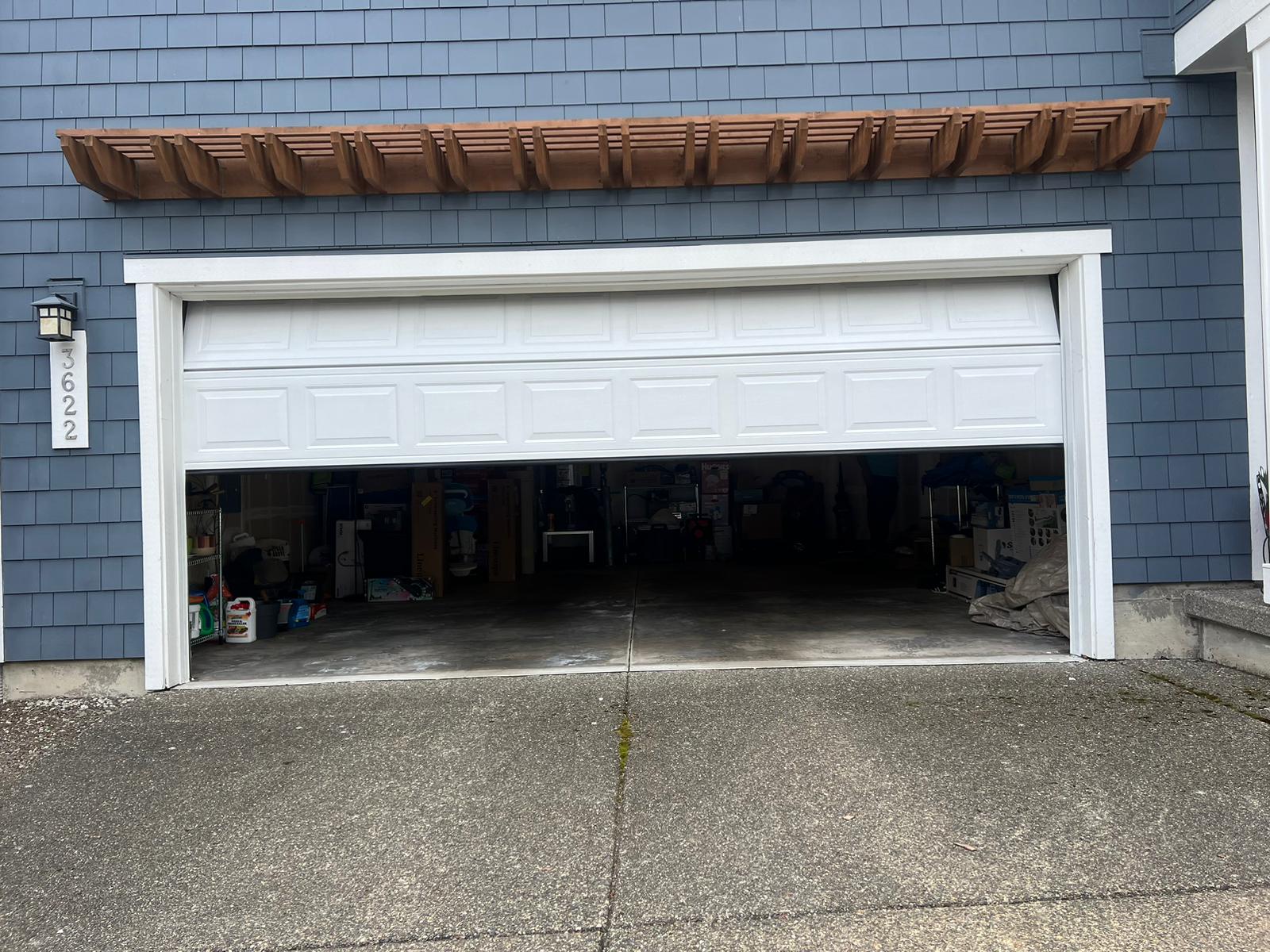 Get The Best Garage Door Spring Repair Services In Tacoma, WA
For your garage door to operate properly, garage door springs are essential. But they can eventually become worn out because of the ongoing tension they get. We at AAA Garage Door in Tacoma, WA, are experts in fixing a variety of spring-related problems, including:
Broken Springs – This common problem occurs when springs break from prolonged use or too much tension.
Misaligned Springs – Uneven door movement may result from improper spring alignment.
Rusted Springs – Rust can weaken the springs over time, impacting how well they function.
Problems with Torsion/Extension Springs – Torsion springs balance the door, whereas extension springs help lift and close doors. To ensure smooth movement, we fix and replace them.
To ensure that your garage door operates effectively, safely, and smoothly, our knowledgeable technicians in Tacoma identify the issue with the springs and provide practical solutions. We have well-trained technicians with the skills and tools to complete any garage door spring-related task, whether a straightforward adjustment or a full spring replacement.
We Fix All Kinds Of Garage Door Springs In Tacoma, WA
We provide all kinds of broken garage door spring repair in Tacoma, including torsion and extension. We also offer services for different types of broken garage door springs that require repair/replacement, including–
Torsion Springs
Torsion springs use torque, generating a twisting force that enables it to rotate. When you apply pressure to open or close the door by hand or a motor, the coils twist and coil on the shaft.
Some types of torsion springs are–
Standard Torsion Spring– We use different springs depending on the door's weight. You can use one spring for a door on the lighter side and two springs for a heavier door. You can find the torsion springs directly above the garage door, where the metal shaft goes through the springs.
Steel Rolling Torsion Spring– These torsion springs are more appropriate for commercial building use than other garage door springs. Instead of having a torsion shaft pass through it, you can find these springs inside a torsion barrel.
Early Set Torsion Spring– These torsion springs are more or less similar to the standard ones. You can find an early set torsion spring right in the middle of the shaft. There are two different types of hardware that you will find on both sides of the shaft, right beside the cable drum.
Torque Master Torsion Spring – The torque master is the safest torsion spring out of the four available types. You can find the torsion cones at the edges of the rods, which are inside a torsion shaft.
Extension Springs
The upper horizontal tracks are normal locations for extension springs on a garage door's side panels. You can use these springs when there is insufficient headroom to apply rear torsion springs. At AAA Garage Door Repair and Services, we have different types of extension springs:–
Open looped Extension Springs– This extension spring is the simplest to replace since it doesn't call for opening the eyebolt or taking the pulley apart. However, if even a small portion of the spring becomes damaged, you must replace the entire spring.
Double-Looped Extension Springs– Like their predecessors, double-looped extension springs have two sharp edges but function differently. Although they have a couple of coils attached to the eyebolt and the pulley at the end of the spring, they are more difficult to replace once damaged than the open-looped ones.
Clipped-ends Extension Springs– Clipped-ends garage door extension springs are the most durable type. They have clips at their ends, which causes the springs to endure the least stress. They can handle doors that weigh less than 200 pounds.
Our technicians have extensive skills that allow us to handle garage door spring repair in Tacoma, Washington, ensuring your garage door operates dependably and securely. We have the highest quality garage door parts.
Choose The Right Garage Door Spring For Replacement
Selecting the appropriate type and specifications when replacing/repairing garage door springs in Tacoma, WA. Depending on the door's weight, size, and usage, our knowledgeable technicians at AAA Garage Door can help you choose the right springs. To select the right garage door spring for replacement, you must go through the following steps–
First, you need to identify the type of broken spring (extensions/torsion) you want to replace.
Then, measure the length, inside diameter, and wire diameter of the spring you intend to replace and look for a new one with exact measurements.
Remember to measure the garage door's weight, including any supplemental weight from windows or insulation, as the spring will lift it.
If you are replacing the extension spring, calculate the total lift necessary for doors with extension springs, multiply the door's height by the number of springs, and select springs that can deliver this complete lift.
While replacing torsion springs, you must determine the torque of torsion springs indoors (typically expressed in inch- or foot-pounds). The door's weight determines this torque requirement. Manufacturers frequently provide charts that relate door weight to the required torsion spring torque.
When dealing with garage door springs, safety must always come first. Since garage door springs are usually under a lot of tension, replacing or installing them without the right skills and equipment can be dangerous.
Lastly, consult a qualified garage door technician like AAA Garage Door if you have questions about choosing or installing the right spring. Based on your particular door and circumstance, we can offer precise recommendations.
We ensure your new springs get installed/replaced correctly to ensure that they perform at their best and last the longest.
Get Professional Garage Door Spring Installation Services In Tacoma, WA
Professional installation is essential to guarantee safety and proper operation if your garage door springs are malfunctioning. AAA Garage Door in Tacoma, WA, offers professional garage door installation services for various spring-related issues. Our knowledgeable technicians commit to installing springs precisely, ensuring a smooth operating door with increased security.
Depending on the type of material used, some other types of springs are–
Oil-Tempered Springs– These springs are popular for sturdiness, and we use them in high-tension applications.
Roll-up door springs– We use roll-up door springs frequently in commercial settings; for effective operation, we repair roll-up door springs.
Torquemaster Springs– We provide specialized repair services for doors with Torquemaster systems.
Galvanized Springs– We provide repair services for galvanized springs, renowned for their resistance to rust and corrosion.
Cost Of Garage Door Spring Repair Services In Tacoma, WA
The cost of garage door spring repair services in Tacoma, WA, are–
| | | | |
| --- | --- | --- | --- |
| Spring Type | Springs (per spring) | Labor (per repair) | Replacement Cost (per project) |
| Single Torsion | $30 – $70 | $110 – $200 | $140 – $270 |
| Double Torsion | $50 – $100 | $150 – $250 | $200 – $350 |
| Single Extension | $20 – $40 | $100 – $120 | $120 – $160 |
| Double Extension | $30 – $50 | $130 – $150 | $160 – $200 |
Please remember that the kind of spring used (torsion/extension/galvanized) and how complicated the problem is will affect the cost of repairing a garage door spring.
Why Choose AAA Garage Door Repair Services?
Selecting a dependable and reputable provider when selecting your garage door repair service is essential. There are several good reasons that make AAA Garage Door stand out–
High-quality Parts – We use durable replacement springs of the highest quality, extending the lifespan of your garage door system.
Prioritize Safety – Safety comes first when repairing garage doors. Our technicians adhere to industry best practices to ensure secure and safe spring installations.
Expert Technicians – Our staff comprises skilled professionals focusing on garage door spring repair, providing dependable and effective services. We also offer garage door repair and garage door opener repair services.
Prompt Reaction – We know how urgent garage door spring problems are. Your issue will be dealt with right away, thanks to our quick response time.
Satisfaction of Customers – We provide exceptional service that leaves our clients happy and their garage doors operating without a hitch.
Contact Garage Door Spring Repair Experts in Tacoma, WA
For trustworthy and effective garage door spring repair services in Tacoma, WA, you can depend on the professionals at AAA Garage Door. We know how to handle all types of springs, including extension springs and torsion springs. We are prepared to provide excellent garage door solutions conveniently located in Tacoma, WA. With AAA Garage Door Repair, you can experience the comfort and security that a properly operating garage door provides. For a prompt and competent garage door spring repair in Tacoma, WA, get in touch with us right away.
Areas We Service In Tacoma, WA
Central Tacoma
Hilltop
Old Town
Proctor
South End
Stadium District
Three Bridges
West Slope
Frequently Asked Questions (FAQs)
In Tacoma, a garage door spring repair should cost anywhere from $116 to $582 (per repair). The average cost is about $292 (per repair). The price of a garage door spring (material only) varies from $30 to $160 (per spring). Depending on the kind of spring installed in Tacoma, Washington's garage door spring replacement costs can range from $200 to $330 (per repair). At AAA Garage Door, we provide excellent maintenance at a very reasonable price point.
It is possible to open a garage door manually with a broken spring. However, doing so will require more effort, as a broken spring will make lifting the door heavy. Only try to open your garage door if it is light enough to move. It can put you in danger. Our experienced technicians at AAA Garage Door can help you unlock the garage door safely and replace your broken spring.
Yes, you should replace both garage door springs when one breaks. By replacing both springs, you will have a better-functioning garage door. New springs also ensure a better balance in your garage door with smooth opening and closing. When your door relies only on one spring, it can result in safety issues and damage your garage door.
You can buy garage door springs at AAA Garage Door Repair in Tacoma. The team of skilled technicians at AAA Garage Door Repair Services is knowledgeable about different garage door models, their mechanisms, and common problems. Our knowledge correctly identifies issues and offers workable solutions. We are a repair service with a license and insurance, so you can be sure you're dealing with experts who follow the rules and regulations of the field.
Yes, you can replace garage door springs easily. Since these springs are under such high tension, unwinding and replacing them can be risky. Generally, a spring can last 10,000 cycles or about 12 years. However, due to poor maintenance, it can wear out early. You must consult professionals like AAA Garage Door Repair for a garage door inspection at least once every two to three years to monitor your springs. Additionally, regular tune-ups and lubrication can lengthen the life of a spring.