Suppose you're looking for spring repair or roller replacement, or your door is out-of-track. In that case, AAA Garage Door Repair is here to help, offering commercial and residential garage door repair. Whenever you have a problem with your door, we can assist you quickly and safely.
Correctly installing and repairing a garage door is essential for its proper functioning. However, attempting to do the job yourself puts you at risk of injury. So remember AAA Garage Door!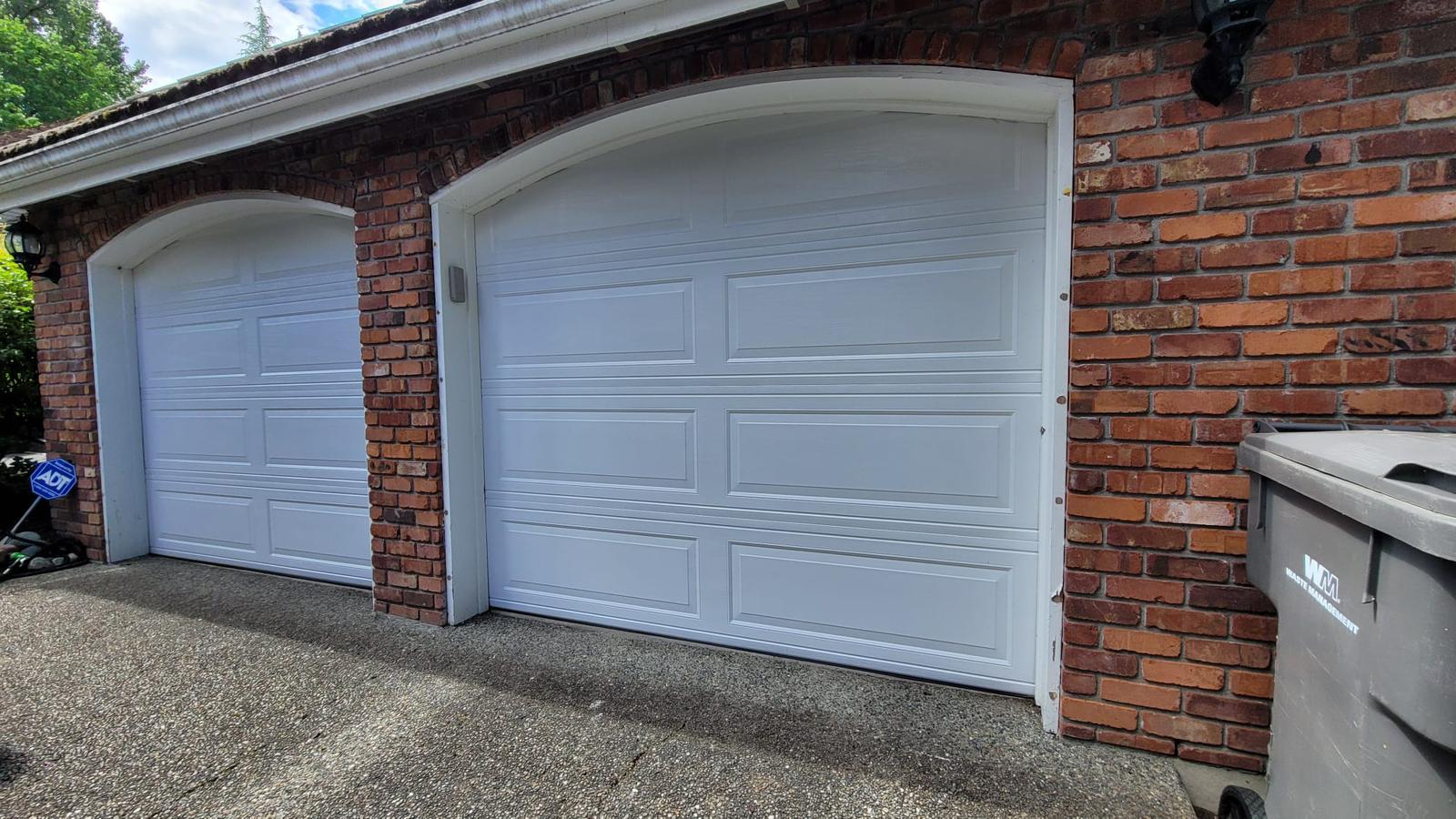 Garage Door Repairs In Everett, WA
When spring breaks, you cannot open or close the garage door, which reduces the security of your home or business and interferes with your daily activities. AAA Garage Door has springs and torsion springs for residential and commercial garage doors to repair the broken spring. We have everything you require for a new garage door or a replacement part.
Common Garage Door Problems 
AAA Garage Door is a reputable local garage door service. We install and repair doors for residential and commercial clients and offer a complete warranty of 1 year on all parts and 90 days on workmanship to support your work. You can reach the broad range of skills our staff members possess by just making a phone call to AAA Garage Doors' skilled garage door technicians. 
You might be experiencing any of the below-stated garage door problems, and it's time to call the professionals.
Broken Springs –

One of the most frequent issues with garage doors is broken springs. They control the door's lifting and lowering; if they fail, the door will not move. A broken spring, when handled improperly, could fly off and cause harm.

Defective Panels –

A collision with a car or another vehicle and normal wear and tear over time can damage panels. The door might then become uneven or stop closing properly as a result.

Faulty Openers –

Several factors can contribute to opener issues that need to be resolved right away. These include worn gears, broken chains or belts, defective remote controls, a lack of power, etc. Also, problems with the garage door opener can make the door close too quickly or slowly, which can be hazardous.

Misaligned Tracks –

Misaligned tracks occur when the tracks that control the movement of the doors bend or are out of alignment. The door becomes stuck or moves unevenly, making it challenging to open and close. 
Repairs For Residential and Commercial Garage Doors
We continue to provide high-quality repair and installation services for residential and commercial garage doors. Among our garage door repair services are the following:
Repairing broken tracks, panels, and openers

Spring, cable, roller, and hinge replacement

Problem-solving for your garage door

Offering a specialized repair service to fix the issue
Our installation services include a customized approach to fitting your garage door for residential or commercial garage doors. Using our service, you'll be able to: 
Keep garage doors operating smoothly, safely, and effectively.

Make a better impression

by restoring and maintaining the aesthetics of your garage doors.

Extend the life of your doors and long-term financial savings.

Stop potential safety issues before they arise.
Garage Door Installation In Everett, WA
Whether you require a new spring, a panel replacement, or routine maintenance regarding garage door repair and service, we have you covered.
Your garage door can get repaired, serviced, or installed by AAA Garage Doors at any time. 
Sizes And Types Of Doors
We offer a range of door sizes based on the width of standard (8–10 feet) or double–car (12–18 feet) garages. We also offer sectional, swing-up motion, roll-up one-piece, and other doors if you want more choices. Sectional and roll-up door designs are less expensive than specialized door operations like a swing-up motion or a one-piece door. 
Selection Of A Garage Door
We provide:
Various garage door styles.

Designs.

Materials that fit your budget to help you choose the perfect garage door.
You can choose from multiple materials, such as wood, steel, aluminum, fiberglass, and vinyl. Modern aluminum garage doors, elegant carriage-style wood doors, and traditional steel garage doors are also options.
Installation Of Doors 
Precision installation by our knowledgeable specialists results in smooth operation and durable outcomes for garage doors.
Aftercare Services
As part of our maintenance and repair service, we can maintain your new garage doors. On schedule, our experts will check the garage door's operation and, if necessary, make any repairs.
Your Premium Choice For Garage Door Repairs and Installation in Everett, WA
With AAA garage doors, be prepared for top-notch garage door installation, repair, and replacement in Everett, Washington. With the knowledge of our qualified experts, you can meet your garage door needs.
Professionals With Experience 
Our highly qualified and experienced team provides exceptional work with unmatched customer satisfaction. We continuously invest in training and certification to inform our technicians of industry advancements.
At AAA Garage, we recognize the value of offering high-caliber service without sacrificing affordability. Maintaining the quality of your residence or business without sacrificing cost is possible. You can only pay for what you need.
We are aware of how inconvenient garage door issues can be. So, our staff is available around the clock in Bellevue, WA, to provide garage door repair services because we recognize the value of prompt response and timely repair.
Our top priority is your satisfaction. AAA Garage dedicatedly provides complete customer satisfaction for all garage door services in Washington. Throughout the entire process, we strive for a seamless and stress-free experience.
Top-Quality Garage Door Solution Service is Here!
There's no point in risking your safety. Contact AAA Garage Door for top-quality garage door solution service in Everett, WA. Call us and schedule a free consultation for all services, also, provide all garage door parts, spring repair and opener installation services in the location!
Areas We Serve In Everett, WA:
We provide our garage door repair and installation services in the following Everett, WA neighborhoods:
Bayside
Boulevard Bluffs
Cascadeview
Casino Corner
Darlington
Delta
Delta Junction
Edgewater
Evergreen
Fairmont
Glacier View
Glenhaven
Intercity
Lowel
Northwest Everett
Pinhurst Beverly Park
Port Gardner
Riverside
Seahurst
South Forest Park
Valleyview
View Ridge Madison
Frequently Asked Questions (FAQs)
Look at the like experience, reputation, client testimonials, licensing, insurance, availability of emergency services, warranties provided, and pricing transparency while selecting the best garage door repair company in Everett. AAA Garage Door ticks all of these requirements. That's why we are your no.1 choice for garage door repair or any other garage door-related emergencies in Everett.
When replacing a garage door, inquire about the various door designs, materials, insulation choices, and color options to suit your tastes and the appearance of your home. You should also ask about the warranty's coverage, the installation process, extra features or accessories, and maintenance services.
A properly maintained commercial garage door can last 15 to 30 years. However, a commercial garage door's lifespan depends largely on usage, upkeep, and door quality. We recommend booking AAA Garage Door for regular inspections. We will help upkeep the commercial garage door to ensure it lasts longer.
Contact AAA Garage Door, a reputable garage door repair business in Everett that provides efficient panel repair and replacement services. We will evaluate the damage, decide whether the panel can be repaired or replaced, and offer the required skills and tools to get the door back in working order.
AAA Garage Door fixes the rotted garage door in Everett with simple steps. 
First, we remove the damaged bottom section of the door and install new weather seals. 

Then, we replace the rotted trim and renew the rusty track. 

After that, we seal and weather-tight the garage door and replace rotted wood trim with maintenance-free vinyl.

Finally, we clean up the rusty track.
Everett garage door repairs cost about $150 to $350 on average. However, at AAA Garage Door, our cost to repair a garage door in Everett changes with the nature and extent of the damage, the necessary parts required, and the hourly rate of our professionals. 
We advise you to get professional help if you need to fix a cable on a garage door. Because high-tension garage door cables can be dangerous without the right knowledge and equipment, our qualified maintenance specialist can evaluate the cable's state and replace it correctly (if necessary).
Yes, we can repair the dented garage door in Everett. We fix a small dent by covering it with enough aluminum foil, and for the dents that are more than a few inches in size, we fully replace them. Call AAA Garage Door if you are in Everett, and we will inspect the dents on the garage door and suggest the appropriate solution.