Garage door anatomy is very complex. It's important interior parts – Springs (Torsion/Extension), Rollers, Drums, Tracks, Door Jamb, Hinges, Brackets, Cables, Door Stop, Stiles – are always operating together to ensure smooth and reliable garage door operation. However, since these parts don't take any days off from their work, they can malfunction or be damaged anytime. AAA Garage Door provides 100% guaranteed garage door parts in Redmond, WA. Our technicians carry a complete stock of parts so that your garage door opens and closes with ease. Call us if you need same-day high-quality parts replacement.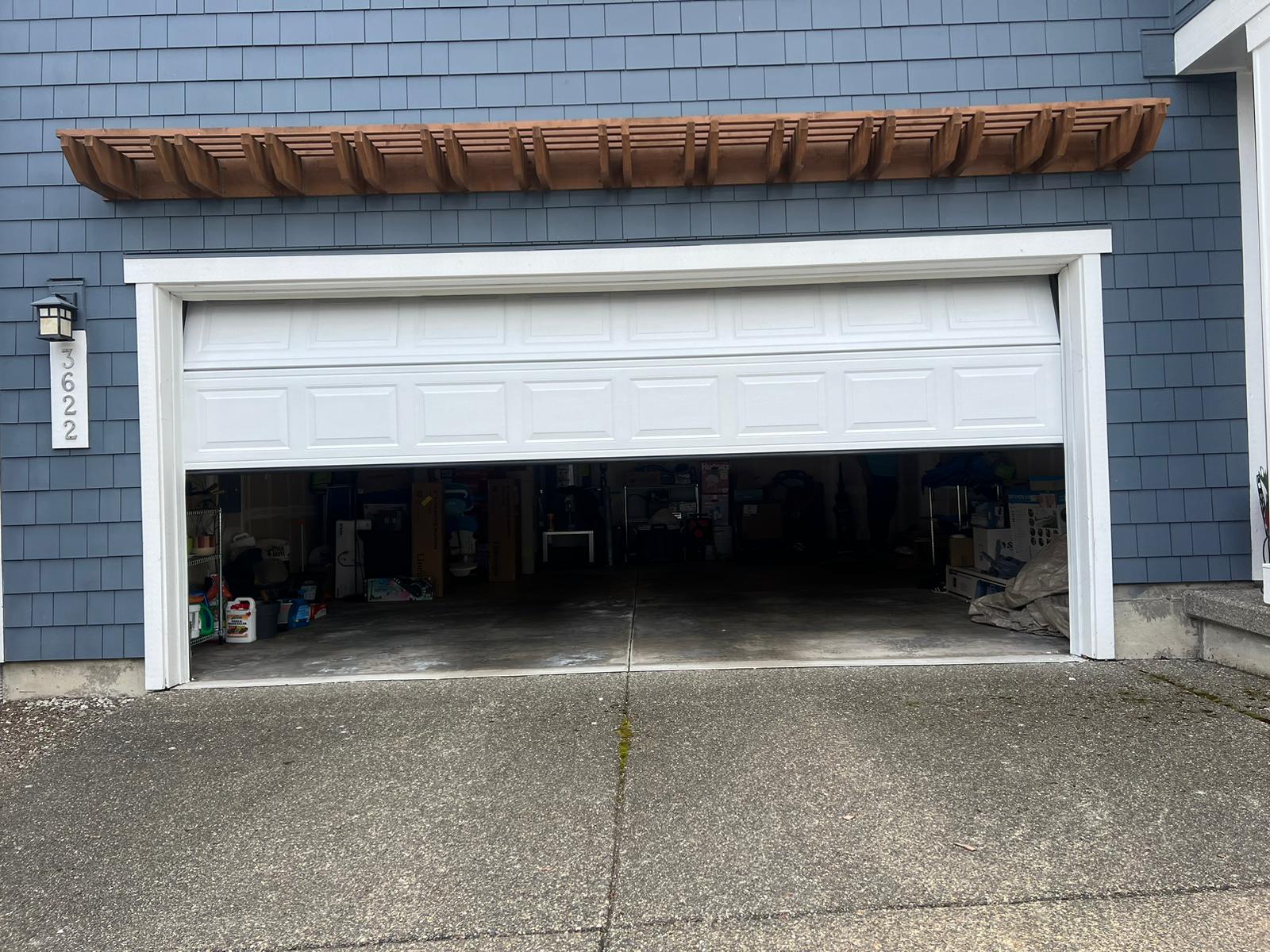 We Provide All Garage Door Parts In Redmond, WA
Some of the common reasons why your garage door parts malfunction are normal wear and tear, bad weather, age, and collision. Our technicians know the complete ins and outs of these garage door parts. We can easily pinpoint the problems and move forward with the repair work to ensure that your garage door functions properly, is reliable, and lasts a long time.
Here are some of the garage door parts that we replace in Redmond, WA–
A garage door's weight is supported by its springs, which ensure a smooth opening and closing. We have all types of springs for various garage doors, including torsion springs and extension springs. Our springs are sourced from reliable brands that have proven their durability and functionality. We also offer garage door spring repair services.
Garage door openers are the mechanisms that move the door up and down. There are 6 types of garage door drives: belt, chain, jackshaft, direct, smart, and screw drive openers. We can easily provide all three types. Our drive-openers are all made of high-strength materials, are exceptionally durable, and require minimal maintenance.
The rollers are crucial to facilitating garage door movement. With a wide selection of rollers in various sizes, types, and brands, we guarantee smooth, noiseless operation.
A garage door is counterbalanced by cables, which ensure safety during operation. Our range of cables includes heavy-duty cables made for commercial and industrial garage doors and lightweight cables designed for residential use.
The drum, a crucial part of the door's lifting mechanism, aids in winding and unwinding the cables. They usually get attached to torsion springs, giving the cables a point of rotation and enabling the door to open and close smoothly with little resistance. Our drums come in various sizes and styles, and we provide you with the ones that best fit your doors.
Garage door brackets are essential to ensure the stability of the entire garage door setup. They support the garage door's weight and thus are important to securely and smoothly open or close the doors.
Garage door hinges are essential as they join the different parts of the door and keep them connected. They are available in a variety of designs, dimensions, and gauges.
Remember, we have all kinds of garage door parts that can fit your budget. All of our garage door parts come from branded manufacturers and are reliable and durable.
Garage Door Parts – Installation, Repair & Replacement Services
Whether you are facing issues with your garage door opener, springs, or any other door parts, our skilled technicians possess the expertise to handle it all. We offer top-quality garage door parts complemented by our expert installation, repair, and replacement services.
Our wide selection of parts ensures that we have the perfect solution for any type of garage door, whether it's a residential or commercial establishment.
Garage Door Parts Installation
Our technicians specialize in the installation of all types of garage door parts. We'll help you choose the right components for your specific needs and then ensure they are properly installed, adjusted, and tested to ensure smooth operation and maximum lifespan.
Some of our installation services include–
Garage door openers
Springs
Cables
Rollers
Hinges
Weatherstripping
And much more!
Garage Door Parts Repair
Malfunctioning garage doors can pose extreme safety risks. That's why at AAA Garage Door, we offer fast, reliable, and affordable repair services for garage door parts in Redmond. Our technicians are well-versed in all aspects of garage door repair and are equipped to handle any issue, whether it's a broken spring, a damaged panel, or a faulty opener. Trust us to get your garage door back in perfect working order in no time.
Garage Door Parts Replacement
Is your garage door nearing the end of its lifespan? Are you tired of dealing with constant malfunctions and repairs? It may be time for a full replacement. Our team at AAA Garage Door will assess your current setup and provide a comprehensive replacement solution to enhance your property's convenience, security, and aesthetic appeal.
We'll guide you through the entire process, from selecting the ideal door and parts in Redmond, WA, to disposing of your old components and installing a new system that will last for years to come.
Cost Of Different Garage Door Parts in Redmond, WA
Here are the general price estimates of garage door parts in Redmond, WA.
| | | |
| --- | --- | --- |
| Parts | Price (per pc) | Installation Cost (per project) |
| Bracket | $5 to $40 | $80 to $175 |
| Cable | $10 to $50 | $85 to $350 |
| Cable | $20 to $50 | 100 to 375 |
| Roller | $25 to $40 | $90 to $200 |
| Track | $50 to $100 | $125 to $400 |
| Sensor | $35 to $50 | $110 to $200 |
| Springs (Torsion/Extension) | $45 to $200 | $150 to $375 |
Why Choose AAA Garage Door To Purchase Garage Door Parts?
Remember our primary focus is customer satisfaction. We always commit to delivering repair excellence in Redmond, WA. Here's why you should choose us–
Quality – We carry high-quality parts from various trusted brands in the industry.
Expertise – Our experienced technicians will guide and assist you in choosing the best-suited parts to match your garage door requirements.
Affordable – We offer budget-friendly prices on all our garage door parts, helping you save on repair and maintenance costs without compromising quality.
Reliability – We proudly serve Redmond, WA, with utmost dedication and efficiency, ensuring that your garage door stays functional and aesthetically appealing.
Emergency Services – Garage door emergencies can occur at any time. Knowing that we offer 24/7 emergency garage door parts replacement service in Redmond. Don't worry; we've got your back when you need us most! We also offer garage door repair and installation services.
Contact AAA Garage Door For Genuine Garage Door Parts In Redmond, WA
Don't settle for anything less than the best when it comes to your garage door parts. Get the highest quality products and outstanding services at AAA Garage Door. Contact us today at (206) 309-8798 to schedule an appointment and let us take care of all your garage door part needs. Experience the difference of working with the leading garage door parts provider in Redmond, WA.
Areas We Service In Redmond, WA
Ames Lake
Avondale
Downtown
Earlmont
Education Hill
North Redmond
Overlake
Union Hill Novelty Hill
Willows
Frequently Asked Questions (FAQs)
It depends on the extent of the dents or breaks on garage doors. For significantly damaged garage doors, it's always cost-effective to replace the whole garage door unit. However, if the garage door has minimal dents, then you can get the parts replaced by AAA Garage Door!
Yes, all of our garage door parts come with the option of professional installation services. Our team will ensure your parts are installed correctly to provide optimal performance and durability. We offer 90-day labor warranty and 1 year warranty for repair parts in Redmond, WA.
Look no further than AAA Garage Door! We offer guaranteed and high-quality garage door parts in Redmond, WA. Since we are conveniently located and committed to delivering exceptional customer service in the Redmond area, we can also replace the garage door parts at an affordable range.
In general, garage door replacement parts cost from $50 (per brackets) to $200 (per springs) in Redmond, WA. However, the cost of garage door replacement parts varies on the specific item and individual garage door needs. Our team at AAA Garage Door will provide you with a transparent, upfront quote based on your requirements and the type of part needed.