Although seemingly strong and heavy, a garage door consists of many complex and delicate parts. These parts combine to make a fully-functioning garage door. If even a single part goes rogue, your garage door can stop working. As a result, it can compromise your garage's safety and accessibility. That is why ensuring that your garage door goes through timely maintenance, repairs, and replacements is crucial. AAA Garage Door can help you with that! We have a wide and in-depth variety of garage door parts, including rollers, cables, drums, hinges, brackets, springs, and more. If your garage door is causing trouble, contact us. We can provide high-quality, reliable, and 100% genuine garage door parts in Tacoma, WA.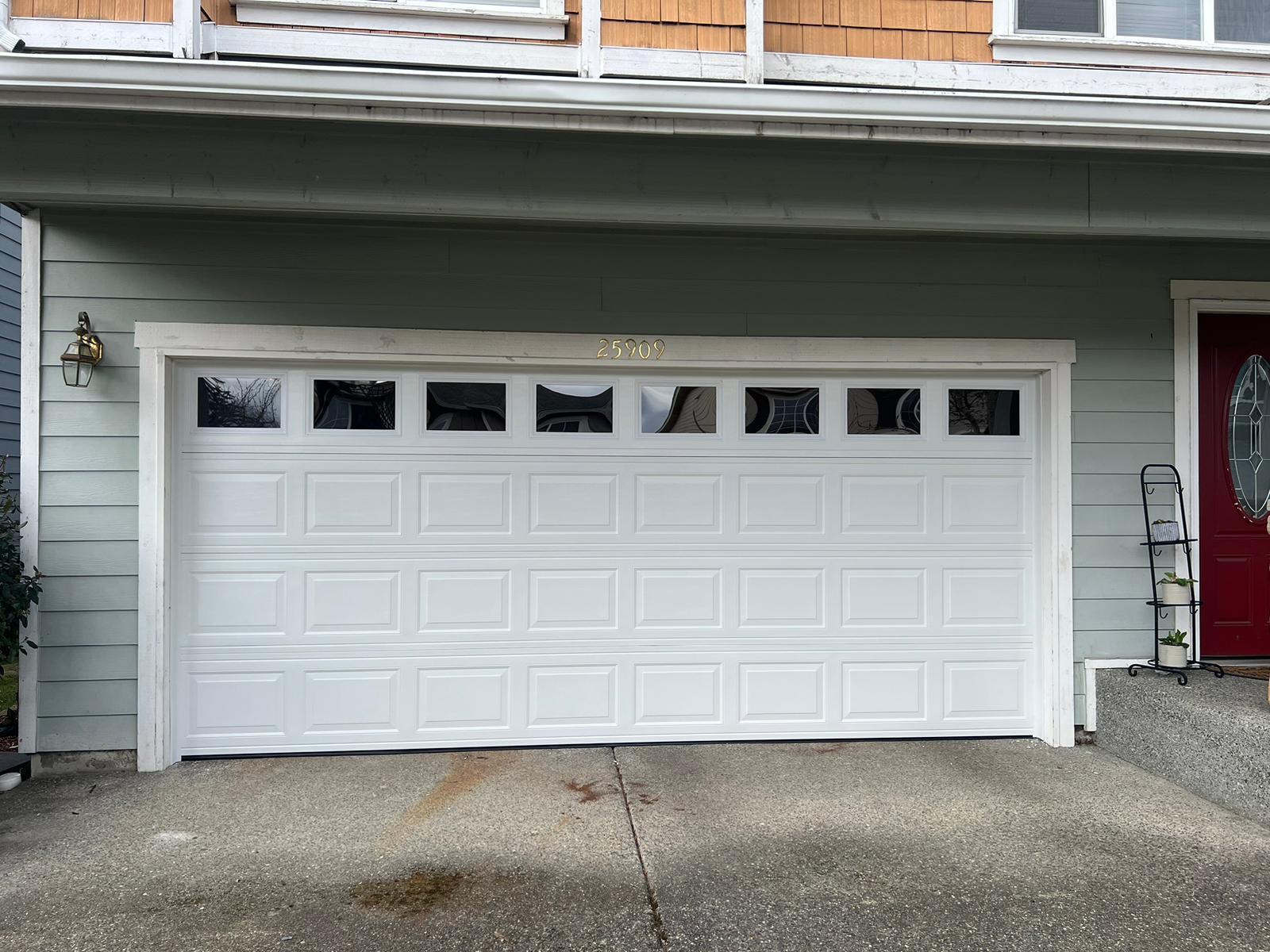 Find The Best Garage Door Parts In Tacoma, WA
AAA Garage Door is a reputable company with licensed professionals having 10+ years of experience in installing and repairing garage doors for homes and businesses in Tacoma, Washington. We can resolve any issues with your garage door ASAP! Our exceptional service includes various garage door parts in different types, sizes, styles, and quality.
✓ Springs
Springs ensure the door's smooth operation by supporting the garage's heavyweight. AAA garage works with various springs, including torsion springs and extension springs. We use reliable, high-quality springs that enable the smooth performance of your garage door. We also offer spring repair services.
✓ Rollers
Rollers help your garage door move up and down. We have a wide array of rollers in store that come in different sizes and brands to fit your garage door. The rollers we provide enhance your door's functionality by providing a quiet and stable operation.
✓ Cables
Cables keep the closing and opening mechanisms of a garage door in control. The cables pull the wires up when the roller's wheels turn, allowing for opening and closing without any malfunctioning. At AAA Garage Door, we provide high-quality, heavy-duty cables that are perfect options for your commercial and industrial garage doors.
✓ Drums
We understand the importance of selecting a drum that best suits your garage door's weight. That is why we have several sizes of garage door drums. We can help you repair/replace garage door drums that significantly reduce strain on your garage door and ensures smooth operation.
✓ Hinges
Although hinges may not help open and close a garage door, they are one of the important parts of the system. Dysfunctional hinges can cause your garage door panels to fall out, compromising your safety and security. Therefore, high-quality and reliable hinges are crucial. At AAA Garage Door, we provide various branded hinge styles for your garage door needs, prolonging the life of your door.
✓ Brackets
It is important to ensure that your garage door brackets function properly. That is because broken garage door brackets can hinder your garage door's smooth opening and closing. It can even cause the door to come off the track entirely. AAA Garage Door provides the highest quality brackets for the effortless functioning of your garage door.
Fix, Install & Replace Different Garage Door Parts In Tacoma
You can trust AAA Garage Door for repairs, replacements, and installation of garage door parts in Tacoma, WA.
Repair – After years of wear and tear, your garage door parts can malfunction. From snapped cables to off-track rollers, even the smallest damage can disrupt the overall performance of your garage door. But you don't have to worry about that anymore – we are here to help! We repair your garage door meticulously with genuine parts and reliable tools, leaving you with an A-Class door.
Installation – Installing a garage door part is a time-consuming process. Why? Because we install each part of your garage door with great attention to detail, ensuring they fit perfectly and work optimally.
Replacement – Sometimes, the damage on a garage door part is irreparable. In such a case, we can replace that part seamlessly. We provide 100% genuine, high-quality parts and back them with a warranty. You can rely on us for flawless replacement of garage door parts from garage door openers to brackets, allowing maximum security and convenience for your home.
Cost Of Different Garage Door Parts In Tacoma, WA
The cost of different garage door parts in Tacoma varies with size, quality, and type. Here's a typical cost breakdown–
| | | |
| --- | --- | --- |
| Parts | Cost per price | Cost per Installation |
| Springs (Extension & Torsion) | $45 to $350 | $200 to $375 |
| Cable | $8 to $50 | $100 to $300 |
| Roller | $25 to $40 | $90 to $200 |
| Track | $125 to $200 | $125 to $400 |
| Bracket | $10 to $100 | $118 to $148 |
| Sensor | $80 to $100 | $100 to $250 |
| Opener | $30 to $60 | $65 to $100 |
To know the exact cost of parts according to your garage door, contact AAA Garage Door and get a FREE quote!
Panel Design, Colors, and Glass Design Options For Garage Doors
Panels come in six different styles, allowing you to choose the perfect match for the design of your home. Panel designs available for garage doors include:
Short-raised (traditional)
Long-raised (ranch)
Country
Cottage
Shaker
Flush
The panels are available in seven standard colors, ready for the personal touch to enhance the look of your home.
White
Sandstone
Almond
Brown
Black
Medium Wood Grain
Dark Wood Grain
Note: Medium and Dark Wood Grain colors are not available for Flush design.
Furthermore, our glass options for the garage doors that you can choose from are as follows:
 ⅛" Clear
⅛" Bronze
White Laminated
Black Laminated
Satin Etch
Frosted Gluechip
⅛" Greylite
⅛" Mistlite
⅛" P516 Obscure
Contact us for sample pictures for your design choice, and you can also visit us for samples for your garage door. We offer a range of panel designs, color, glass, and window options.
Why Choose AAA Garage Door Services?
AAA Garage Door has been serving the homeowners of Tacoma, Washington, for over 10 years, solving garage door problems seamlessly. We immensely pride ourselves as the 1st Choice for garage door parts. Why? Find out below!
✓ Experienced Technicians
With a team of professionals having over 25 years of experience, AAA Garage Door provides fast, reliable, and efficient services. For your garage door needs, our well-trained professionals have the expertise to help.
✓ Affordable Pricing
Looking for low prices without compromising on quality service? We can cover you! With AAA garage doors, you will receive exceptional service at a reasonable price.
✓ 24/7 Availability
We are available 24/7 to solve your garage door problems – any day, anytime! As soon as we get your call, we will move swiftly to get your garage door back in working order. That is because we recognize the urgency of your need. Our specialists can assess your situation quickly and give you a flawless solution.
✓ Customer-Focused Service
Our customers are our number one priority! There's no doubt about that. That is why we ensure our technicians don't leave your doorstep until you are 100% satisfied. We're ready to assist you at your home or business – with a 1 year warranty on parts and 90 days on services for added satisfaction.
Contact AAA Garage Door For Genuine Garage Door Parts In Tacoma, WA
Looking for a reliable solution to your garage door needs? Hit us up! AAA Garage Door can provide you with a wide range of garage door parts, from springs, openers, and hinges to cables, rollers, and brackets. Whether you need a repair, replacement, or installation, AAA Garage Door can offer you competitive prices with guaranteed satisfaction. For genuine installation and replacement of garage door parts in Tacoma, WA, contact AAA Garage Door at (206) 309-8798 and get a FREE quote!
Areas We Serve In Tacoma, WA
Central Tacoma
Hilltop
Old Town
Proctor
South End
Stadium District
Three Bridges
West Slope
Frequently Asked Questions (FAQs)
The cost of garage door parts repair in Tacoma ranges from $114 per hour to $575 per hour. If the parts are beyond repair and require replacement or installation, this cost can increase. In that case, the total costs of replacement & installation look like this:
Springs –

$245 to $725

Cable –

$108 to $350

Roller –

$115 to $240

Track –

$250 to $600

Bracket –

$128 to $248

Sensor –

$180 to $350

Opener –

$95 to $160
To know the exact costs, contact AAA Garage Door directly!
Yes. In case of a damaged part, you don't have to worry about replacing the whole garage door. You can only replace the specific damaged part and get your garage door as good as new. However, in cases where several parts of a garage door are damaged and malfunctioning at once, it's important to replace the door itself. That is because these parts are likely to sustain damage again, especially if they are near their estimated lifespan.
A garage door relies on different parts to function. These parts are:
Springs 

Cable

Roller 

Track 

Bracket 

Sensor  

Opener
We at AAA Garage Door have a vast range of high-quality garage door parts in our inventory. We can fulfill any garage door needs you may have.
Yes. At AAA Garage Door, we have automated and smart garage door openers. You can use these openers for maximum accessibility and convenience. Smart openers even allow you to pair your smartphone with it, which means you never have to worry about manually opening or closing your garage door.
Yes. You can replace a dented garage door. If your garage door includes panels, you can simply replace a dented panel with a new one. However, if your garage door has multiple or all panels dented, it is better to replace the door itself. You can save costs on it if you replace your garage door with a new one that's exactly the same. That way, you can keep the entire existing system with a new door – saving costs on the new system. Contact us, AAA Garage Door, to learn more about customized garage door solutions.