With expert garage door repair and installation services in Mercer Island, WA, you can increase the safety and usefulness of your home. Our staff of knowledgeable technicians at AAA Garage Door is here for you. You can depend on us to care for all your garage door needs in Mercer Island, WA, from fixing broken springs and cables to installing contemporary, energy-efficient doors. 
Our skilled team will quickly resolve the identified issues after you approve the repair plan. They use their knowledge and cutting-edge equipment to ensure accurate and effective repairs.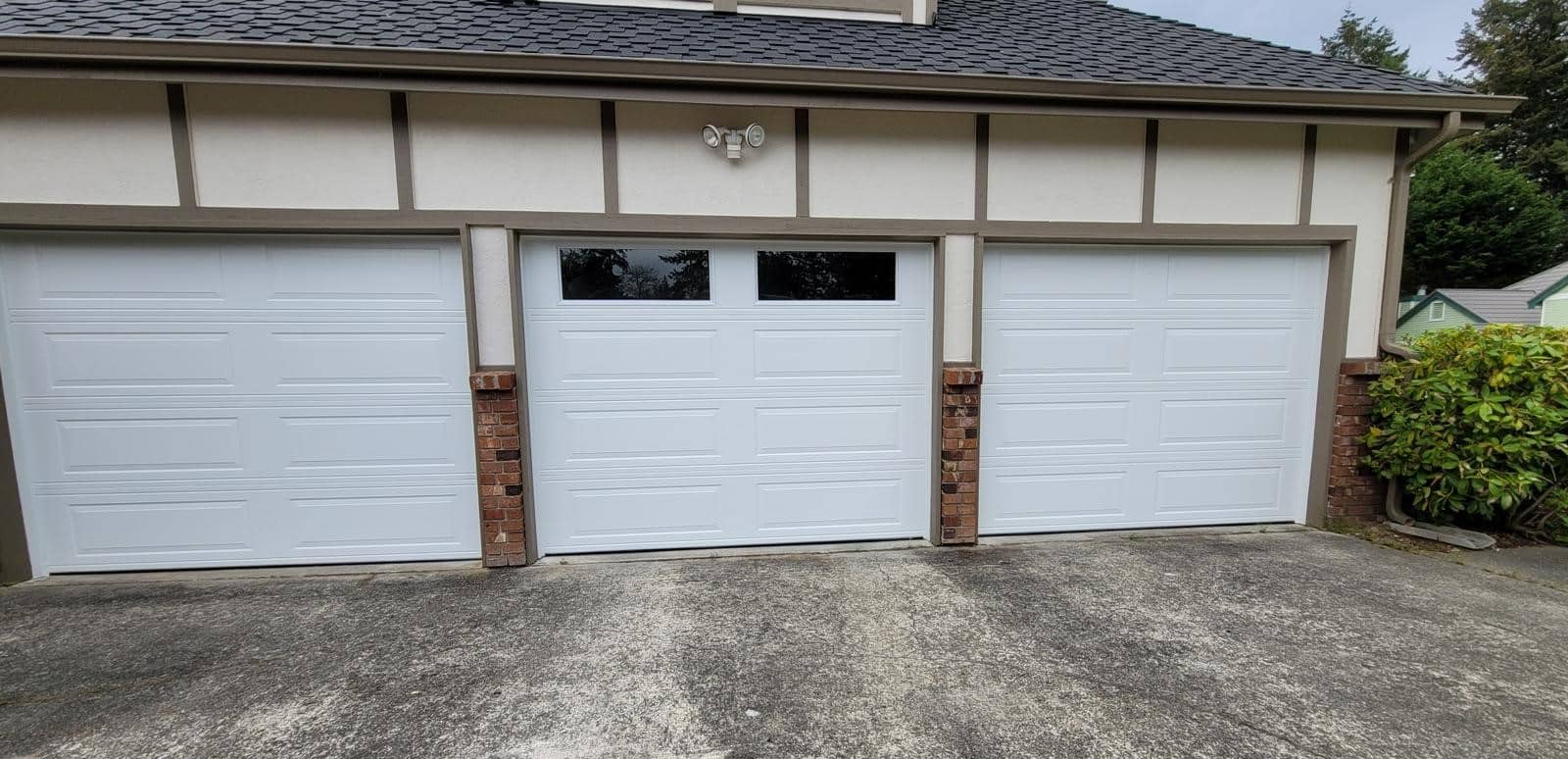 Our Garage Door Repair Process In Mercer Island, WA
Our experts at AAA Garage Door start by thoroughly inspecting your garage door. They check each component to find the problems at the root of the malfunction. After reviewing, they will explain the issue and deliver the results while explaining the required repairs and replacements. 
Please use our first-rate garage door installation and repair services in Mercer Island, WA. Our door repair process involves–
✓ Consultation and Selection
Our professionals will help you to choose a new garage door that satisfies your preferences and needs. We have various options with different styles, materials, and features to give your garage door a great look.  
✓ Professional Installation
Our knowledgeable technicians will handle the installation with the utmost precision once you choose. They have the know-how to guarantee a flawless installation while attending to every little thing.
✓ Safety and Performance Checks
Our team performs extensive safety and performance checks after installation to ensure your new garage door satisfies the highest standards. They check that all parts, such as springs, cables, openers, and sensors, operate properly.
✓ Customer Satisfaction
At AAA Garage Door, we provide first-rate customer service and work hard to meet your expectations. 
We know the significance of using premium components to achieve long-lasting outcomes. Because of this, we only use dependable and durable parts, extending the useful life of your repaired garage door. Following repairs, our technicians put your garage door through a rigorous test to make sure it functions properly. 
We will gladly assist you with all your garage door needs, from garage door openers to more, as soon as possible.
Benefits Of Hiring Professional Garage Door Repair & Installation Services
AAA Garage Door is Mercer Island's reliable choice for garage door installation & repair services. Our devoted team of highly skilled professionals provides prompt, reliable, and efficient services, ultimately giving you peace of mind. 
So what benefits can you get if you choose us for your garage door and installation? Know from here–
We can fix garage door problems, including malfunctioning openers, harmed panels, broken springs, etc., thanks to our expertise and experience. 

We prioritize your safety and perform the installations and repairs carefully. 

We can complete the task promptly as we have the required high-quality garage door parts, equipment, tools, and expertise, minimizing downtime and the requirement for additional repairs or replacements in the future.

Our attention to detail helps to bring long-lasting results. 
We handle all your garage door issues carefully, as we have all the necessary skills to do it smoothly and effectively. 
Range of Garage Door Options Available For Installation in Mercer Island, WA
We provide various options for garage door installation in Mercer Island, WA, to meet your requirements and preferences. Our knowledgeable staff can guide you in choosing the ideal garage door that satisfies your needs and preferences, whether you favor traditional, modern, contemporary, or any other style. 
Some garage door varieties we provide are–
Sectional Doors –

They give your home a touch of elegance while providing durability and insulation.

Commercial Doors –

These doors withstand constant use and protect your business property.

Traditional Overhead Doors –

They come in various styles and materials, so you can personalize how your garage looks.

Specialty Doors –

Specialty doors like carriage-style and glass doors make a statement and improve your home's curb appeal.
We are happy to get custom-design ideas that enhance your aesthetics. Yes, you heard right. We can customize the garage door making your door dream come true. 
Why Choose Us At AAA Garage Door Services In Mercer Island, WA?
We feel proud to offer trustworthy, knowledgeable, and expert solutions for your garage door needs. We have the expertise and necessary tools for a simple garage door repair or an extensive installation. Our team comprises highly qualified specialists with years of experience handling garage door repairs in Mercer Island, WA, and garage door installation. We strive to deliver greater results that exceed your expectations with the help of experts and a commitment to outstanding customer service.
You can count on cost-effective fixes and prompt responses to get your garage door operating again. We offer top-notch workmanship for all repairs and installations while utilizing top-notch materials and parts.
Connect With Us Right Away!
With our knowledge and dedication to providing outstanding garage door repair and installation in Mercer Island, WA, you should only accept the best for your garage door. We work to offer quick and dependable fixes that will keep your garage door operating without a hitch. Call us at (206) 309-8798 to make an appointment or to ask a question about your garage door. We also provide garage door spring repair services. 
Areas We Serve In Mercer Island, WA:
We also provide garage door repair and installation services in Mercer Island, WA neighborhoods.
Beaumont
Fortuna
Mcagilvara
Mercer Heights
Mercer Island Town
Roanoke
Frequently Asked Questions (FAQ)
Take the following steps to repair an electric garage door–
Determine the problem (broken springs, malfunctioning sensors, damaged tracks, and opener motor problems).

Unplug the garage door opener for safety reasons.

Carefully inspect the garage door parts, like springs and rollers, for visible damage.

Replace or repair the damaged parts.

Check if the door opens and closes properly, and conduct auto-reverse tests.

Perform regular maintenance, like lubricating the parts and keeping them clean.
When selecting a garage door repair service provider, you must consider factors like–
Professional licensing like the Mercer Island Business License.

Precise knowledge of door brands, tools, and repair methods.

Insurance/bond so the company takes 100% responsibility in case of faulty installation or damaged garage door parts.

Transparent pricing and no hidden fees.

Excellent customer reviews and 5-star ratings.

Availability and responsiveness to cater to diverse clients.
Sectional garage doors offer the highest reliability. These doors have individual panels hinged together that allow them to glide along tracks easily. Similarly, they are built with highly durable materials like steel and aluminum, making them longer-lasting than other garage doors. Additionally, sectional garage doors have various security features, like reinforced locks, that make them difficult to open and highly secure.
With an average total of $463, replacing a garage door motor in Mercer Island, WA, costs between $287 to $650 per door replacement. Here is an estimate of the total installation cost for different types of garage door motors–
Chain-driven motor: $150 – $250/chain

Belt-driven motor: $160 – $450/belt

Screw-driven motor: $200 – $500/screw drive

Direct drive motor: $275 – $450 /direct drive

Commercial motor: $300 – $1,500/commercial motor
Please note that the final price of replacing a garage door motor depends on the brand of the motor and local labor rates.
With an average total of $1,433, installing a garage door costs between $877 and $1,990 per project in Mercer Island, WA. However, certain variables impact the exact pricing of the installation–
Garage door size

Material (steel, wood, vinyl, aluminum, fiberglass)

Electrical service for automatic doors

Local labor and location costs

Custom features like insulation

Add-ons like keypads and electric sensors
While it is not impossible, we at AAA Garage Door do not recommend installing a new garage door on existing door tracks. Using old tracks that aren't in optimal condition can result in accidents and injuries. Similarly, the old tracks may not be compatible with your new garage door, which results in improper functionality. Moreover, installing a new garage door on old tracks can reduce the door's lifespan by causing wear and tear.