Imagine yourself coming home after a long day and looking forward to relaxing. However, a broken garage door that won't open properly welcomes you. It's annoying, isn't it? That's where repair professionals come in. The experts recognize the value of seamless living, and the services are customized to satisfy your needs. From belt-drive and screwdriver openers to jackshaft and chain-drive ones, we have all kinds of garage door openers in our selection. So don't allow a broken garage door opener's inconvenience to stop you. Get the best garage door openers in Renton, WA, from AAA Garage Door, and change your everyday routine!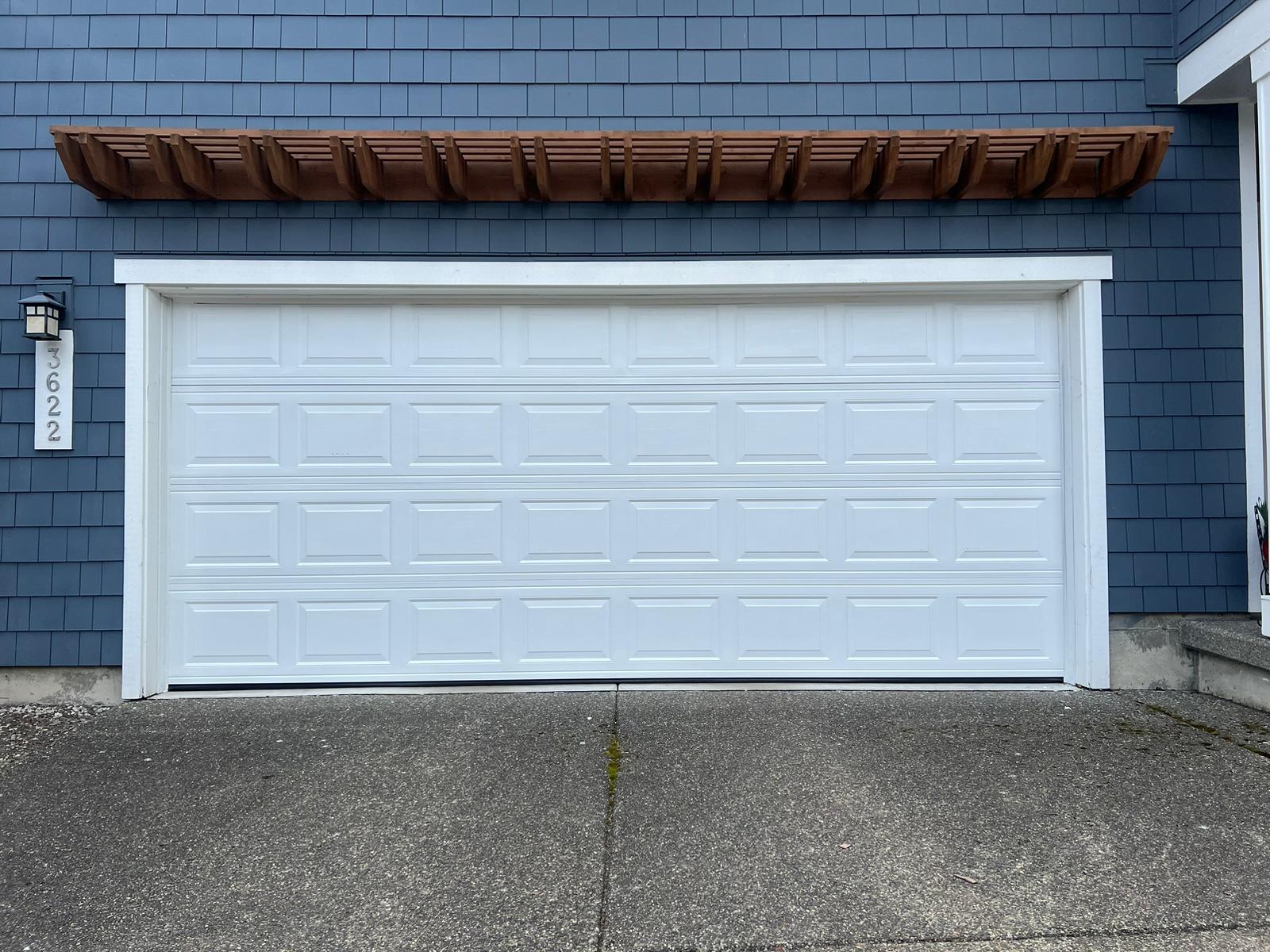 Get Genuine Garage Door Openers In Renton, WA
We take immense pride in providing the best garage door openers in Renton. The various types of garage door openers include the following–
Chain-Drive Garage Door Openers – They are perfect for customers looking for reliable, sturdy, and affordable options. The opener has a chain to pull up and down the garage door.
Belt-Drive Garage Door Openers – These openers are correct for a customer looking for a quieter option. The opener has a reinforced rubber belt to lift and lower the garage door.
Wall-Mount Garage Door Openers – These openers are perfect for those with limited garage headroom or who want a sleek, modern look. Instead of being positioned on the ceiling, these openers are wall-mounted next to the garage door.
Screw Drive Garage Door Opener – This model is known for its efficiency and convenience. It requires less maintenance and can open and close the door faster than other models.
Direct Drive Garage Door Opener – This opener is the quietest model available. It's perfect for homeowners who don't want to be disturbed by noise when opening or closing their garage doors.
Jackshaft Opener – Our jackshaft opener (i.e., wall-mounted opener) gets installed beside a garage door instead of overhead. Our jackshaft opener is your best choice if you are looking for an ideal solution for garages with high or angled ceilings.
Our inventory includes some of the top brands in the industry, such as–
Liftmaster
Chamberlain
Genie, and more!
Do you want to install high-quality openers in your garage door system? Don't wait any longer, and schedule a consultation with us right now as we offer the best garage door parts in the region!
Our Garage Door Opener Services Include 
At AAA Garage Door, we don't just provide authentic garage door openers in Renton. We also offer services like garage door opener installation, repair, and replacement.
Garage Door Opener Installation 
A high-quality garage door opener is absolutely necessary, but it must also be installed properly. We provide expert garage door opener installation in Renton, WA. Whether you have a chain-driven, belt-driven, or any other type of garage door opener, our experts will professionally install it for you. Additionally, our specialists will assist you in selecting the ideal opener if you need help determining which opener is suitable for your garage door system. We have the latest openers that make minimal noise and also utilize advanced technology for optimal security.
Garage Door Opener Repair 
Your garage door openers may need repair if you notice the following problems in your garage door–
The garage door doesn't open or close properly
Your garage door makes loud noises when operating
The door opens and closes on its own
Your garage door opener moves slowly
The opener shows visible signs of wear and tear
If your garage door opener is experiencing these issues, our experts will provide the best garage door opener repair in Renton, WA. We utilize only the finest tools and technology to fix your garage door openers. Our specialists will identify the underlying cause of the issue, carry out the required fixes, and guarantee the longevity of your garage door openers and your entire garage door system. We also offer garage door repair and garage door spring repair services.
Garage Door Opener Replacement 
You might need to replace your current garage door openers if they show clear signs of deterioration or break down frequently. At AAA Garage Door, we specialize in providing Renton residents with the greatest garage door opener replacements that are tailored to their needs. We will efficiently replace your garage door openers after determining what your garage door requires and assisting you in making the right choice. So remember us for the best garage door opener replacement in Renton, WA.
Garage Door Openers Service Cost In Renton, WA 
Here is a quick breakdown of the typical prices for garage door opener service in Renton, Washington, to help you get a better idea of the costs–
| | |
| --- | --- |
| Garage Door Opener Service | Cost (per project) |
| Opener installation | $284 to $676 |
| Opener repair | $162 to $373 |
| Opener replacement | An average of $525 |
| Labor costs | $65 to $85 per hour |
Factors like the type of opener used also influence the final cost of garage door repair and installation. Here are Renton's expected prices for several types of garage door openers–
| | |
| --- | --- |
| Type of openers | Cost (per project) |
| Chain-driven opener | $150 to $250 |
| Belt-driven opener | $160 to $450 |
| Screw-driven opener | $200 to $500 |
| Jackshaft/ wall-mount opener | $275 to $450 |
| Commercial opener | $300 to $1500 |
Note: The prices mentioned above are estimated and not the exact ones.
If you want to know the exact prices, feel free to reach out to us!
Why Choose AAA Garage Door Services?
We at AAA Garage Door stand out as the best option when choosing a garage door servicing company for a number of compelling reasons–
We have experts with 25+ years of experience – We employ seasoned experts with a high level of proficiency in garage door servicing. Whether you're seeking garage door opener repair, replacement, or installation, our experts will provide you with the best and most efficient solutions in Renton, WA.
We offer competitive rates – We believe that price shouldn't be a barrier to accessing high-quality services. That's why all our garage door opener solutions are available at fair and competitive prices. You won't have to worry about unforeseen or unknown expenses if you choose us. Regarding our pricing, we are upfront and transparent.
You can reach us anytime for emergencies – We know that garage door emergencies can strike anytime, and during such an event, taking prompt action is crucial. We are approachable around the clock if you require urgent emergency services. One of our specialists will arrive at your home as soon as you give us a call.
Our products are genuine and high-quality – Along with our exceptional garage door services, we take great pride in providing the most authentic garage door openers available in Renton, Washington. We guarantee that when you purchase one of our items, you will receive value for your money.
Satisfaction Guarantee – Nothing is more important to us than your satisfaction. We aim to exceed your expectations and make you happy with our services. That's why we are a customer favorite with five-star ratings on sites like Angi and Yelp.
Contact Expert Garage Door Opener Services in Renton, WA
AAA Garage Door is a name you can rely on for garage door opener services. We will make sure to satisfy all of your garage door opener needs in Renton, WA, whether they are for installation, repair, or replacement. Get ready to enjoy the ease and comfort of a garage door that is operating at peak efficiency with our excellent services. Call us at (206) 309-8798 to make an appointment right away!
Areas We Serve In Renton, WA
Benson Hill
Downtown Renton
Elliot
Highlands Park
Kennydale
La Rosa Meadows
Maplewood
May Creek
Morning Glen
The Landing
Frequently Asked Questions (FAQs)
Your home warranty might not cover your doors, spring and track. Most home service warranties only cover repairs and replacements, so it's best you connect with your home warranty provider or review your home service contract to understand the warranty coverage.
Yes! The new opener must, however, be compatible with your current garage door system. In this sense, when you replace the openers, you must also change the rails. It is essential to replace the openers and rails simultaneously since using your garage door without compatible rails could be dangerous. When replacing garage door openers, keep in mind that expert help is essential.
Yes, due to regular use, exposure to changing weather, and normal wear and tear, garage door openers can become worn out over time. They might degrade, which might lead to lower efficiency or even complete failure. Regular maintenance, including lubrication and inspection, can increase longevity, but with time, wear and tear may reduce the opener's functionality and need replacement or repairs.
You can get the finest quality garage door openers at AAA Garage Door in Renton, WA. Here's why we are your best choice:
We only include reliable, premium garage door openers in our inventory

The openers are priced really competitively

We have many different types of openers, including chain- and belt-driven ones

We also provide installation, repair, and replacement services for garage door openers
The first step is to select the type of opener (Bluetooth or Wi-Fi enabled) that suits your needs in Renton, WA. The next step is to install the necessary hardware like a belt, chain, motor unit, or drive. After setting up all of the hardware, you can connect it to your control device and Wi-Fi. Even though it's not impossible to do it yourself, we advise having expert assistance for the installation.
Follow these steps to choose the right garage door opener:
Choose the type of opener based on your noise tolerance and budget

Consider the horsepower of the opener compatible with your garage door's weight

Prioritize safety and convenience features like sensors and smartphone connectivity

Look into popular brands like Liftmaster and Genie and check whether they fit into your spending limit

To increase security, look for rolling code technology and battery backup