Your garage door is a vital component that provides protection and security to your home. It also adds to the aesthetic beauty of your property. With reliable and professional services from AAA Garage Door in Kent, WA, you can keep your garage door in top condition and always looking good. With 10+ years in the business, our technicians are licensed, insured, and, most importantly, experienced in garage door repair and installation in Kent, WA.      
Trusted Garage Door Repair Services In Kent, WA
Your garage door opens and closes numerous times throughout the day, weeks, and years. So it's common to see that it gradually loses its efficiency over the years. Broken springs, damaged panels, rollers, or a faulty garage door opener usually cause a garage door that squeaks or malfunction. It is possible to fix all of these problems. 
Common Garage Door Problems
Homeowners often experience the following garage door problems: 
Garage Doors Won't Close All The Way

– Sometimes, your garage door only goes halfway down and gets stuck. Other times, it might only open halfway up. Either way, both cases indicate something wrong with your garage door. 

Worn-Out Rollers Or Bearings –

If you hear auspicious sounds when your garage door is in operation, such as cracking or popping noises, then this is an indicator that there's something wrong with your door's rollers. Similarly, if you hear squeaking noises, then it indicates that your door's bearings need to be lubricated. 

 
Broken Springs – Spring-mounted garage doors do most of the heavy lifting of the garage door. The garage door is compromised if these springs break, get damaged, or wear out. AAA Garage provides our clients with specialized services to repair or replace broken or damaged garage door springs, openers, and other high-quality parts.
Faulty Or Damaged Openers – The garage door opener is the brain that raises and lowers the garage door. When an opener gets damaged or worn out, the garage door can be hard to operate properly and you need garage door opener repair. In cases where you're in a hurry or an emergency, this can cause many issues.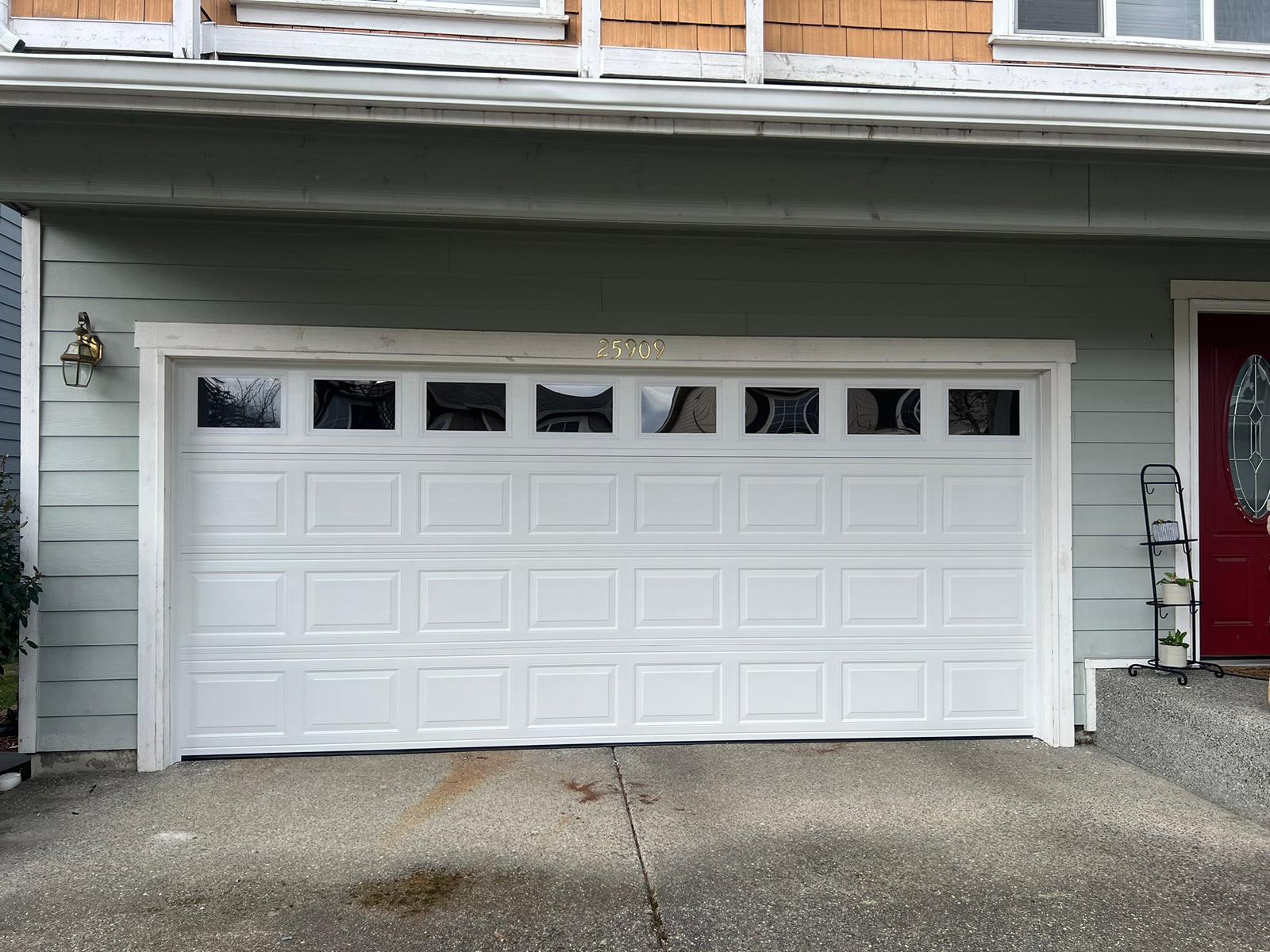 Repairs For Residential and Commercial Garage Doors
AAA Garage is the leading repair house specializing in all garage door repairs. Our services include repairs for both residential and commercial garage doors. 
Commercial garage doors typically open vertically and slide upwards along the ceiling and backward. This makes them perfect for properties with garage doors that open directly onto the pavement. Most residential properties in suburban houses have garage doors that open onto driveways. 
At AAA Garage Door, we are keen to service both commercial and residential garage doors with high-quality garage door parts. Our services include:
Taking care of broken springs, cables, rollers, and hinges.

Providing repairs for damaged panels, openers, and tracks.

Identifying the problem with your garage door.

 

A tailor-made repair service is provided to resolve the problem.
All our technicians are experienced and well-versed with virtually every garage door brand and model. With our installation services, we ensure that your garage door:
Operates smoothly, safely, and efficiently.

Increases its lifespan, helping you save money in the long run.

Avoid potential safety hazards that could become problems.

Improves your curb appeal by restoring and maintaining its aesthetics.    
Garage Door Installation in Kent, WA
Our team of licensed and experienced technicians performs garage door installations with precision and efficiency on time, ensuring smooth and long-lasting results. We provide a comprehensive garage door installation service covering every process component to ensure optimal operation. 
We provide various garage door styles, sizes, materials, and designs to meet your budget and needs. Our selection of materials includes wood, steel, aluminum, fiberglass, and vinyl, all of which come in different styles and colors.  
Your Top Choice for Garage Door Repairs and Installation in Kent, WA
Your garage door is a vital component of your property that needs specialized care to keep it operational, durable, and aesthetically pleasing to the eye. AAA Garage understands your needs and has designed our services to meet and even exceed them. Besides AAA Garage Door, we proudly say there is no better choice for garage door repairs and installation in Kent, WA. 
A Team of Experienced Technicians
All our technicians are highly experienced in the field and perform garage door installations precisely, ensuring smooth operation and long-lasting results. They are all licensed professionals and provide top-of-the-line services tailored to your needs and budget.   
We aim to provide top-tier services at a reasonable price. As experts in the field, we provide affordable pricing without compromising quality. If you choose us to handle garage door repairs in Kent, you can rest assured that you're receiving exceptional service at a reasonable price.    
We understand that garage doors could break down unexpectedly at any time of the day. So our team is available 24/7 to provide our services. Whatever the time, you can rest assured that we are just a phone call away from helping you get your garage door working again.   
Value For Customer Satisfaction
Here at AAA Garage, customer satisfaction is our #1 priority. It is what fuels us to provide top-tier services to our valued customers.     
Explore the Premier Garage Door Solution Service
Feel free to contact AAA Garage Door for a premier garage door solution service. Our professionals at Kent, WA, await you! 
Areas We Serve In Kent, WA:
We provide our garage door repair and installation services in the following neighborhoods in Kent, WA.
Berrydale North
Garisson Creek Park
Green Tree Park
Highland Crossing
Lake Meridian
Lake Morton
Lake Morton
Meridian Heights West
Shadow Lake West
Talbot South
Frequently Asked Questions (FAQs)
Look at the Garage door repair company's license, insurance, experience, and customer reviews. AAA Garage Door is Washington's best garage door repair company with extensive knowledge and licensed professionals. We provide reliable and top-notch garage door repair services in Kent, WA.
If your garage door has become misaligned, you must look for certain signs such as:
Gaps between the door and the frame

Difficulty in opening and closing the door smoothly

Loud and unusual noises during the operation

Visible damage or wear on the track or rollers
From our experience as a garage door repair company in Kent, WA, we can accurately tell that the sectional garage door is the most reliable. This door has multiple sections, allowing smoother operation and excellent security features, and it can withstand any harsh weather conditions in Kent, WA. 
In Kent, WA, a simple repair such as fixing a broken cable or spring costs around $200 to $500 (material + labor). However, to accurately estimate the price, we first need to see the type of repair and extent of the damage on the garage door.
First, identify the damaged panel and see if it needs replacement or repair. To repair a garage door panel, you must purchase appropriate tools and identify the type of panel damage (cracks, dents, or holes). Then replace the panel with a matching one or use a patch kit for a minor repair. It's best to call AAA Garage Door if you are unsure about the repair process.
We don't recommend installing a garage door by yourself. But here's how we install it–
We measure the opening

Prepare the tracks and hardware

Assemble the section

Install the tracks and springs

Attach the opener

Connect the electrical component

And finally, we test the functionality!
You shouldn't install an exterior door in a garage by yourself. Here's how AAA Garage Door installs an exterior door in a garage–
We measure the dimensions of the opening

Install a pre-hung doorframe

Secure it in place with shims

Attach the brackets and hinges

Install the door panes

And finally, we test for proper operation!
It takes us around 4 to 8 hours to take down and install a new garage door. However, the duration largely depends on the type of garage door, style, size, and necessary modifications. Call us and schedule a consultation to install a new garage door in Kent, WA. 
We, a garage door repair professional in Kent, WA, repair garage door cables by removing tension from the cables and disconnecting them from the door. Then, we replace the damaged cable with the new one and secure it properly.
Yes, AAA Garage Door can repair a dented garage door in Kent, WA. We also completely install and fix a new garage door or repair the springs, opener, and other parts of the old garage door.