Do you have rollers that sound like they've seen better days? We've got the perfect replacement for you. Cables that have snapped? Say no more; we've got you covered. Drums that are drumming up trouble? Let us handle it. From mysteriously jammed rollers to cables that appear to have a mind of their own, dealing with garage door issues can be a real headache. On top of that, finding the garage door part that has malfunctioned is an even bigger issue. Thus, AAA Garage Door is the perfect remedy for all your garage door parts problems. We fix every garage door part like Rollers, Openers, Cables, Drums, Hinges, Brackets, Springs (Torsion/Extension), and more! Our service entails repairing, replacing, and installing all garage door parts in Kirkland, WA. Contact us today!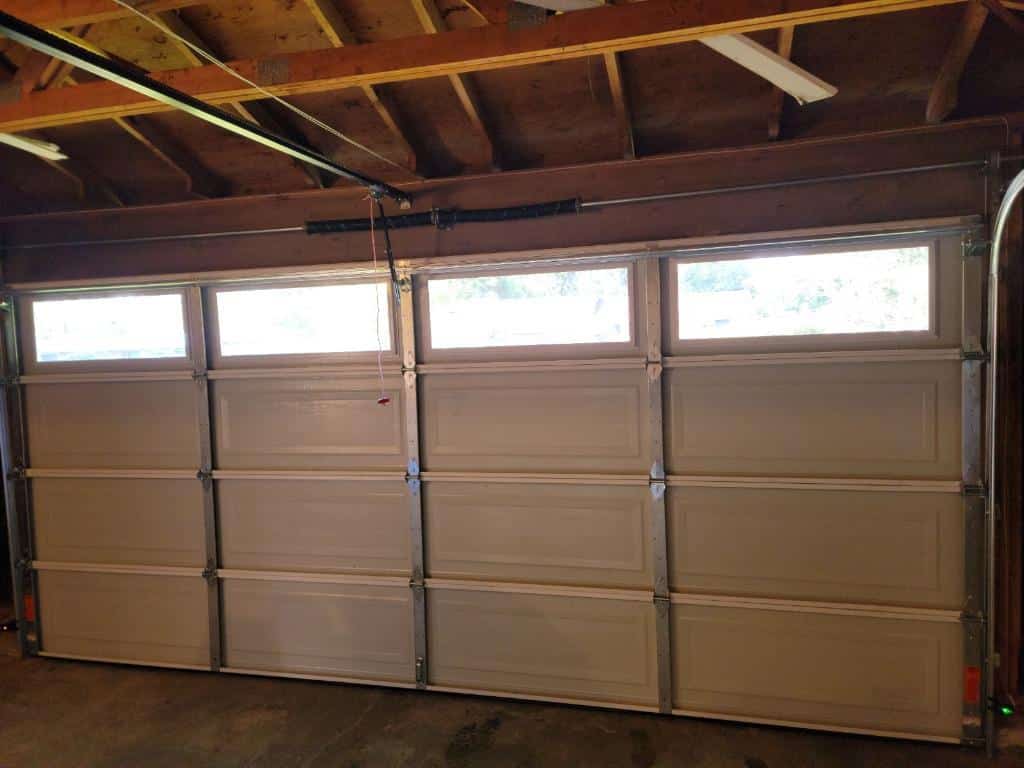 Get High-Quality Garage Door Parts In Kirkland, WA
A garage door that rattles, shakes, or flat out refuses to work is an aftermath of broken garage door parts. Thus, at AAA Garage Door, we fix all the problems related to your garage door parts in Kirkland, WA. Some of the garage door parts we fix are–
Springs
At AAA Garage, we offer a comprehensive range of spring repair options, including torsion springs and extension springs, designed to cater to the needs of both residential and commercial garage doors.
Extension Springs for Residential Garage Door – In almost all residential garage doors, extension springs are present. Extension springs connect to the walls and cables of the garages. In terms of design, some have a clip system or loop. This spring needs specialized maintenance from trained experts to keep it in operation for a long time, and it generally last less than 10,000 cycles. The extension springs are designed to cater to the needs of lightweight residential garage doors.
Torsion Springs for the Commercial Garage Door – Using the torsion bar fixture, you can connect every corner of your garage to the cable drum. We install torsion springs on single or double garage doors and custom torsion springs on commercial doors. A typical extension spring lasts 10,000 to 50,000 turns, twice as long as a compression spring. Moreover, they are significantly more controlled and durable than extension springs.
We also offer garage door spring repair services.
Openers
AAA Garage specializes in various models, ensuring we have the perfect solution for every customer. Our Garage Door Opener selection includes the following (but not limited to)–
Chain-driven openers – These reliable, cost-effective openers are perfect for heavy or large garage doors.
Belt-driven openers – These quiet, smooth-operating openers are ideal for homes with living spaces near the garage.
Screw-driven openers – With fewer moving parts, these low-maintenance openers are a great long-term investment.
Smart openers – Upgrade to a garage door opener for seamless integration with your smart home system and increased accessibility.
We also have opener installation and repair services.
Rollers
Rollers help to move the garage door up and down. Our array of rollers comes in different sizes, types, and brands that can ensure smooth and quiet operation, enhancing your garage door's functionality.
Cables
A garage door system is incomplete without cables attached to strings to counterbalance the door's weight. We have cables from heavy-duty cables, especially for commercial and industrial garage doors, to lightweight cables for residential use.
Brackets
A garage door bracket helps support the door's entire top panel, which further helps prevent the door from splitting along the top panel.
Our Garage Door Parts Come With Installation & Replacement Services In Kirkland
At AAA Garage Door, we provide good quality garage door parts in Kirkland, removing the installation hassle. Your garage door parts are susceptible to wear and tear frequently. Thus, you need maintenance services every once or twice per year. Our services include–
Garage Door Parts Installation
We cater our installation services with your convenience in mind. Our experienced technicians have more than 25 years of experience and know the ways around precision and care while installing your garage door parts. We've got you covered with everything, whether fitting in those smooth-rolling rollers, securing cables for long-lasting strength, or ensuring hinges are whisper-quiet.
Garage Door Parts Replacement
Your garage door parts have a tough job of dealing with the constant use and getting in contact with different elements throughout the day. So, they might wear out over time. That's when AAA Garage Door comes in with the replacement services. We replace all your garage door parts in Kirkland with high-quality parts to ensure the reliability and durability of your garage door.
We Fix Garage Door Parts Too!
We are not just about providing garage door replacement and installation services, but we also fix garage door parts! Some common signs your garage door shows, if the parts need replacement, are–
Your garage door makes a noise when you open and close it
The cords or wires get loose
Your garage door gets jammed
Sagging or bowing garage door section
Slow response time, i.e., delayed operations of the garage door
The garage door goes off its track
It might be time to check and repair your garage door parts! That's why we are here for you. We understand that garage door parts can sometimes act up and require a little maintenance. That's where AAA Garage Door comes into play. If your garage door is facing noise issues, your springs are not working properly, or your cables need a little nudge, we can repair them for you! We pride ourselves on problem solvers and can repair even the tiniest issues with your garage door parts.
Cost Of Different Garage Door Parts In Kirkland, WA
The cost of different garage door parts in Kirkland, WA, can differ depending on the location, quality of the garage door part, and many other factors. However, we have created a rough estimate of the cost of different garage door parts below–
| Parts | Cost per price | Cost per Installation |
| --- | --- | --- |
| Springs (Extension & Torsion) | $50 to $350 | $200 to $350 |
| Cable | $8 to $50 | $100 to $280 |
| Roller | $25 to $40 | $90 to $200 |
| Track | $125 to $200 | $125 to $400 |
| Bracket | $10 to $100 | $118 to $148 |
| Sensor | $80 to $100 | $100 to $250 |
| Opener | $30 to $60 | $65 to $100 |
Get a free quote with AAA Garage Door to get different kinds of garage door parts in Kirkland today!
Panel Design, Colors, and Glass Design Options For Garage Doors
Panels come in six different styles, allowing you to choose the perfect match for the design of your home. Panel designs available for garage doors in Bellevue include:
Short-raised (traditional)
Long-raised (ranch)
Country
Cottage
Shaker
Flush
The panels are available in seven standard colors, ready for the personal touch to enhance the look of your home.
White
Sandstone
Almond
Brown
Black
Medium Wood Grain
Dark Wood Grain
Note: Medium and Dark Wood Grain colors are not available for Flush design.
Furthermore, our glass options for the garage doors that you can choose from are as follows:
 ⅛" Clear
⅛" Bronze
White Laminated
Black Laminated
Satin Etch
Frosted Gluechip
⅛" Greylite
⅛" Mistlite
⅛" P516 Obscure
Contact us for sample pictures for your design choice, and you can also visit us for samples for your garage door. We offer a range of panel designs, color, glass, and window options.
Why Choose AAA Garage Door For Garage Door Services In Kirkland, WA?
With a team of talented professionals, a commitment to quality service, and unmatched expertise, AAA Garage Door is the perfect choice for all your garage door problems. We are here to make your garage door process as seamless as possible. Discover why AAA Garage Door should be your go-to choice for all garage door-related problems–
Reliable Garage Door Experts
Regarding garage door problems, we are the experts you can count on. Our dedicated team solves all issues related to your garage door parts. Whether it is a repair, replacement, or installation service, we ensure your garage door's functionality and smooth operation. Our expertise ensures that your garage door receives the TLC it deserves! Get your garage doors fixed with the best team in Kirkland.
Ready When You Are
We can never predict a faulty spring or a snapped cable. Thus, our 24/7 availability is what sets us apart. Day or night, weekday or weekend, we are here to rescue your garage door problems any time of the day. You won't have to put up with your faulty garage doors any longer; contact us today!
Budget-friendly Solutions
We believe in fair pricing that suits your pockets and gives your garage door the reliable finish it deserves. We provide high-quality garage door parts at a reasonable price, and all our services are budget-friendly. No hidden fees or surprises, just an honest quote. And the cherry on top is we provide free quotes for all our customers!
Built to Last
Choosing us means more than just our service – You are getting a partner in maintaining your garage door's health. We are here to ensure that your garage door functions smoothly and is reliable in the long run. When you choose us, you choose a budget-friendly garage door experience backed with reliability and longevity.
Let us, AAA Garage Door, transform your garage door, making your journey smoother, quieter, and more reliable.
Contact AAA Garage Door For Genuine Garage Door Parts In Kirkland, WA
Regarding genuine garage door parts in Kirkland, WA, look no further than AAA Garage Door. We are your trusted partners for guaranteed door parts, lasting repair and replacement services, and a hassle-free installation process. With no hidden costs, we cater our service to our customers' needs and want to bring your garage door back to life.
Ready to transform your garage door? Reach out to us today at (206) 309-8798 and get a free quote!
Areas We Work With In Kirkland, WA
Central Houghton
Crestwoods
Everest
Feriton
Firloch
Harmon Ridge
Highlands
Inglewood
Juanita
Kings Gate
Lake Park
Manitou
Norkirk
North Juanita
North Rose Hill
Oskams Corner
Snyders Corner
South Rose Hill
Frequently Asked Questions
If you are looking for high-quality garage door replacement parts in Kirkland, WA, look no further than AAA Garage Door. At AAA Garage Door, we provide genuine garage door parts at a budget-friendly price. We provide the best Rollers, Openers, Cables, Drums, Hinges, Brackets, Torsion springs, and Extension springs along with our repair, replacement, and installation services. We provide services 24/7, along with a free quote.
The ideal garage door parts list are–
Rollers 

Cables

Drums

Hinges

Brackets

Torsion springs

Extension springs 

Openers

Panels
You can replace any garage door parts, including panels and openers. You can replace rollers, cables, drums, hinges, brackets, openers, and panels. With time, garage door parts are prone to wear and tear because of frequent usage and exposure to different elements. When they are beyond repair, new garage door parts should replace the old ones so your garage door can function smoothly again.
Some of the best garage door brands include Alutech, Garador, Hormann, Clopay, and more. However, garage doors come in different shapes and sizes and different materials. Depending on your choice of material and garage door type, individual preference, needs, and other criteria, the brands can vary from door to door. Likewise, your budget can influence the best garage door brand while choosing the right one.
Yes, the garage door repair parts provided by AAA Garage Door come with a one-year warranty. We provide the best quality garage door parts, and they also come with a 90-day labor warranty. We stand behind the services and products we sell to our customers. Likewise, our warranty ensures peace of mind with our customers so they can trust us with their garage door problems. However, our warranty may vary depending on specific parts or services, and we do not have other financing options.