Are you tired of dealing with broken garage doors in Kent, WA? Dealing with worn-out garage door components, noisy rollers, malfunctioning cables, broken springs, or misaligned hinges can get frustrating, and without a professional's help, assessing the problem plus finding a solution is a lot of work. That's why AAA Garage Door is here to help you with all the issues related to your garage door parts in Kent, WA. Our comprehensive range of top-quality garage door parts, including rollers, cables, drums, hinges, brackets, torsion springs, and extension springs, solves all your garage door problems. We've got you covered whether you are dealing with a specific issue or require a complete assessment. You can trust AAA Garage Door for the best garage door part in Kent to restore your garage door's functionality.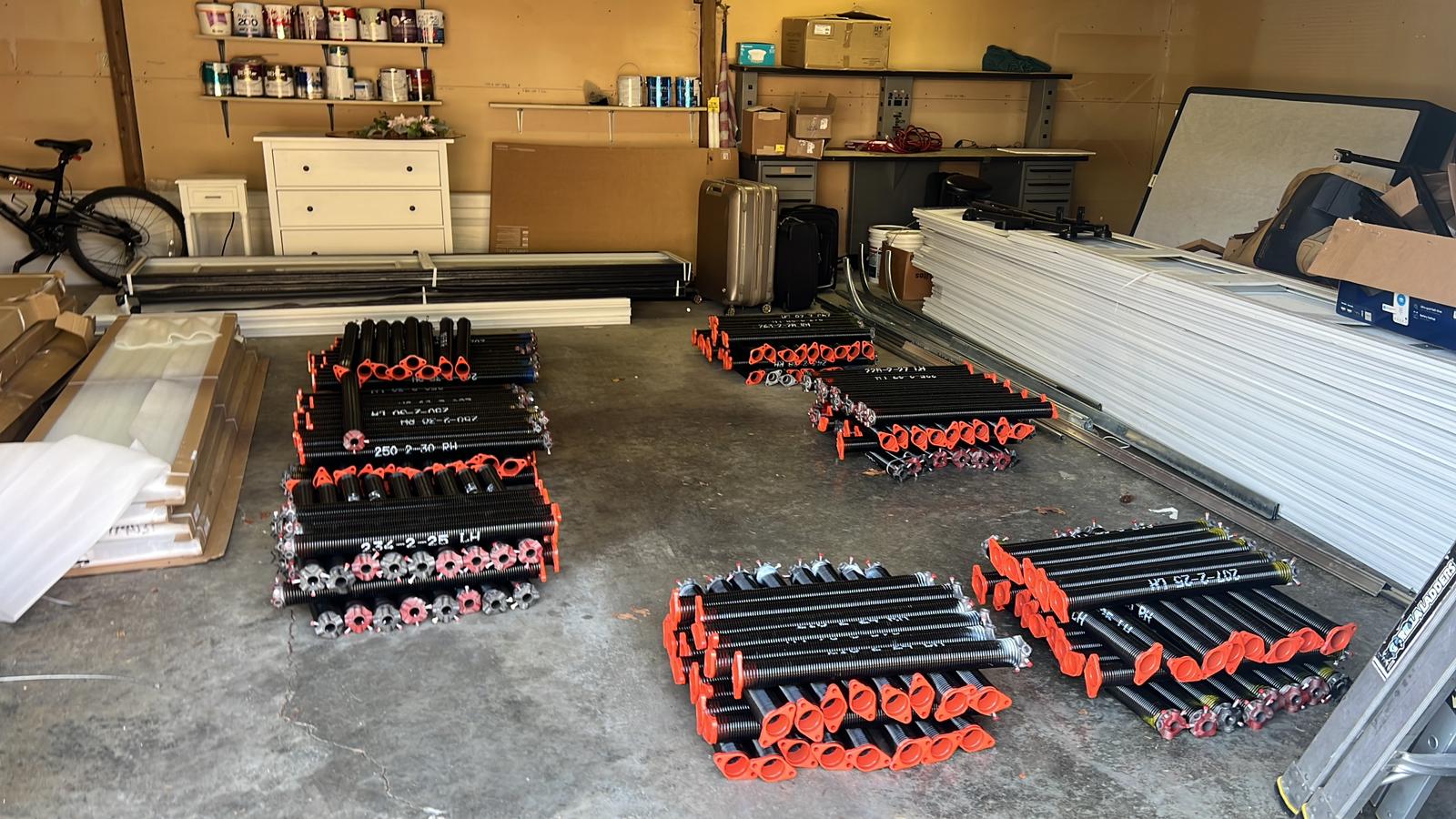 We Provide All Garage Door Parts In Kent, WA
We are extremely proud to offer one of the widest garage door opener parts selections in Kent. We network with some of the industry's most recognized brands to provide our clients with an exclusive inventory of–
Openers
We provide several types of openers and opener repair and installation services in AAA Garage Door such as –
Belt Openers – Our belt drives ensure that your garage door operates smoothly and reliably for a long time. These belts are also durable and quiet, ensuring your house maintains a peaceful environment throughout the day.
Chain Openers  – Our chains are known for their durability and ability to handle tough conditions. They are also incredibly affordable and ideal for homeowners purchasing a garage door opener on a budget.
Screw Openers – A perfect balance of affordability, performance, and durability, our screw drives are perfect for people looking for something between belt and chain drives. Screw drives are also incredibly easy to install and require little long-term maintenance.
You must check your garage door openers every once a year, and AAA Garage Door can help you with that.
Springs
With years of experience in various garage door services, we have honed our expertise in garage door spring repair and replacement within the Kent area. Our selection of springs includes a wide array of options, such as –
Extension Springs – Extension springs are present in almost all residential garage doors. Extension springs get connected to walls and cables in garages. In terms of design, some have a clip system or loop. This spring needs specialized maintenance from trained experts to keep it in operation for a long time, and they generally last moderately around 10,000 cycles before wearing out.
Torsion Springs – Using the torsion bar fixture, you can connect every corner of your garage to the cable drum. Torsion springs are for commercial doors. A typical torsion spring can usually last up to 10,000 to 50,000 cycles. Plus, they are significantly more controlled than extension springs.
You need to get your springs checked at least twice a year, and AAA Garage Door can assess your springs' condition and repair them if needed.
Rollers
Rollers play a crucial role in your garage door system. They facilitate the smooth movement of the door by connecting it to the tracks, enabling effortless opening and closing.
Cables
Garage door cables connect to your garage door pulleys and springs as they run up the sides of your door from the bottom. The cables wind around the pulleys as you open your garage door. They help the springs to balance the door's weight so that it raises and lowers smoothly.
Drums
Our garage door drums attach to the torsion bar and act as a pulley to lift the door. You can choose from various sizes that depend on the weight of the garage door and the amount of high lift for the door.
Hinges
Hinges help to join two objects by distributing the weight along a fixed axis of rotation while allowing for simple opening and closing. You can find these on almost all interior doors, exterior doors, and doors to commercial buildings.
Brackets
A garage door operator bracket's main function is to fortify the connection between the garage door and the opener. Our brackets help to distribute the garage door's weight, provide structural support, and aid in smooth movement.
If you are looking for high-quality garage door parts in Kent, look no further. At AAA Garage Door, we provide all services related to your garage door parts in Kent, WA.
Install, Repair & Replacement Services For Garage Door Parts In Kent
At AAA Garage Door, we understand the importance of a well-functioning garage door. Thus, we commit to ensuring your door operates smoothly without any issues. Some of our services at AAA Garage Door include-
✓ Garage Door Parts Installation
When it comes to any garage door part installation, AAA Garage Door has got you covered. Our experienced team has 25+ years of experience installing various garage door parts, including rollers, drums, cables, hinges, brackets, torsion springs, and extension springs. Our team can help you whether you want to install new garage door parts or upgrade your garage door parts. With the best quality of garage door parts, your garage door will return to its seamless functioning in no time.
✓ Garage Door Parts Repair
Every garage door part is susceptible to wear and tear due to frequent use and harsh elements. That's when the expertise of our skilled technicians comes in handy. They can easily diagnose the issue with your garage door and repair the necessary parts. They repair the parts from broken springs, misaligned tracks, or damaged rollers back to normal in a few hours. With our garage door repair services, your garage door will return to its optimal working condition quickly.
✓ Garage Door Part Replacement
If your garage door parts are beyond repair and need replacement, we have your back! At AAA Garage Door, we provide efficient garage door part replacement service in Kent, WA. Our range of inventories consists of high-quality garage door parts that allow us to replace your worn-out ones with new ones swiftly. From cables to hinges, we ensure that our replacement parts meet your garage door's standards and provide higher durability and performance.
Cost Of Different Garage Door Parts In Kent, WA
Here is a rough estimate of the cost of different garage door parts in Kent, WA–
| Parts | Cost per price | Cost per Installation |
| --- | --- | --- |
| Springs (Extension & Torsion) | $45 to $330 | $200 to $350 |
| Cable | $8 to $60 | $100 to $300 |
| Roller | $25 to $40 | $90 to $200 |
| Track | $125 to $200 | $125 to $400 |
| Bracket | $10 to $100 | $118 to $148 |
| Sensor | $80 to $100 | $100 to $250 |
| Opener | $30 to $60 | $65 to $100 |
Overall, the cost of garage door parts depends on the specific part you are looking for. So, contact AAA Garage Door today for a free quote on any garage door part service you require in Kent, WA!
Panel Design, Colors, and Glass Design Options For Garage Doors
Panels come in six different styles, allowing you to choose the perfect match for the design of your home. Panel designs available for garage doors in Bellevue include:
Short-raised (traditional)
Long-raised (ranch)
Country
Cottage
Shaker
Flush
The panels are available in seven standard colors, ready for the personal touch to enhance the look of your home.
White
Sandstone
Almond
Brown
Black
Medium Wood Grain
Dark Wood Grain
Note: Medium and Dark Wood Grain colors are not available for Flush design.
Furthermore, our glass options for the garage doors that you can choose from are as follows:
 ⅛" Clear
⅛" Bronze
White Laminated
Black Laminated
Satin Etch
Frosted Gluechip
⅛" Greylite
⅛" Mistlite
⅛" P516 Obscure
Contact us for sample pictures for your design choice, and you can also visit us for samples for your garage door. We offer a range of panel designs, color, glass, and window options.
Make AAA Garage Door Your Choice For Legitimate Garage Door Parts
For a garage door, reliability and durability are the most important things. That's why at AAA Garage Door, we provide nothing less. Let us introduce you to the reasons why AAA Garage Door will be your one-stop solution to all garage door problems–
✓ Unparalleled Expertise
Our experienced technicians bring 25+ years of experience to the table. Our team comprises skilled professionals who have mastered all the small nuisances related to garage doors. We understand the importance of knowing all the intricacies associated with garage doors, which enables us to provide better solutions for your garage door problems.
✓ Round-the-clock Availability
Garage door problems don't adhere to our usual schedule, nor do we! Our 24/7 availability is what sets us apart from other businesses. So we provide assistance with emergency garage door repair whenever you need it. Whether it is the middle of the night or the weekend, we are just a phone call away.
✓ Competitive and Transparent Pricing
At AAA Garage Door, quality garage door parts should not break the bank. We offer competitive prices for all our genuine garage door parts, making it more accessible to all homeowners who enjoy their upgraded garage door system. We provide transparent pricing for our services, along with a free quote!
✓ Uncompromising Quality
We take utmost pride in providing top-quality products and services for all garage door parts. From springs to rollers, our range of products meets the rigorous industry requirements. When you choose AAA Garage Door, you choose a service built to last a long time.
✓ Customer-Centric Approach
At AAA Garage Door, our customers are at the center of our efforts. In everything we do, we put your needs, concerns, and preferences front and center. It brings us immense satisfaction to customize our services to align perfectly with your requirements. Your happiness is our utmost priority, and we're dedicated to surpassing your expectations at every opportunity.
Contact AAA Garage Door For Genuine Garage Door Parts In Kent, WA
For your garage door's functionality, trust only the best! AAA Garage Door is here for you when you need any garage door parts in Kent, WA. Our team is ready to help you around the clock. We offer competitive prices and, most importantly, put you at the center of everything we do. Count on us to be your trusted partner for all your garage door concerns. Let us restore your garage door's functionality and longevity.
Reach out to AAA Garage Door today and experience the difference genuine garage door parts can make. Contact us at (206) 309-8798 and get a free quote today!
Areas We Serve In Kent, WA
Berrydale North
Garisson Creek Park
Green Tree Park
Highland Crossing
Lake Meridian
Lake Morton
Meridian Heights West
Shadow Lake West
Frequently Asked Questions (FAQs)
Garage springs are under high tension and are difficult to handle by an individual without technical skills and knowledge. One can get injured and damage the garage door when trying to replace the spring. Professional garage door companies have adequate expertise and understanding to handle inappropriate situations; therefore, you should contact a Seattle garage door specialist.
To check if a garage door part is genuine, you can–
Check the packaging and logo to see if they are consistent with the manufacturer's official branding

Check for the serial numbers and identification of some garage door parts

Compare your garage door parts with the official images provided by the manufacturer

Compare the materials of your garage door parts with other genuine products

Always purchase from authorized dealers

Please don't fall for cheaper parts because they are highly likely to be fake parts
Absolutely! We aim to help you with the installation of your garage door parts. Whether you're considering the installation of new parts or upgrading the ones you already have, our services cover all your needs comprehensively. Likewise, we install genuine and high-quality products compatible with your garage door's model for maximum efficiency. Along with installation services, we provide repair and replacement services for all your garage door parts.
The cost of garage door replacement parts can differ depending on the type of part you are looking for in Kent, WA. For instance, if you need springs replaced, the cost could fall within the range of $200 to $350 (per replacement), and this price already includes the installation cost. Similarly, if it's a cable replacement you're after, you might expect to pay around $100 to $300 (per replacement). Regarding tracks, the costs might span from $124 to $400 (per track) and potentially higher. Remember, these garage door replacement prices cover both the parts and the installation and labor costs.
If you are interested in buying genuine garage door parts in Kent, WA, you can trust AAA Garage Door. We provide only high-quality garage door parts so your garage door can function seamlessly for a long period. Our garage door parts and services also come at competitive pricing so that all homeowners can experience genuine garage door parts at an affordable rate.