Is your garage door acting up? Are you searching for garage door repairs to get it fixed? Well, look no further. AAA Garage Door in Tacoma, WA, is here to repair and install new garage doors. Our highly professional team is licensed and insured. Our core focus is to provide quality garage door repair service in Tacoma, WA. We deliver prompt and professional results as a local garage door service provider.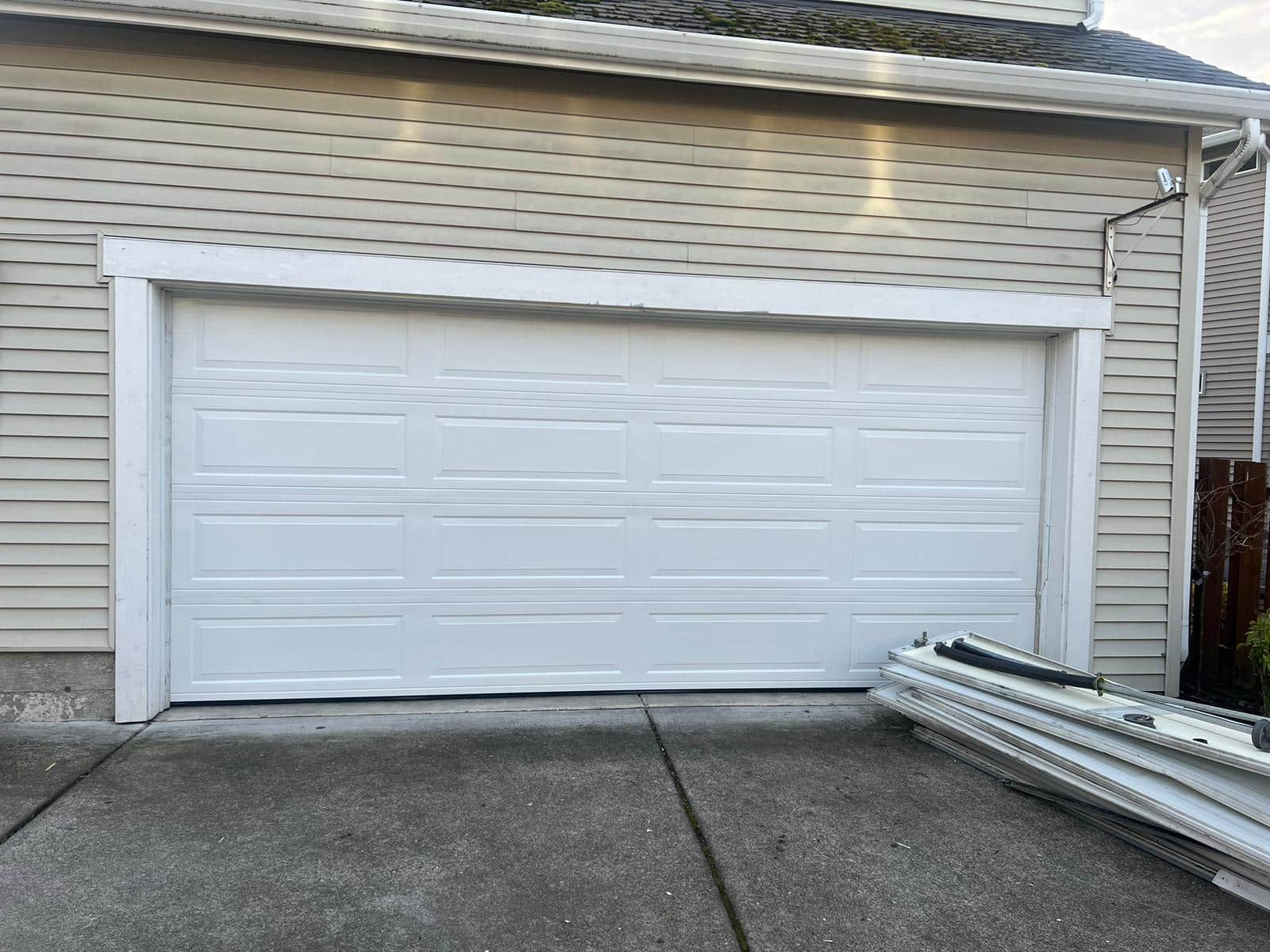 Common Garage Door Problems We Fix
Garage doors are necessary for any home because they provide security and convenience. Like any other mechanical device, they can malfunction from time to time. These malfunctioning issues can be frustrating and dangerous, so knowing when to seek professional assistance is critical. You can ensure that your garage door continues to provide dependable service for years by taking the necessary precautions to keep it in good working order. We 
Here are the most common garage door issues and warning signs that indicate it's time to consult the experts:
Broken springs – Garage doors are often prone to broken springs. Their job is to lift and lower the door; if they break, the door cannot move. When a broken spring is handled incorrectly, it can fly off and cause damage or injury. We offer the best garage door spring repair services.
Damaged panels –

Injury from a car or other vehicle and wear and tear can damage panels. As a result, the door may become uneven or fail to close properly.

Faulty openers – Several things, such as worn gears, a broken chain or belt, a faulty remote control, and a lack of power, etc., can cause opener problems, and they must be replaced or repaired as soon as possible. Furthermore, garage door opener issues can cause the door to close too quickly or slowly, which can be dangerous. Hence, we offer quick and efficient garage door opener services in Tacoma, WA.
Misalignment of the tracks –

When the tracks that regulate the movement of the doors bend or are out of alignment, misaligned tracks happen. This causes the door to become stuck or move unevenly, making opening and closing difficult.
Repairs for Residential and Commercial Garage Doors
We continue offering the most innovative and high-quality garage door repair and installation services for residential and commercial garage door applications. Our repair services include the following:
Fixing faulty openers, damaged panels, and tracks

Repairing broken springs, cables, rollers, and hinges

Identifying problems with your garage door

Providing a customized repair service to resolve the problem
For residential or commercial garage doors, our installation services include a tailored approach to fitting your garage door. Our service includes:
Maintain garage doors in a smooth, safe, and efficient manner.

Maintain and restore the aesthetics of your garage doors.

Save money by extending the life of your doors.

Eliminate potential safety hazards before they become a problem.
What Does Garage Door Installation Service Include?
Our garage door repair and service team can handle anything from a new spring to a panel replacement. If you need a garage door repaired, serviced, or installed, AAA Garage Doors is available 24/7. 
Different Door Sizes and Types
Doors can be customized to fit normal (8-10 feet) and double-car garages (12-18). If you are looking for other options, then we also provide sectional, swing-up motion, roll-up one-piece doors, and more. Specialized door operations like a swing-up motion or a one-piece door are slightly more expensive than sectional and roll-up door styles. 
Selection of Garage Door
We build ideal garage doors by providing various garage door styles, designs, and materials that fit your budget. Currently, we offer wood, steel, aluminum, fiberglass, and vinyl, among others. Additionally, we offer a variety of styles and colors of garage doors, such as traditional steel garage doors, modern aluminum garage doors, and wood carriage doors.
Quick Installation
Our experts will quickly install your new garage door, ensuring it protects your property's security. Furthermore, our garage door parts are premium and of the best quality you can find. 
Follow-up Services 
We provide flexible and convenient installation appointment times to accommodate your busy schedule. In case of any issues, our professionals will arrive on time to inspect the garage door's operation and repair any problems. 
Your Top Choice for Garage Door Repairs and Installation in Tacoma, WA
AAA Garage Door prides in providing top garage door repair and installation services in Tacoma, WA. Here are the reasons why:
Experienced Professionals
We are one of Washington's best garage door service providers, thanks to our experienced and certified professionals. Training and certifications are continually invested in to keep our technicians at the forefront of the industry.
Competitive Pricing
At AAA Garage, we understand the importance of providing quality service without sacrificing affordability. Your home or business can be made more energy-efficient without sacrificing quality. 
24/7 Availability
If you need service, repair, or installation for your garage door, AAA Garage Doors can help. Besides scheduling your appointment at your convenience and urgency, we'll call you before leaving. In addition, we ensure that your garage door operates properly and safely.
Customer Satisfaction
Our team prioritizes service quality and honesty. Furthermore, we communicate with our customers at every stage, from the first phone call to the job's completion. 
Contact AAA Garage Door for an installation appointment for your residential or commercial property or if you have any queries about fast and reliable repair services in Tacoma, WA.
Areas We Serve In Tacoma, WA:
We provide garage door repair and installation services in the Tacoma neighborhoods below.
Central Tacoma
Hilltop
Old Town
Proctor
South End
Stadium District
Three Bridges
West Slope
Frequently Asked Questions (FAQs)
The cost for a garage door replacement ranges from $1200 – $10600 per door in Tacoma. However, to find out our exact prices for garage door replacement, you need to choose the type of door you want and ask for the installation cost. At AAA Garage Door, we do not compromise quality for affordability. That's why we offer you the most competitive prices for garage door replacement. 
AAA Garage Doors does not recommend replacing a garage door without changing the rails. Moreover, your new door may be incompatible with your old tracks resulting in issues like door imbalance, stuck doors, and potential injuries. We can change your garage door rails and make everything as good as new.
With an average cost of $913 per door, a garage door installation in Tacoma ranges between $818-$1008. AAA Garage Door Installation in Tacoma depends on door type, labor costs, and additional materials costs to determine the exact price for the installation. We offer garage doors in different styles, designs, and materials. We also have expensive options that provide you with specialized door operations. 
If you're considering installing a garage door yourself, think again! You can face severe injuries if you lack the skills to install garage doors. It will cost you even more than hiring professional help. Plus, we are your go-to service provider with a successful track record in installing garage doors in Tacoma.
Usually, it takes us around 4 to 6 hours to completely fix a garage door. We will take less time if your existing structure is compatible with your new garage door. However, we will need more time to change your old garage tracks. If your garage door fixing only includes repairing the parts, we will only need an hour or two. In case of any issues after fixation, our experts will also be there for follow-up services.
AAA Garage Door recommends you to service your garage door twice a year. Regular servicing can help you detect early wear and tear signs, sparing you the hefty burden of expensive repairs later. You can also prolong the life of your garage door and minimize potential hazards by servicing them routinely.
AAA Garage Door offers several repair options for garage door panels in Tacoma, depending on the severity of the damage. From fixing dents, repairing cracks, reattaching loose boards, and replacing sections, we have solutions for all your garage door problems. Your garage door panel repair is only a call away. You can count on us to repair your garage door panels in Tacoma.
It can be dangerous and difficult to repair the garage door cable alone. AAA Garage Door is your reliable partner in improving garage door cables. As Tacoma's leading garage door specialists, we prioritize the quality of our work and your satisfaction. We offer quick and reliable garage door cable repair services at 206-309-8798. We are available 24/7.
Yes, we can restore or repair a dented garage door. If the rest of your door is in good condition, we smooth out the dents using replacement panels. At AAA Garage Door, we have high-quality panels that will give you your money's worth after replacement. So, if your door has become uneven or fails to close properly, call us, and our licensed and insured technicians will only provide the most reliable repair services.