Expert Garage Door Repair and Installation in Newcastle, WA 
Are you looking for a quality garage door repair and installation in Newcastle, WA? – Contact AAA Garage Door! We are experts in repairing all kinds of residential and commercial garage doors, from sectional, roll-up, to steel. Our certified, licensed, and insured team of professionals follows a systematic plan to make the repair and installation process as customized as possible. We are well-equipped to repair or install garage doors for you on the same day and with no issues.
Various factors can cause garage door issues. So, hire AAA Garage Door – the best in Newcastle, WA to provide #1 garage door repair and installation services.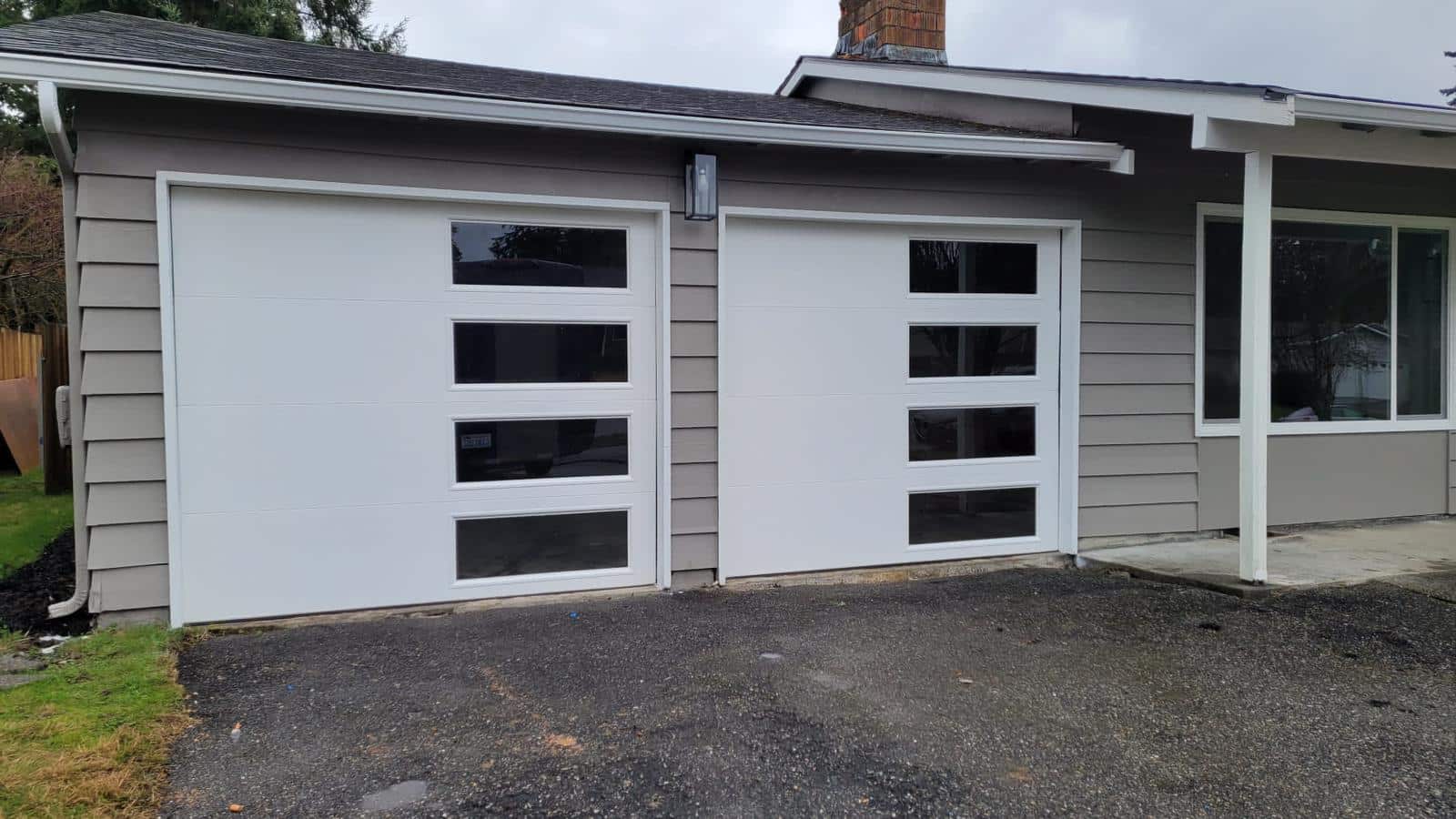 Garage Door Problems and Expert Solutions On Repair
Garage Door issues can give you a headache, especially when you cannot figure out what's the problem! AAA Garage Door specializes in addressing a range of garage door issues homeowners in Newcastle, WA face.
✓ Broken Garage Door Springs – We see this problem a LOT! That's why AAA Garage Door only provides the highest quality replacement parts so that your garage door will function smoothly for a long time after our garage door spring repair.
✓ Damaged Garage Door Sections – You won't face this problem quite often. However, we are affluent in fixing this issue. 
✓ Opener Sensor Issues – Is your garage door not opening or closing properly? Got it! This problem is due to the issue with your garage door opener's sensor. We offer garage door opener repair services. 
✓ Frayed Cables – Don't sweat about this problem. Your garage door's cable will get worn out at some point. Similarly, frayed cords can cause potential accidents. So, leave it to our team to safely and reliably handle it.
✓ Garage Door Track Repair – Is your garage door slightly bent or unbalanced? The culprits are the tracks!
✓ Sectional Panel Replacement – The design of the sectional panel will get outdated at some point, or it can face other damages. Albeit any issue, we can identify and repair your garage door's sectional panels to give it a fresh appearance.
✓ Gear & Rail Lubrication – It is more of a maintenance issue. If your garage door is creaking or making a sound while operating, its gear and rail need lubrication. Not only will it favor smooth and quiet operation, but it will also extend the lifespan of your garage door. Our technicians will inspect and lubricate the necessary components to return the functionality of a garage door to its original state.
If you think this is all we offer, then you are wrong! We have more repairs up our sleeves, like– fixing broken or bent rollers, hardware overhauls, etc. We repair almost all of the major brands of garage doors or parts, and our team thoroughly follows safety inspections before starting any work.
So if you are in New Castle, WA, looking for a reliable, prompt, and great service quality, you know whom to call – AAA Garage Door! We are your local expert for garage door repair in New Castle, WA.
Benefits of Professional Garage Door Repair and Installation Services 
You can take advantage of several benefits when you hire our professional garage door repair and installation services:
✓ With properly installed garage doors, you can increase your safety and security.
✓ Increased property value with a functioning garage door and aesthetic curb.
✓ Peace of mind knowing that your vehicles or other belongings are protected.
✓ Saving (future) costly and time-consuming repairs.
✓ Various warranties on all parts and labor.
AAA Garage Door carries three things–expertise, experience, and integrity. Our team always responds to issues and maintains the highest standards in any repair and garage door installation in New Castle, WA. 
Range of Garage Door Options Available For Installation in Newcastle, WA
AAA Garage Door is proud to offer various garage door styles to cater to your unique preferences.
✓ Sectional Garage Door
✓ Overhead Door
✓ Roll-up Garage Door
✓ Commercial Garage Door
✓ Residential Garage Door
✓ Steel Garage Door
✓ Wood Garage Door
✓ Energy-efficient Fiberglass Garage Door
We only use the best brands that have top-notch materials. Our collection of garage door styles is mostly traditional, modern, carriage, or custom. So remember AAA Garage Door for garage door installation in New Castle, WA!
Why Choose AAA Garage Door For Garage Door Repair Services?
Ultimately it's your decision whether to choose us or not. However, we always try to keep our customers happy with some competitive advantages–
✓ Diagnostic and Service Fees
Our standard rates include diagnostic fees starting at $0. That's right! We provide absolutely no charge diagnosis for any garage door repair. However, our technicians charge you a service fee starting at $89. This fee will change as per the requested or diagnosed repair work. 
✓ Arrival Window of 1 hour
You can expect our team to come at the agreed time for the scheduled garage door repair or installation in New Castle, WA. However, our emergency service is available 24/7 and will arrive at your location within 1 hour.  
✓ Basic to Advanced Repair & Expert Installation 
In our basic garage door repair, we provide a 90 days labor warranty. We provide a manufacturer's warranty of up to 1 year for all garage door repairs and installation parts in New Castle, WA.
✓ Value for Money Garage Door Repair & Installation Services
AAA Garage Door strives to provide the best quality and excellent customer experience by keeping our prices fair. We provide same-day services and regularly scheduled inspections as a service add-on. We confidently deliver our service quickly and with minimal to non-existent issues. All to ensure that you get what you're paying for!
Note: Any abovementioned warranties/fees can change as per the situation. Please schedule a consultation with one of our experts for a more accurate estimate.
Trusted Garage Door Solution is Right Around the Corner!
Invest in excellence and trust AAA Garage Door for all kinds of garage door repair and installation in New Castle, WA! Contact us at (206) 309-8798 or complete our online form here. 
Areas We Serve In Newcastle, WA:
We also provide our garage door repair and installation services in the following neighborhoods in New Castle, WA.
Delmar Woods.
Hazelwood South
Newcastle City Center