Are you having issues with your garage door's operation? Do you frequently encounter problems with stuck doors, uneven movement, or odd noises? No need to worry anymore; we at AAA Garage Door are aware of the annoyance of broken garage doors and are here to offer the ideal remedy. We have everything you need to restore your garage door to peak performance, including a broad selection of premium garage door parts, such as Rollers, Cables, Drums, Openers, Hinges, Brackets, Torsion Springs, and Extension Springs. For the best selection of garage door parts in Seattle, WA, and dependable service, get in touch with AAA Garage Door in Seattle, Washington.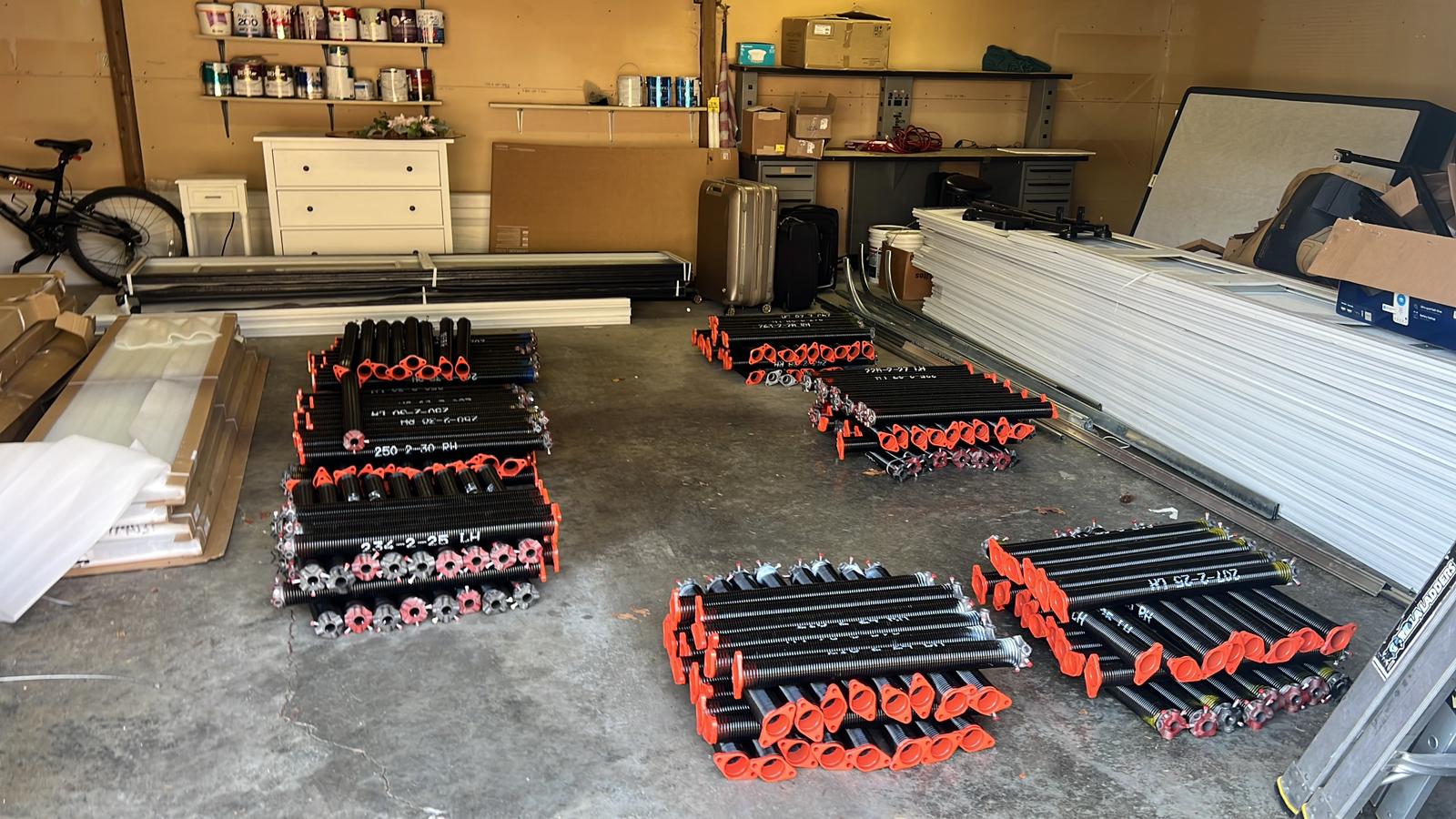 Get The Best Garage Door Parts In Seattle, WA
We have different garage door parts in Seattle and components that help your garage door to work smoothly and reliably, such as–
Springs
Springs help to support the weight of the garage door. It also ensures the smooth operation of the door. AAA Garage Door works with various springs in a garage door, such as torsion springs, extension springs, etc. We ensure that each spring gets replaced with a high-quality spring from a brand known for its performance and durability. We also offer garage door spring repair services. There are two types of springs, and these are–
Torsion Springs –Torsion springs use stored mechanical energy to tighten and twist, creating a natural force that propels your garage door when you lift and close it. You can find these springs above the garage door. These springs are simple and cost-efficient, though they require periodic servicing and replacement as they encounter changing weather conditions and cycle life.
Extension Springs – Extension springs are on either side of the garage door and attach to a track system equipped with cables and pulleys to open and close. Because they don't get self-contained like torsion springs, you should always install a safety cable alongside extension springs in case of breakage.Drums
Drums are spherical pulley wheel pieces that slide into the brackets for the rollers. They permit the rollers to rotate freely without barriers while aiding in keeping them in position. A balanced door movement requires properly functioning drums. We provide strong drums that properly balance your door and extend the life of your garage door.
Rollers
Rollers help to move the garage door up and down. They are little wheels positioned along the garage door's two sides. The door can move across the floor without running into anything because these tracks support the rollers. Our array of rollers comes in different sizes, types, and brands that can ensure smooth and quiet operation, enhancing your garage door's functionality.
Hinges
Maintaining the structural integrity of your garage door depends critically on hinges. It holds the panels together and folds to allow the door to bend and retract as it travels along the track to open or close. We use hinges that can withstand frequent use and guard against early deterioration.
Brackets 
To maintain the stability of your garage door, secure brackets are necessary. These metal components keep the cables and rollers attached to the garage door's sides. The brackets that we use offer strong support and increase the lifespan of your door.
Cables
A garage door system has cables attached to strings to counterbalance the door's weight. We have cables from heavy-duty cables, especially for commercial and industrial garage doors, to lightweight cables for residential use.
With the help of our garage door parts, like panels, hinges, etc., we can efficiently replace and repair your garage door without any complexities. Call us today!
Installation, Repair & Replacement For All Garage Door Parts In Seattle
Our garage door services on Seattle, WA include the following–
✓ Garage Door Installation
We guarantee that your installation will happen correctly, quickly, and safely. Our knowledgeable technicians can install various garage door types and models because they have first-hand experience. We handle every step of the installation procedure, from taking exact measurements to ensuring all parts get positioned correctly.
✓ Garage Door Repair
We are aware of the disruptions to daily life, security risks, and safety hazards caused by a broken garage door. Our skilled garage door repair specialists identify and resolve a variety of garage door problems, such as blocked sensors, broken springs, uneven doors, noisy doors, and slow closing and opening of the garage door. Our AAA Garage Door team has the skills and equipment to handle any job, whether it involves fixing a cable out of alignment, replacing a worn-out spring, or upgrading your opener to provide more convenience.
✓ Garage Door Replacement
AAA Garage Door provides thorough garage door replacement services by considering your preferences, financial situation, and sense of style. We guarantee you'll find the ideal garage door for your home among our large selection of high-quality garage doors. Our staff helps you choose a door that matches your style and satisfies your functional requirements and will install garage door openers and panels as well. Once you've decided, our experts will remove your old door and install the new one.
Stop letting a broken garage door bother you any longer. For the best and most reliable garage door parts in Seattle, get in touch with AAA Garage Door today.
How To Choose The Right Garage Door Parts For Your Garage Door? 
Before choosing the right garage door parts for your garage door, you need to consider a few of the things that are as follows–
Material –The first thing to decide will be the material of the garage door components. For instance, galvanized or steel parts are rust-resistant and strong for outdoor installation.
Quality – You must invest in parts of superior quality that can withstand repeated use and various weather conditions. High-quality components will perform better and need to get replaced less frequently.
Functionality – Always consider the purpose of the garage door component that you're replacing. For instance, if you're replacing springs, pick ones that adequately support your garage door's weight.
Safety – Remember to prioritize safety by choosing components that follow industry standards. It is crucial for parts like springs and cables because they are under tension and dangerous if improperly installed.
Expert Recommendation – Consult experts like AAA Garage Door if you need clarification on the ideal components for your garage door. Based on our knowledge and experience, they can offer insights.
Cost Of Different Garage Door Parts In Seattle, WA
The cost of different garage door parts in Seattle, WA, are as follows–
| | | |
| --- | --- | --- |
| Garage Door Parts | Average Cost of parts (per part) | Repair Cost (per repair, including labor costs) |
| Rollers | $20 to $50 | $130 to $250 |
| Cables | $15 to $60 | $85 to $200 |
| Extension Springs | $20 to $100 | $50 to $95 |
| Torsion Springs | $50 to $200 | $200 to $290 |
| Hinges | $15 to $75 | $100 to $250 |
| Brackets | $10 to $25 | $80 to $160 |
| Electronic Opener | $150 to $300 | $100 to $390 |
Please remember that these prices are approximations and may change depending on the brand (Liftmaster/Genie/Elite Series), material (galvanized/rust-resistant stainless steel), and local market conditions.
Panel Design, Colors, and Glass Design Options For Garage Doors
Panels come in six different styles, allowing you to choose the perfect match for the design of your home. Panel designs available for garage doors include:
Short-raised (traditional)
Long-raised (ranch)
Country
Cottage
Shaker
Flush
The panels are available in seven standard colors, ready for the personal touch to enhance the look of your home.
White
Sandstone
Almond
Brown
Black
Medium Wood Grain
Dark Wood Grain
Note: Medium and Dark Wood Grain colors are not available for Flush design.
Furthermore, our glass options for the garage doors that you can choose from are as follows:
 ⅛" Clear
⅛" Bronze
White Laminated
Black Laminated
Satin Etch
Frosted Gluechip
⅛" Greylite
⅛" Mistlite
⅛" P516 Obscure
Contact us for sample pictures for your design choice, and you can also visit us for samples for your garage door. We offer a range of panel designs, color, glass, and window options.
Why Choose AAA Garage Door Services?
AAA Garage Door is your dependable partner for garage door parts and services. Here's why:
Safety First –To ensure the secure installation and repair of garage door parts, we follow all the industry safety standards.
Expert Technicians – Our team of experts has all the experience to precisely install, repair, and replace a variety of garage door parts.
High-Quality Parts – We provide a broad selection of premium garage door parts built to last and function well.
25+ years of Experience – With years in the business, we thoroughly understand garage door systems and the parts that make them up.
Client Satisfaction – Our top priority is to satisfy our customers, and we make sure your garage door operates safely and optimally.
Quick Response – Whether you need a quick/urgent repair or a planned installation, we will act quickly.
Contact AAA Garage Door For Genuine Garage Door Parts In Seattle, WA
We make sure your garage door is as effective and high-quality as possible. Our dependable service and premium components guarantee that your garage door runs without a hitch and gives you the security and convenience you deserve. For all your garage door parts needed in Seattle, WA, get in touch with AAA Garage Door.
Areas We Service In Seattle, WA
Ballard
Beacon Hill
Briarcliff
Broadmoor
Clyde Hill
Denny-Blaine
First Hill
Fremon
Harrison
Interbay
Laurelhurst
Leschi
Madison Park
Madrona
Magnolia
Montlake
Phinney Ridge
Pioneer Square
Queen Anne
Seward Park
University District
Frequently Asked Questions (FAQs)
Before you decide to buy garage door parts in Seattle, WA, there are a few things you must consider, and these are–
First, figure out precise components that need repair, whether hinges, springs, rollers, cables or another type of part.

Then accurately measure your existing parts, as different garage door models and types might need other measurements to ensure compatibility.

Look for reputable suppliers or service providers in Seattle, Washington, such as AAA Garage Door. 

Choose genuine parts of the highest strength, which offer greater compatibility and durability.

Once you've decided on the components, buy them, then either do the installation yourself or hire experts from AAA Garage Door for a smooth and seamless process.
You can buy all genuine garage door parts at AAA Garage Door Repair in Seattle, WA. Here, you will get the garage door parts like cables, drums, rollers, hinges, brackets, and springs at reasonable prices.
Yes, quality and authenticity are priorities at AAA Garage Door. Our garage door components come from reputable, original manufacturers. We offer garage door parts of the highest strength, created according to industry standards, and provide the best performance and longevity.
The cost of different garage door parts in Seattle, WA, are as follows–
Roller cost ranges from $10 to $20 (per roller)

Hinges cost from $5 to $15 (per hinge)

Cables cost range from $15 to $30 (per cable)

Electronic Opener costs from $150 to $300 (per opener)

Brackets cost from $10 to $25 (per bracket)

Torsion springs cost $50 to $100 (per spring)

Extension springs cost $20 to $50 (per spring)
The cost of these garage door components can vary depending on the material, its quality, and different brand models.
The components of the garage door that you require while installing a new one are–
Hinges –

It helps to join the pieces together so that the door can bend as it moves.

Panels/Sections –

The primary door panels and sections make up the door's framework.

Rollers –

The door can be moved along the tracks smoothly and effectively thanks to rollers.

Springs –

These give the door's weight a counterbalance, allowing for controlled raising and lowering.

Tracks –

It facilitates the movement of the door by guiding the rollers.

Brackets –

It ensures the tracks and springs get firmly held in place.

Cables –

They aid the springs in safely raising and lowering the door.
Rollers and springs on garage doors can wear out more quickly than other garage door components. Every time you use your garage door, rollers, and springs help it move smoothly up and down on the garage door tracks. Additionally, they can withstand all of the pressure and weight of the garage door. But because they get used so frequently, they deteriorate over time. Due to usage and weather, they will eventually break and erode.