Have you ever been in a situation where your garage door isn't opening or closing properly? Do you notice your garage door is crooked or making awfully loud noises? The culprit behind these issues could be a malfunctioning garage door spring. If you're currently dealing with the inconvenience of a faulty garage door spring, we're here to help. Introducing AAA Garage Door's finest garage door spring repair in Kirkland, Washington! We offer different types of garage door springs, including extension garage door springs and torsion garage door springs. Let us amplify the functionality of your garage door with our high-quality and cost-effective garage door spring repair services!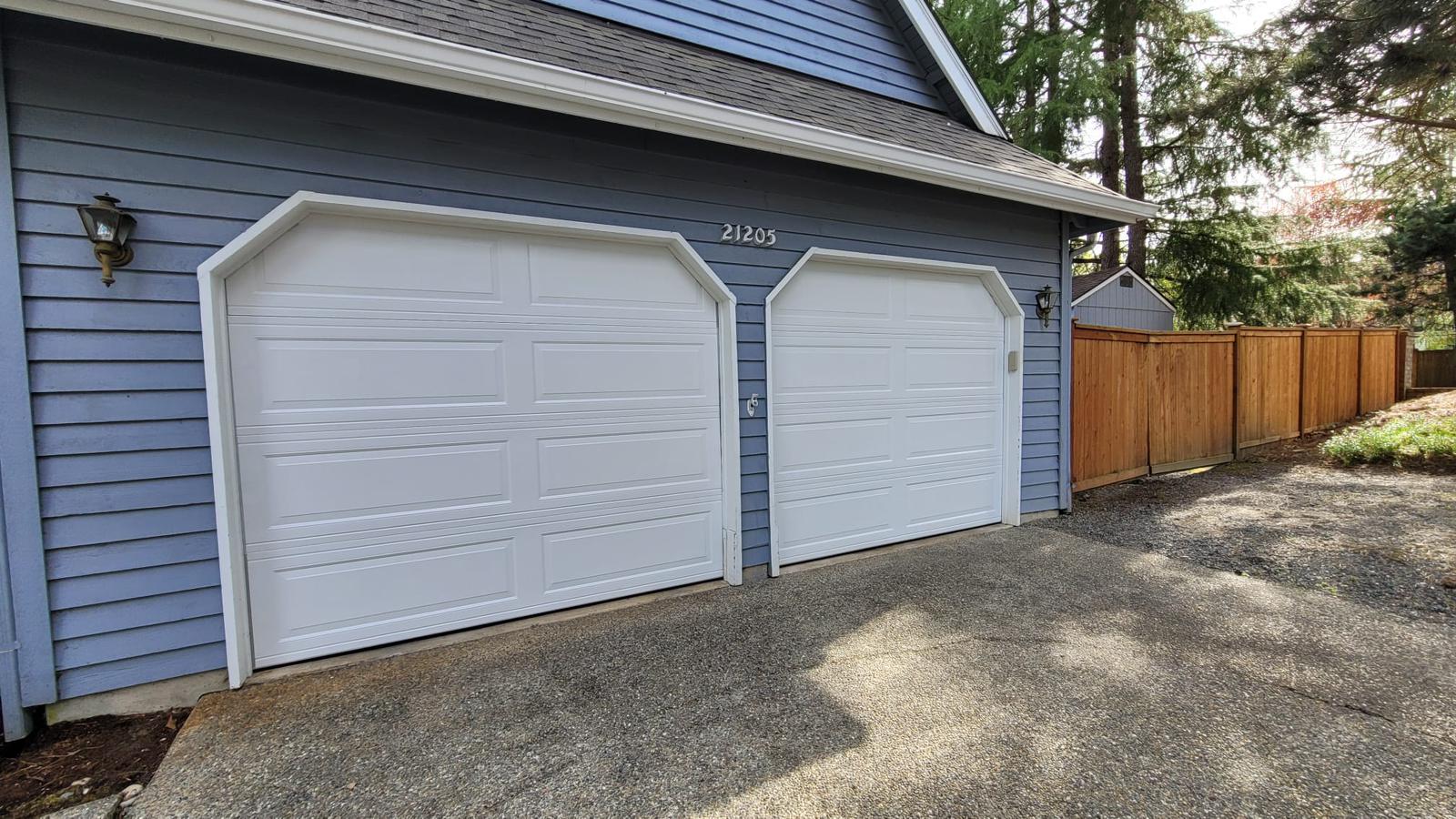 Possible Garage Door Spring Repair Issues
Your garage door springs remain under continuous pressure when the garage door opens and closes. While garage door springs are quite strong and durable, they can break or become faulty with frequent usage. Here are some possible and the most common issues that arise in garage door springs–
Rust: If your garage door springs have rust, it's probably because of a lack of lubrication. With the accumulation of rust, the coil friction on the springs increases and causes them to weaken sooner.
Wear and tear: Regular use makes your garage door springs worn out. Such springs can disrupt the smooth functioning of your garage door. Similarly, your garage door may break down when you least expect it to.
Breakage: If you have broken garage door springs, they may not open or close properly. Your garage door may seem heavier than usual, and there might also be a gap in the springs. If you notice such signs, it's best to let a professional replace the springs.
Unevenness: Your garage door springs may be imbalanced and cause the garage door to become crooked. The door may not open or close properly because of the imbalance of the springs. In such cases, spring adjustment or even replacement is necessary.
Spring tension: If your garage door is operating slower than normal, it may be because of spring tension issues. After regular use, the torsion in the springs can stretch and become less effective.
Noisy springs: Your garage door springs can produce awful noises if they aren't lubricated enough or are bad quality. Ensure that you regularly lubricate your springs; if that doesn't help, replace them with quality ones.
We Fix All Kinds Of Garage Door Springs In Kirkland, WA!
While garage door springs last roughly 10,000 cycles on average, they may not survive their usual lifespan for various reasons. Things like lack of lubrication, frequency of use, history of repair, and accidents can damage the garage door springs faster than normal. But don't worry, that's what we're here for! We fix all kinds of springs, including–
✔ Extension Springs 
Extension springs store energy when the garage door closes and release it when it opens. Their design allows them to open and close garage doors less than 10,000 times. The cables connect the springs to the garage door on either side of the door and can only lift a certain amount of weight; therefore, they are only suitable for single and lightweight garage doors. At AAA Garage Door, we offer three different types of extension springs–
Open-looped extension springs have a single coil and are easy to replace.
Double-looped extension springs contain two coils and are challenging to replace.
Clip extension springs are highly durable but difficult to change.
✔ Torsion Springs 
In general, torsion springs last for 10,000 to 50,000 cycles. Furthermore, they have more precise control over their motion than extension springs. When your garage door opens and closes, you need this control quality to remain balanced and aligned. Regarding garage door springs, torsion springs are an economical option. We have four different types of torsion springs in our collection–
Standard torsion springs are ideal for residential garage doors and lie above the garage door opening.
Torque master torsion springs are a safe option, and we place them inside a steel tube above the door.
Early-set torsion springs are common in residential garage doors, and we set them in the middle of the torsion shaft.
Steel rolling door torsion springs are common in commercial buildings, and we locate them inside the torsion barrel that supports the rolling door.
We at AAA Garage Door only use high-quality materials when repairing and servicing garage doors. Get the best garage door springs repair in Kirkland by contacting us today!
Our Garage Door Spring Services In Kirkland Include 
At AAA Garage Door, we understand everyone has unique garage door spring needs. Whether you need to replace your broken garage door springs in Kirkland or repair existing ones, we've got you covered. Here are our garage door spring services in Kirkland–
✔ Garage Door Spring Installation
Installing your garage door springs correctly ensures your door operates properly. It is also essential to choose springs that are compatible with your garage door system. That's why our garage door specialists start by assessing your garage door's weight and dimensions to select suitable springs, either extension or torsion. Our experts use accurate measurements for a safe installation, ensure that the springs are aligned correctly, and attach them securely.
✔ Garage Door Spring Replacement
The usual lifespan of garage door springs is about 7 to 10 years. With regular use and aging, the springs wear out or even break. If your garage door seems misaligned or produces excessive noise, it's a sign to replace your garage door springs. When replacing your garage door springs, our experts recommend suitable, high-quality springs so your door system functions properly. Moreover, they will replace both springs even if only one is damaged to extend the lifespan of the springs and balance tension among them. We also replace and repair the openers in a garage door.
✔ Garage Door Spring Repair
The following signs indicate that your garage door springs need repair–
Your garage door looks imbalanced
When operating, the garage door makes loud noises
The garage door functions more slowly than usual
There are visible signs of damage (rust, gaps, cracks) on the springs
Your garage door doesn't open or close fully
The garage door feels much heavier than normal
The lifting cables appear frayed or damaged
Our garage door experts are well-versed in repairing garage door springs as well as overall garage door repairs. They have a high level of understanding of the repair process and can conduct the tasks swiftly and efficiently. Whatever the issue is, they will skillfully repair and restore your garage door springs and ensure they last a long time.
Cost Of Garage Door Spring Repair In Kirkland, WA
To help you understand more about the cost of garage door spring repair in Kirkland, WA, here is an overview of the prices of different types of springs–
| | |
| --- | --- |
| Type of garage door spring | Cost (per spring) |
| Torsion springs | $30 to $100 |
| Extension springs | $50 to $100 |
| Double-door springs | $15 to $30 |
| Commercial-grade springs | $100 to $500 |
Here's a breakdown of other general costs regarding garage door spring repair in Washington–
| | |
| --- | --- |
| Garage door spring repair service | Cost (per project) |
| Spring Conversion | $400 to $800 |
| Cable replacement | $75 to $200 |
| Broken spring replacement | $100 to $300 |
| Spring tune-up | $50 to $150 |
| Labor costs | $75 to $150 per hour |
Why Choose AAA Garage Door Spring Repair Services?
Selecting the best service provider is crucial for garage door spring repair services. Otherwise, you may get below-average repair offerings that last less time than you'd like or don't match the bucks you spent. When you choose us, you get benefits such as–
We have a team of expert professionals: AAA Garage Door has experts with a lot of practical expertise. They can fix your garage door spring problems with exacting care and precision, no matter what they are. They are qualified specialists who will take extra measures to satisfy your needs.
Our prices are highly competitive: We think you shouldn't break the bank to get high-quality garage door services. S our quality services are available at highly reasonable prices. We are also very open and honest regarding pricing, and we only start the services after receiving your consent.
We offer a prompt response: At AAA Garage Door, we recognize that a malfunctioning garage door can inconvenience your daily routine. Hence, we offer fast and efficient services to reduce downtime. If you have a case emergency, our services are available 24/7, too.
We offer high-quality replacement parts: Regarding garage door spring repairs, we highly prioritize using top-quality replacement garage parts. Using such parts ensures that your garage door operates smoothly for a long time without frequent maintenance. We only use products from well-known manufacturers.
Our customer service is unparalleled: At AAA Garage Door, nothing is more important than your satisfaction. Our track record of highly satisfied customers speaks for itself. We're dedicated to meeting all your garage door spring repair needs and ensuring your complete satisfaction with our services.
Contact Garage Door Spring Repair Experts in Kirkland, WA
You get more than just a quick fix when you choose our garage door spring repair services; you get a comprehensive solution that guarantees your garage door's security, dependability, and smooth operation. Contact AAA Garage Door today at (206) 309-8798 to get started and experience the best garage door spring repair services in Kirkland!
Areas We Cover In Kirkland, WA
Central Houghton
Crestwoods
Everest
Feriton
Firloch
Harmon Ridge
Highlands
Inglewood
Juanita
Kings Gate
Lake Park
Manitou
Norkirk
North Juanita
North Rose Hill
Oskams Corner
Snyders Corner
South Rose Hill
Frequently Asked Questions (FAQs)
You should change your garage door springs every 7 to 10 years or every 10,000 cycles of opening and closing your garage door. However, the following factors influence the frequency of changing garage door springs–
How often do you use your garage door

The quality of your garage door springs

Weather conditions (temperature, humidity)

The weight of your garage door

History of spring repair (if any)
No, replacing your garage door at home can be highly risky. The garage door solely depends on the springs while opening and closing. So, it is important to fit the garage door spring, which requires professional assistance. Moreover, you may not have the right tools and techniques to conduct the task correctly and professionally. If you need help replacing your garage door springs, don't hesitate to contact us at AAA Garage Door!
You can purchase the finest garage door springs in Kirkland, WA, at AAA Garage Door. Here's why our garage door springs are better than the rest–
Our collection has all kinds of torsion springs (torque master, standard, early set, steel rolling door) and extension springs (open-looped, double-looped, clip ends) available. 

We only source these springs from reliable and trustworthy suppliers.

We have high-quality brands like IDC Spring, Lewis Spring, and Lee Spring.

The garage door springs come at a highly competitive price.
Here are the different kinds of garage door springs available at AAA Garage Door–
Torsion springs (standard, torque master, early set, steel rolling door)

Extension springs (open-looped, double-looped, clip ends)

Double-door springs

Commercial-grade springs
There are manufacturer warranties on most springs ranging from a year, and AAA Garage Door offers a one-year warranty on spring repairs and a 90-day warranty on workmanship repairs.