As a homeowner, we all know that garage doors can make our lives easier. But if something goes wrong with our garage door, it also can make our lives harder. If your garage door is making weird noises when you open and close it, if it is opening unevenly, or if your garage door opener switch has just given up, we've got you covered! At AAA Garage Door, we provide repair and replacement solutions for your garage door opener problems. We have a range of Belt-driven openers, Chain-driven openers, Screwdriver openers, Wall-mount openers, Jackshaft openers, and Smart Openers to increase the efficiency of your garage door after replacement or installation. You can always us for all your problems with garage door openers in Newcastle, WA.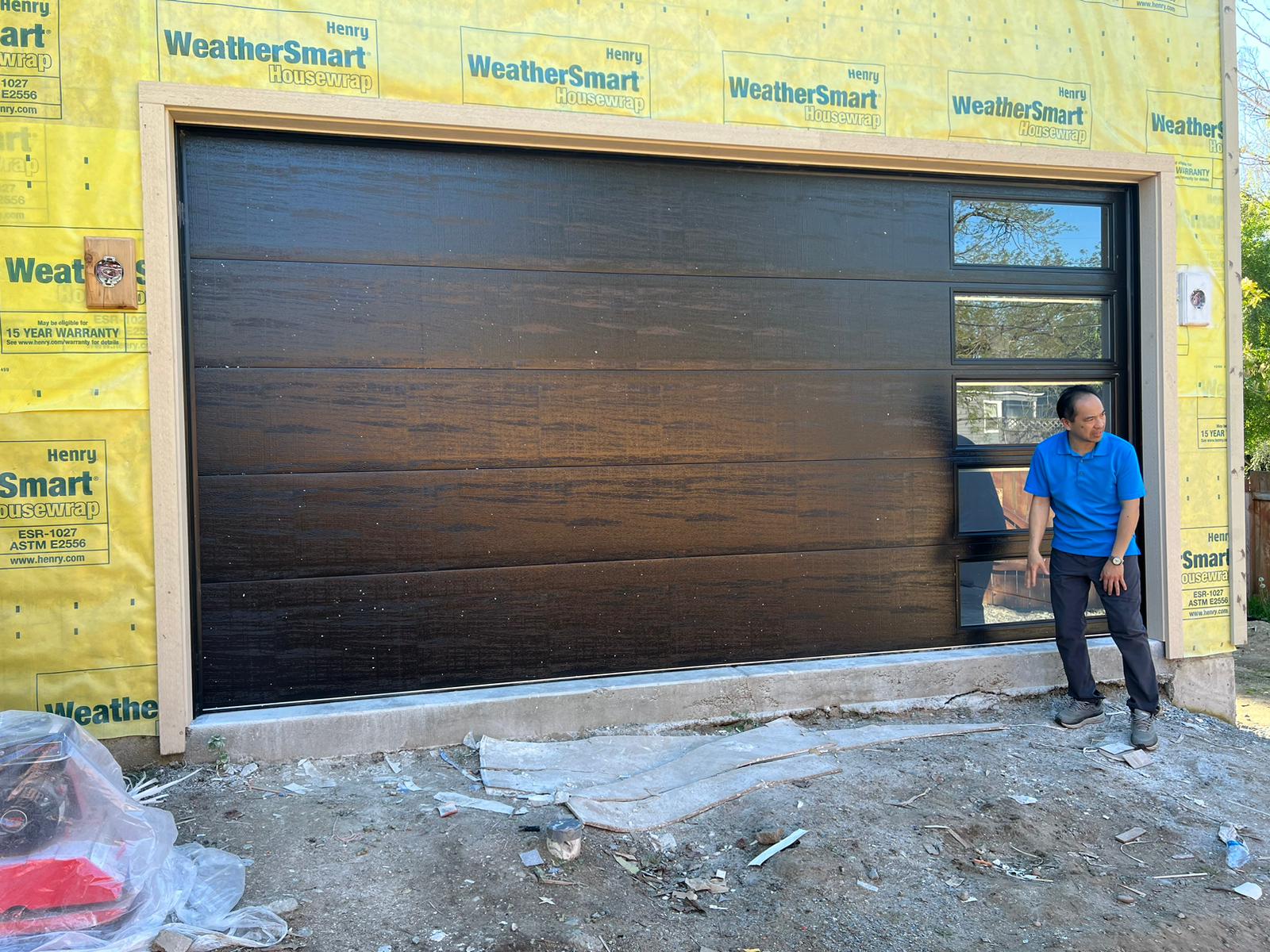 Get Genuine Garage Door Opener Parts In Newcastle, WA
At AAA Garage Door, we provide a comprehensive range of high-quality garage door opener parts in Newcastle, WA, to make sure your garage door functions smoothly. Whether you are in need of a garage door opener or require a replacement service along with the opener, we have all the services for your garage door. Here's a closer look at the range of options we provide:
If you are a homeowner who loves a quieter and smoother garage door operation, our belt-driven opener is the right choice for you! The rubber belt of the belt-driven opener minimizes noise while also giving your garage door a smooth operation.
If you want to save some money and upgrade your garage door opener, our chain-driven opener is the best option. Chain-driven openers are cost-efficient, and their sturdy system is known for its durability and reliability.
Our Screwdriver opener is the middle ground between a belt-driven opener and a chain-driven opener. It utilizes a threaded steel rod for smooth operation and balances noise level and performance.
Are you looking for some overhead space in your garage? No problem! Our wall-mount opener is designed to save you extra overhead space while juggling exceptional functionality. Its unique design perfectly complements the garages with limited headroom.
Do you need some versatility? Our Jackshaft opener has got you covered. It is a side-mounted solution that frees up overhead space and works well with high-lift ceilings. It is a practical choice for unique garage door setups.
A smart garage door opener has a remote control that lets you control who can enter your home. Even when you are away from home, you can still control who comes in and out of your home with the smart opener. This is your best option if you are looking for a garage door opener with a hint of technology.
Call AAA Garage Door, Newcastle, WA, today and get a free quote for opener, garage door spring repair, and garage door repair services.
Troubleshoot & Fix All Garage Door Opener Issues in Newcastle
AAA Garage Door offers garage door opener installation in New Castle, WA, along with garage door springs. Whether you need to fix a malfunctioning garage door opener or upgrade to the latest model that suits your lifestyle, AAA Garage Door can assist you and fulfill all your opener requirements.
At AAA Garage, we offer various models so that we can meet the standards of every customer. Our services include–
Opener Repair
Is your garage door opener refusing to function? Our skilled team is quick at diagnosing the issue and resolving various garage door opener problems. Some common issues homeowner face with their openers are-
Noisy operation of the garage door
Misalignment of garage door track
Remote control malfunction of the smart opener
Programming errors of the smart openers
From issues with the motors, malfunctioning sensors, and weird noises, we have the expertise to get your opener back to its working condition in no time. Whether it is a minor issue or a complex installation, we have all the solutions for garage door opener repair in New Castle, WA.
Opener Replacement
Your garage door can show signs of aging with time, and your only solution is to replace old damaged parts with new ones. If your garage door opener requires frequent repairs, outdated features, noisy operations, security upgrades, and more, it might be time to replace your old opener with a new one. Our wide range of garage door openers ensures you find the one that matches your garage door's model and taste. Our openers come with the best quality, latest features, and security.
Opener Installation
Whether you are moving into a new home or want to upgrade your existing garage door setup, we have the right services for you. We take care of every aspect related to your garage door installation, from ensuring proper alignment to configuring remote controls and safety features. The installation services can take anywhere from 2 to 3 hours with AAA Garage Door. So let us help you with your garage door opener installation in Newcastle, WA, today!
Contact AAA Garage Door in Newcastle WA today for all opener repair, replacement, and installation services!
Garage Door Opener Service Costs In Newcastle, WA
We have a rough estimate of the service costs for garage door opener in Newcastle, WA, below:
Opener

Installation Cost

(per opener)

Repair Cost

(per repair)

Replacement Cost

(per replacement)

Belt-driven opener

$420 to $650

$100 to $250

$400 to $900

Chain-driven opener

$300 to $600

$80 to $200

$350 to $850

Screw-driven opener

$350 to $700

$100 to $225

$375 to $875

Wall-mount opener

$400 to $800

$100 to $300

$300 to $900

Jackshaft opener

$600 to $1,000

$125 to $350

$500 to $1,200
You can always call us and get a free quote for all garage door services!
Why Choose AAA Garage Door Services?
Choosing AAA Garage Door services comes with a multitude of benefits. Whether you are looking for a quick fix or an extensive repair, our team ensures you receive the quality service you deserve. Here's why you won't regret choosing our service-
Experience and Expertise
We bring the experience of over 25 years to the table along with our expertise. Our team of expert technicians can tackle any issues related to your garage door. From intricate repairs to a seamless installation, our team ensures the job gets done right the first time!
Quality Guarantee
We highly prioritize high-quality garage door openers, whether for replacement or installation. By choosing our high-quality parts, you will instantly start to notice the difference it makes and its durability and efficiency.
Available Any Time Of The Day
We understand that garage door issues can come up at any time of the day. That's why we provide a 24/7 service all week round. So, if you encounter any issues with your garage door at any time of the day, we are only a call away!
Cost Efficient Solutions
We strive to provide you with the best service at an affordable price. All our garage door parts come at a cost-effective price point without compromising the quality or the installation. There is no hidden cost, and we provide a free quote; grab this opportunity while you can!
Contact Expert Garage Door Opener Services in Newcastle, WA
Your garage door opener issues ends with us at AAA Garage Door. We work hard to provide our customers quality service and the best products. With our 24/7 availability, transparent pricing, and many services, you can trust us to keep your garage door operating seamlessly in New Castle, WA. Whether it's repairs, replacement, or installation, our technicians are here to help you with quality services and cost-effective solutions.
Contact us today at (206) 309-8798 to enjoy a free quote!
Areas We Offer Service In Newcastle, WA
Delmar Woods
Hazelwood South
Newcastle City Center
Frequently Asked Questions (FAQs)
The elements you need to consider when replacing or repairing a garage door opener are-
Identify the specific type of issues

Consider the age of the opener

Compare the cost of repair and replacement of the opener

Look into the safety features

Check for the noise level of the openers
Your garage door opener might need reprogramming when you replace the batteries. After replacing the old batteries with new ones, your garage door opener might be unable to remember the previous settings. Likewise, if your garage door has a poor battery connection, your opener might need reprogramming. You must also reprogram your garage door opener after an extended power outage.
A garage door opener can last you anywhere from 10 years to 15 years. However, the lifespan also depends on how you care for your garage door opener. If you regularly maintain the garage door opener, it can even last you more than 15 years. But without maintenance and proper care, your garage door opener can wear out faster in the long run.
The types of garage door opener available in Newcastle, WA, are listed below:
Belt driven opener

Chain driven opener

Screwdriver opener

Wall-mount opener

Jackshaft opener
Yes, calling a professional for any garage door opener services is highly recommended. A professional can easily install a garage door opener while adhering to safety and industry standards. We provide a 90-day labor warranty along with a year manufacturer's warranty with our garage door opener, which will save you money in case of any damages. Likewise, trying to install garage door openers can often result in a pricey DIY process, which can cost you more than hiring a professional.