Dealing with broken garage door springs can disrupt your daily routine. Imagine your garage door suddenly breaking down while you are running late for work. You're stranded because you can't get your vehicle out of the garage. If you ever find yourself in such a situation, don't worry; AAA Garage Door is here to help with our finest garage door spring repair in Kent, WA. From extension garage door springs to torsion garage door springs, our selection has everything you need. Get ready to leave behind all your garage door malfunctions with our top-notch garage door spring repair in Washington!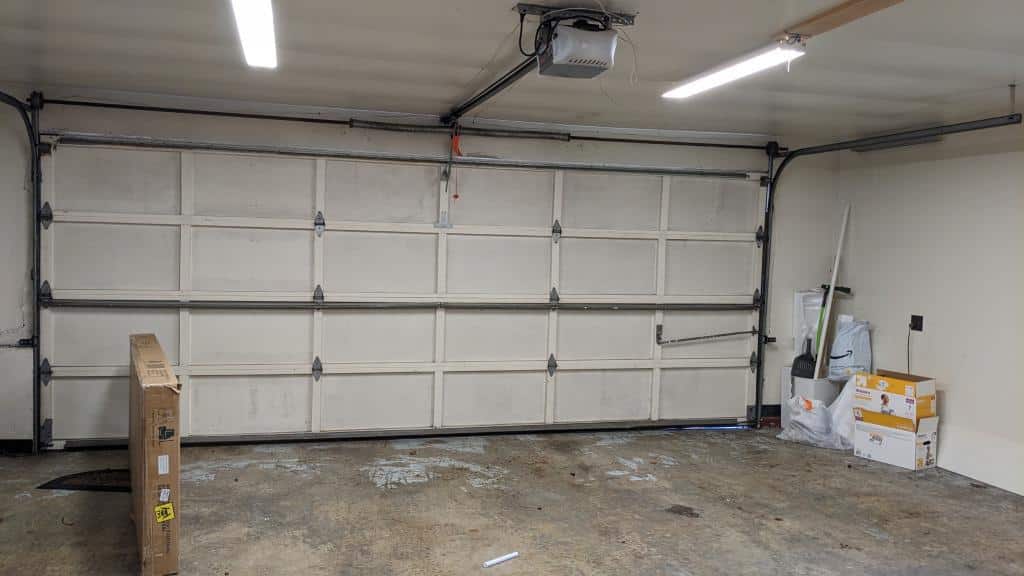 What Garage Door Spring Issues Are Concerning?
The following issues are concerning when it comes to garage door springs, and they may need fixing as soon as possible–
Broken springs – Your garage door may become heavy and uneven if they have broken springs. We can fix this by replacing the broken springs with new ones.
Worn-out springs – With time and regular use, your garage door springs will show signs of wear and tear. Worn-out springs can lead to obstructions when opening and closing the garage door. The best solution for this problem is replacing the springs.
Rust and corrosion – If your garage door springs have rust and corrosion, they will likely have a shorter lifespan. To prevent this problem, we suggest regularly lubricating your garage door springs.
Imbalanced springs – Your garage door may not operate properly if the springs are imbalanced. We can adjust the springs or replace them if necessary.
If you need help repairing or replacing your malfunctioning garage door springs, don't hesitate to reach out to us at AAA Garage Door!
Fix, Install & Replace Garage Door Springs In Kent, WA
It doesn't matter whether you're looking for broken garage door spring repair in Kent, WA or you're looking to upgrade your existing springs to new ones. We at AAA Garage Door are here to help with all your garage door springs issues–
Garage Door Spring Fixing
Here are some signs that your garage door shows when it needs spring repair–
The garage door cables are loose
Your garage door seems heavier than usual
There's a visible gap in between the springs
The garage door is crooked
Your garage door makes screeching and banging noises
When closing the garage door, it falls faster than usual
Your garage door is stuck and doesn't open
Our experts are skilled at repairing faulty springs and ensuring your garage door works optimally again. They will also give you tips on how to extend the lifespan of your garage door springs.
Garage Door Spring Installation
A proper installation of new garage door springs is crucial to ensure the safety of your entire garage door system. Our professional experts are well-versed in the appropriate installation of garage door springs. Moreover, they will provide new springs that are perfectly compatible with your garage door and last a long time.
Garage Door Spring Replacement
You must immediately replace your faulty garage door springs to prevent the malfunctioning of your garage door. Whether you need an extension or a torsion spring replacement, our experts will meticulously handle the entire replacement process. For replacement springs, we have high-quality brands like Lee Spring, Lewis Spring, and IDC Spring that you can choose from.
We Fix All Varieties Of Garage Door Springs
Generally, garage door springs last for 7 to 10 years on average. However, regular use, accidents, and a lack of proper maintenance might not last their usual lifespan. If you do not regularly lubricate your garage door springs or have installed them incorrectly, it doesn't take long for them to break easily. If you have worn-out, broken, or faulty springs, don't worry! At AAA Garage Door, we can fix all varieties of garage door springs, including–
Extension springs
Extension springs are the most popular ones used in residential garage doors. They connect to pulleys along the walls and cables in a garage. In general, they last less than 10,000 cycles before they wear out. Extension springs need specialized maintenance from trained experts to keep them in operation and healthy for the long run. We deal with three types of extension springs in terms of design–
Open-looped extension springs – These springs have a single coil and are the simplest extension springs. They are easy to replace as they don't require opening the eyebolt or taking apart the pulley.
Double-looped extension springs – They are slightly stronger than the open-looped springs and contain two coils at the end connecting to the pulley. However, they are more challenging to replace.
Clip ends extension springs – These are moderately durable extension springs. They are perfect for garage doors weighing less than 200 pounds. However, they are difficult to replace.
Torsion springs
Torsion springs are popular in single-car, double-car, residential, and commercial garage doors. In torsion springs, the torsion bar fixture connects each corner of your garage to the cable drums. They generally last between 10,000 and 50,000 turns – twice as long as extension springs. Furthermore, they are much more in control than extension springs. We deal with two types of torsion springs–
Standard torsion springs – Such springs are suitable for residential garage doors, and we usually mount them over the garage door opening.
Torque master torsion springs – These are the safest among all torsion springs, and we locate them inside a steel tube above the door.
Early set torsion springs – We often use these springs in residential garage doors, and we locate them in the center of the torsion shaft.
Steel rolling door torsion springs – Such springs are common in commercial buildings and are nested within the torsion barrel supporting the rolling door.
Whether your garage door has an extension or a torsion spring, our technicians will repair it with skillful precision. We also offer garage door repair services with high-quality replacement garage door parts.
Choose The Right Garage Door Spring – We Offer All Options In Kent, WA
Choosing the right springs for your garage door is important to ensure your door operates seamlessly. If you're unsure about which type of garage door spring to choose and you are located in Kent, WA, the following points can be helpful for you–
Check your door's weight – Whether you need an extension or torsion springs, the springs' weight must match the garage door's weight. When measuring the garage door weight, ensure that you also include the insulation weight and any additional accessories.
Determine the type of spring your garage door has – You will need torsion springs if your current garage door springs are above the garage door's opening. However, you'll need extension springs if they are on each side of the garage door opening.
Identify the spring's color code – Garage door springs are color-coded and have a distinct color strip. Once you check the color code on your existing springs, convey the information to your local garage door supplier and get the right springs for replacement.
Measure the diameter of the springs – Check the stationary or winding cone of the springs for an engraved number. This number represents the diameter of the spring. Lay the springs flat on the ground and use a ruler or measuring tape to estimate the internal diameter if you can't see any numbers.
Determine the wind direction of the (torsion) spring – Torsion springs are wound clockwise or counterclockwise. You can determine the wind direction of the torsion springs by checking where the end of the spring is pointing.
Consider the spring's cycle life – You should choose a garage door spring that matches how frequently you use your garage door. Extension springs last less than 10,000 cycles, whereas torsion springs last for 10,000 to 50,000 cycles.
Let our experts at AAA Garage Door help you choose the best garage door springs. Call us today to learn more about selecting compatible springs for your garage door!
Cost Of Garage Door Spring Repair In Kent, WA
If you're curious about the cost of garage door spring repair in Kent, WA, here is a breakdown of the approximate prices of different types of springs–
| | |
| --- | --- |
| Type of Garage Door Spring | Cost (Per Spring) |
| Torsion Springs | $30 to $100 |
| Extension Springs | $50 to $100 |
| Double-door Springs | $15 to $30 |
| Commercial-grade Springs | $100 to $500 |
Here's a brief overview of other costs regarding garage door spring repair–
| | |
| --- | --- |
| Garage Door Spring Repair Service | Cost (Per project) |
| Spring Conversion | $400 to $800 |
| Cable Replacement | $75 to $200 |
| Broken Spring Replacement | $100 to $300 |
| Spring Tune-up | $50 to $150 |
| Labor Costs | $75 to $150 per hour |
Why Choose AAA Garage Door For Garage Door Spring Repair?
If you're considering choosing us for your garage door spring repair here in Kent, WA, here are some reasons why AAA Garage Door is the best choice–
Seasoned professionals – Our garage door specialists are highly skilled and have many years of experience in the industry. Whatever issues you're facing with your garage door springs, they can fix them with meticulous attention and precision. They are licensed professionals who will go above and beyond to ensure they meet your requirements.
Transparent and affordable pricing – We believe that accessing high-quality garage door services shouldn't cost you a fortune. That's why our premium services are available at highly competitive rates. We are extremely transparent about pricing and only proceed with the services once we get your approval.
Round-the-clock availability – At AAA Garage Door, we understand that garage door emergencies don't wait around for anyone- they can strike you anytime. Our services are available all day and night so that you can get proper help during emergencies. Whether it's night or day, we're just a call away during emergency cases.
Excellent-quality products – The power of high-quality garage door products is undeniable, and that's what we bring you. We have a wide selection of authentic garage door springs that last a long time and don't break down that easily. We make sure you only get the best by sourcing these products from trusted manufacturers.
Outstanding levels of client satisfaction – At AAA Garage Door, your happiness drives us to provide the best services. When fulfilling your demands, we always go the extra mile and exceed expectations. Because of our great customer service over the years, our clients have given us high ratings on third-party sites like Angi and Yelp.
Contact Garage Door Spring Repair Experts in Kent, WA
It's time to leave all your worries about garage door spring repair behind! We are here to provide high-quality, reliable, and efficient services, whether garage door spring fixing, installation, or replacement. So what are you waiting for? Contact AAA Garage Door today and experience the best garage door spring repair in Kent, Washington! Call us at (206) 309-8798 to schedule an appointment and jumpstart your journey towards a seamlessly operating garage door! We also offer garage door opener services.
Areas We Serve In Kent, WA
Berrydale North
Garisson Creek Park
Green Tree Park
Highland Crossing
Lake Meridian
Lake Morton
Meridian Heights West
Shadow Lake West
Frequently Asked Questions (FAQs)
To repair garage door springs, you first need to identify the type of springs your garage door currently has, i.e., torsion or extension. You must also check their condition and the level of damage if there's any. Depending on the state of your springs, you should adjust, tighten, or, in some cases, completely replace them. Springs are high-tension door parts, so repairing yourself can lead to serious injury. So, consider reaching out to garage door professionals like AAA Garage Door.
An extension spring costs $30 to $90 (per spring), so its retention costs $150 to $200 (per project). Similarly, a torsion spring costs $60 to $200 (per spring), and its retention costs $200 to $350 (per project) in Kent, WA. However, the cost of re-tensioning a garage door depends on the type & size of the spring and labor requirements.
Yes, you can repair your garage door springs at home. But we at AAA Garage Door advise against it. Although performing a DIY garage door spring repair can save you some money, if you don't know what you're doing, you risk creating more harm than good. You might not have the necessary equipment and knowledge to complete the task professionally. Similarly, if you do not install the springs properly, you may experience safety hazards. You might misalign the garage door with improper installation, and the springs may break easily.
Garage door springs usually last for 7 to 10 years or about 10,000 cycles. The type of springs you have and how well you maintain them will, however, determine how this turns out. Your garage door springs will eventually show wear and tear signs due to constant use, even with maintenance. Similarly, if you've previously repaired garage door springs, they can break sooner and may last less than their usual lifespan.
A garage door spring repair includes the following–
Identification of the spring type (torsion or extension)

Assessment of the damage

Replacement of broken or worn-out springs

Lubrication of existing springs

Application of anti-rust coating on the springs

Broken or loose cable repair

Final inspection and tips for future spring maintenance
The best garage door springs in Kent, WA, are available at AAA Garage Door. Our handpicked garage door springs include extension springs (open-looped, double-looped, clip ends) and torsion springs (standard, torque master). We source these springs from trusted suppliers and only include the best brands like Lee Spring, Lewis Spring, and IDC Spring. Moreover, all our garage door springs are reasonably priced to meet your budgetary needs.