Is your garage door making odd noises, displaying signs of wear and tear, or having trouble opening and closing smoothly? It's possible that your garage door spring is broken. If so, then AAA Garage Door has you covered. We provide the best and most reliable garage door spring repair services in Newcastle, WA. AAA Garage Door specializes in dealing with various spring-related problems, such as those involving extension and torsion garage door springs. Our knowledgeable technicians can identify and resolve multiple spring issues, restoring your garage door's smooth operation. Connect with us today; we're here to secure and hassle-free your garage door.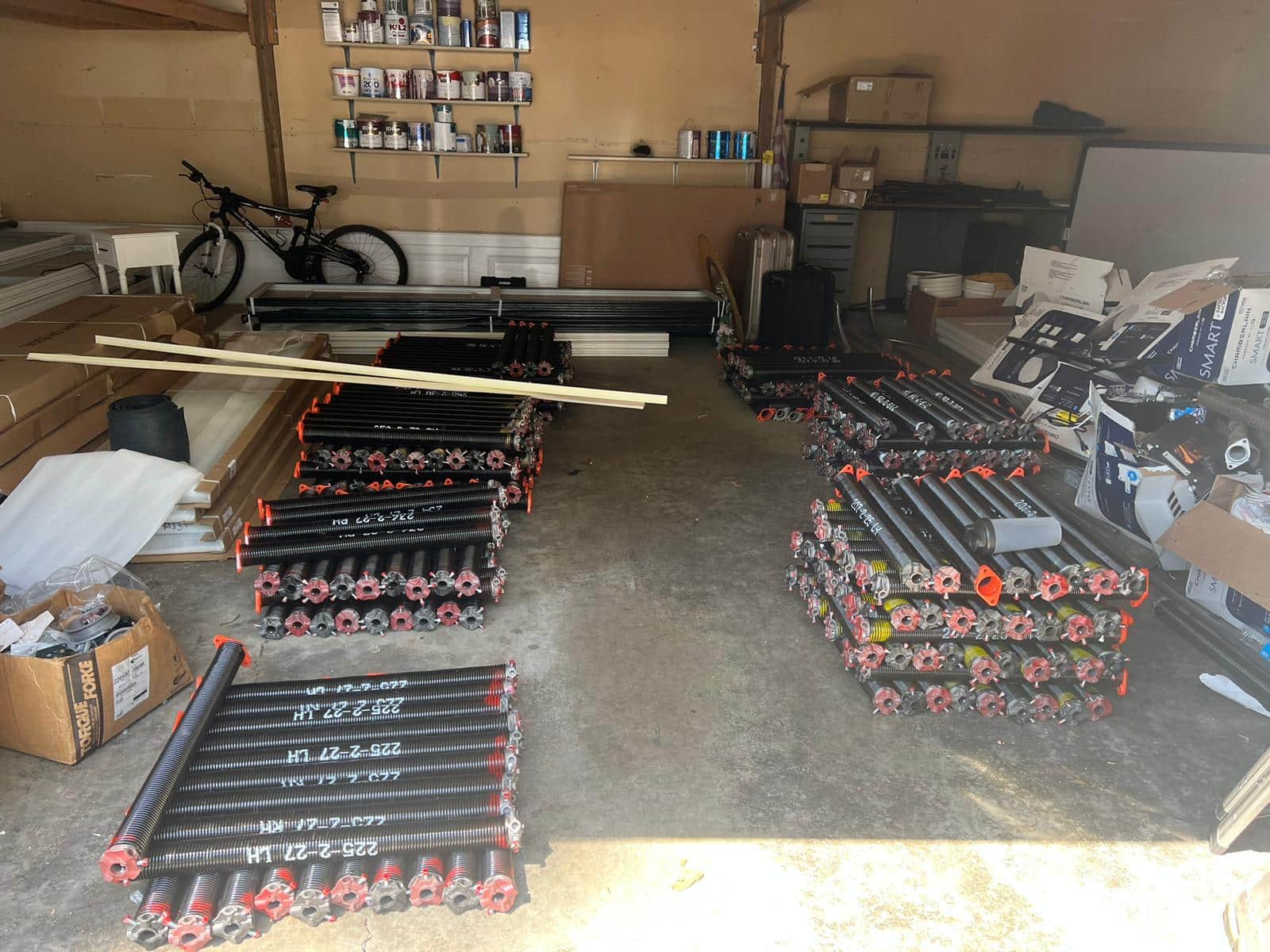 Get The Best Garage Door Spring Repair Services In Newcastle, WA
Functional springs are a bare minimum requirement for the smooth operation of your garage door. In Newcastle, Washington, AAA Garage Door is aware of the dangers and inconveniences that broken garage door springs can cause. We are experts at offering high-quality and broken garage door spring repair services in Newcastle, accommodating various spring types, including extension and torsion springs. Our devoted team is committed to quickly resolving spring-related problems so your garage door runs safely and smoothly.
Common Issues of Garage Door Springs 
Here are some of the common issues that you usually encounter with extension springs–
Spring Extension – Over time, extension springs may lose their tension, preventing the door from properly closing. We change the springs or adjust the tension for proper dependable door operation.
Cable Snap – The lifting cables could snap due to worn extension springs, stopping the door from moving. To avoid more problems, we replace broken springs and cables.
Uneven Movement of Doors – Your garage door may rise unevenly on one side because of unbalanced extension springs. Our experts recalibrate the springs to ensure even movement.
And here are some of the general problems that you normally face with torsion springs–
Spring Damage – Torsion springs may snap due to repeated use or metal fatigue. Our specialists replace damaged torsion springs with high-quality replacements to restore the functionality of your garage door.
Unbalanced Spring – Your garage door can operate unevenly due to a torsion spring imbalance. We carefully adjust spring tension to ensure a door moves smoothly and evenly.
Noisy Operation – Torsion springs that are out of alignment or worn out may cause excessive noise from your garage door when used. To stop the noise, our technicians realign or replace the springs.
All Kinds Of Garage Door Springs We Service In Newcastle, WA
Our technicians have all the required tools and skills to fix any broken garage door spring repair in Newcastle, WA. At AAA Garage Door, we fix the following types of garage door springs–
Torsion Springs for Garage Doors
Tension springs are widely popular because of their durability and adeptness at precise balancing. Torsion springs produce a twisting force that allows an object to rotate using torque. The coils on the shaft twist and coil when you exert force to open or close the door with your hand or a motor. Our technicians are skilled at locating and fixing torsion spring-related issues so your garage door will operate smoothly. The following are some examples of torsion garage door springs–
Standard Torsion Spring– We use various springs depending on the door's weight. If your door is lighter, use one spring, and if it is heavier, use two springs. Also, you will find a metal shaft directly above the garage door that runs through the torsion springs.
Steel Rolling Torsion Spring – These springs are better suited for both commercial and residential use. The springs can be found inside a torsion barrel rather than being in line with a torsion shaft.
Early Set Torsion Spring– You can find the early set torsion springs in the center of the torsion shaft. On each end of the shaft, various kinds of hardware get installed close to the cable drums.
Extension Garage Door Springs
An extension spring is located on the upper horizontal track of a garage door. When there is not enough headroom or if you have a lightweight garage door, you can use extension springs instead. Depending on the type of extension spring, we provide different garage door spring repair services in Newcastle, WA–
Open-looped ends – These springs don't need the eyebolt to be unlocked or the pulley to disassemble. The easiest replacement is for this extension spring.
Double-looped ends – This spring is stronger than springs with double-looped ends because it has two coils that connect to the pulley and eyebolt at its end.
Clipped-end – The strongest springs are those with a clipped end. The clips put the spring under the least amount of stress, extending the spring's lifespan.
Selecting AAA Garage Door means going above and beyond to receive exceptional service, top-notch work, and long-lasting solutions. You can schedule an appointment with us to learn more about the AAA Garage Door and its services. We promise that you will be happy.
More Than Just Repair – Our Services Also Include Replacement & Installation
Our comprehensive solutions at AAA Garage Door in Newcastle, WA, go beyond simple fixes. Our services include garage door spring installation and replacement, ensuring your garage door runs without a hitch for many years to come. These are as follows–
Installation of a Garage Door Spring
For your garage door to operate safely and smoothly, a properly installed garage door spring is necessary. Whether you're upgrading your garage door system and need new springs installed or you're building a new garage, our team specializes in professional spring installation. We determine the appropriate type and tension of springs needed by considering the weight and dimensions of your garage door. Our installation process of a broken garage door spring in Newcastle involves the following process–
Gathering all the Tools/Materials– Before beginning the installation, we first gather all the necessary equipment and supplies, such as the correct size and type of springs, safety cables, wrenches, pliers, and protective gear.
Safety Measures– Safety is paramount when installing garage door springs. To avoid unintentional activation, we turn off the power to the garage door opener before beginning. We also wear safety gloves and eye protection to reduce the possibility of injury.
Releasing Old Spring's Tension– We use the proper tools to release the tension from the old springs if you're replacing them. In order to release the tension, this step entails safely unwinding the springs.
Eliminating Old Springs– Our technicians carefully remove the old springs from the brackets and frame of the garage door with care.
Adding New Springs– We always follow the manufacturer's instructions when installing the new springs. Usually, this entails securing the springs in place by fastening them to the proper brackets.
Setting up Safety Cables– Now, we install safety cables through the springs for increased protection. In the event of a spring failure, these cables will stop the springs from exploding into projectiles.
Adjusting the spring tension – Our technicians properly adjust the tension of the springs by following the recommended number of turns per the manufacturer's instructions. This procedure requires close attention to ensure the proper amount of tension for balanced door operation.
Proper Lubrication– To reduce friction and increase the longevity of the components, we lubricate the springs, hinges, rollers, and other moving parts.
One last safety check– Finally, to ensure that there are no potential risks/dangers and that all components are firmly in place, we conduct one final safety inspection.
Our careful installation procedure ensures that your garage door operates effectively and securely, reducing the possibility of recurring problems.
Replacement of the Garage Door Spring
Does your garage door make strange noises, have trouble opening or closing, or otherwise appear worn? It might be time to replace the springs. Our knowledgeable technicians are adept at evaluating the state of your garage door springs to ascertain whether replacement is required.
We only use replacement springs of the highest strength that are compatible with your garage door opener. An overview of our replacement procedures is as follows–
Evaluating Spring Type– We first determine the type of spring you use and want us to replace, i.e., a torsion spring or an extension spring in the garage door spring system.
Disconnecting the opener– We disconnect the power to the opener of the garage door before starting the replacement process to avoid any accidental activation.
Tension Release (Torsion spring)– We use winding bars to release the tension from the old spring when replacing a torsion spring. Then, we carefully perform this procedure with safety gear on.
Removal of Old Spring – Our highly trained technicians carefully remove the old spring from its mounting brackets, ensuring you follow safety protocols to avoid accidents.
Add new spring – Now, we position and adjust the new garage door spring correctly before being securely locked to the brackets. While doing so, we always take the manufacturer's instructions.
Setting the Tension of Spring (Torsion Spring)– We use winding bars to gradually wind the new torsion spring until there's a certain tension in the spring. This step necessitates caution and understanding the number of turns necessary based on the door's weight.
Safety cable installation (Extension Spring) – We install safety cables when replacing an extension spring to keep the spring from becoming dangerous, which can lead it to break.
Re-attaching the opener – We connect the garage door opener after the new spring gets installed and has the tension, then test the door's functionality.
Testing and balancing– Now, we manually open the door, allowing us to check its stability and functionality. The door ought to open easily.
Lubrication and maintenance– We always lubricate the spring and other moving parts to lower the friction and ensure long-lasting performance.
To make sure that your garage door operates safely and without interruption, replacing a garage door spring is a task that requires accuracy and careful execution. Our garage door spring repair/replacement process in Newcastle guarantees a seamless replacement procedure, regaining the balance and functionality of your garage door. We have the knowledge to offer effective and dependable replacements for torsion springs, extension springs, and other specialized springs.
Cost Of Garage Door Spring Repair Services In Newcastle, WA
For homeowners in Newcastle, Washington, who want to guarantee the secure and reliable operation of their garage doors, it's essential to understand the potential costs of garage door spring repair services. The price may change depending on the type of spring, the degree of damage, and the difficulty of the repair. Some of the factors that influence the price of a garage door spring repair in Newcastle, Washington, are as follows–
Number of Springs– The total cost of repairs depends on how many springs get used while repairing/replacing your garage door system. When one spring fails, we advise you to change both springs for smooth movement of your garage door. If you use one torsion spring, then it can cost from $30 to $70 (per spring). Similarly, if you use one extension spring, it can cost from $20 to $50(per spring). The prices can change depending on the number of springs you use. Some of the prices of single and double garage door springs are as follows–
| | | | |
| --- | --- | --- | --- |
| Type of Spring  | Springs (per spring) | Labor (per project) | Replacement Cost (per project) |
| Torsion Spring | $50 to $70 | $150 to $250 | $200 to $350 |
| Extension Spring | $30 to $50 | $130 to $150 | $160 to $200 |
Spring type– Due to the complexity and functionality of various garage door spring types, such as torsion and extension springs, repair/replacement costs can vary. Garage door extension springs cost $20 to $50 (per spring), while garage door torsion springs cost $30 to $70 (per spring). Torsion spring replacement can cost between $140 and $350 (per project), whereas extension spring replacement can cost between $120 and $200 (per project).
Size of the Damage– The extent of the spring damage greatly impacts the price. Some minor adjustments like lubricating, winding, and balancing garage door springs can cost $30 to $75 (per project) in Newcastle, WA. Similarly, major damages can cost more than that.
Labor and expertise – Expert technicians guarantee accurate diagnosis and repair. The costs can change due to complications of the repair/replacement of the garage door spring. Depending on the project, it could cost up to $75 per hour (or more).
For a range of garage door spring repairs in Newcastle, AAA Garage Door provides transparent and affordable pricing.
Why Choose AAA Garage Door? 
Here are some of the reasons why you should pick us for your garage door repair in Newcastle, Washington–
Best and High-Quality Parts – We use high-quality replacement parts to guarantee dependability and durability.
Transparent Pricing – We provide an upfront estimate of our fair and competitive pricing so you know what to expect.
Timely Service – We work hard to finish garage door spring repairs on schedule because we recognize their urgency.
Prioritize Safety – Your safety is our top concern. We carry out repairs while keeping safety procedures in mind.
Expert Technicians – Our qualified technicians provide expert evaluations and repairs, guaranteeing long-lasting effects. We also offer garage door repair and opener repair services in the area.
Contact Garage Door Spring Repair Experts in Newcastle, WA
Regarding garage door repairs or replacement in Newcastle, Washington, AAA Garage Door takes great pride in being your go-to partner. We stand out because of our dedication to quality, safety, and customer satisfaction. We are committed to ensuring that your garage door operates without a hitch, offering comprehensive garage door spring repair services in Newcastle, WA. Contact AAA Garage Door right away for expert, dependable, and effective solutions to your garage door problems so they don't interfere with your daily activities. Our top priorities are your comfort, safety, and satisfaction.
Locations We Cover In Newcastle, WA
Delmar Woods
Hazelwood South
Newcastle City Center
Frequently Asked Questions (FAQs)
Even though it's alluring to take on garage door opener installation or replacement as a DIY project, it's critical to consider the complexity and potential risks involved. Garage door openers have intricate mechanisms, significant moving parts, and electrical components. A pressure spring that lifts and lowers it weighs between 400 and 1000 pounds. Installation can lead to performance issues, safety risks, and even accidents without expert assistance.
Depending on the type of spring, you have to follow different processes to adjust the tension of the garage door springs. If you want to adjust the tension of a torsion, then you should do the following–
Open the door and secure it in place

Remove safety cables and adjust the S-hook or clip to modify tension

Reattach safety cables before testing
Similarly, if you want to adjust the tension of the extension spring, then you need to follow these instructions–
Locate the spring's adjustment collar

Slide a winding bar into the collar

Adjust the tension of the bar as necessary
There are several indicators that show you need a garage door spring replacement. Some of these are–
Uneven Movement

– A door that opens or closes unevenly

Visible damage

– The spring may have cracks, gaps, or rust

Loud Sounds

– An abrupt loud bang or strange noises

Difficult to open/close

– Heavy doors or trouble operating manually or automatically are examples of operating difficulties
A spring can typically last 10,000 cycles or 12 years. But It may wear out too soon as a result of poor maintenance. Unwinding and replacing these springs is dangerous because of the high tension they are under. To keep an eye on your springs, you should seek the advice of experts like AAA Garage Door Repair for a garage door inspection at least once every two to three years. You can extend your garage door spring's lifespan by routine maintenance like tune-ups and lubrication.
Newcastle, WA, residents can buy garage door springs from AAA Garage Door. The knowledgeable staff at AAA Garage Door Repair Services is familiar with the various garage door models, their mechanisms, and typical issues. Our expertise offers accurate diagnoses of problems and practical fixes. As a repair company with a license and insurance, you can be  assured that  you're working with professionals who adhere to the industry's rules and regulations.