Garage door repairs are common and frequent for nearly all homeowners. All garage doors will require maintenance, whether spring replacement or a comprehensive service and repair by a garage door company.
Whenever you need reliable garage door services, there is no need to waste another minute as AAA Garage Door Repairs in Bellevue, WA, is here for you. From installation to spring repairs, we offer highly trained and certified professionals. 
Comprehensive Garage Door Repairs In Bellevue, WA
Founded over a decade ago, our company specializes in installing and repairing garage doors for residential and commercial buildings in Bellevue, Washington. We strive to solve any garage door problems you may have as quickly as possible.
The team at AAA Garage Door is confident in providing excellent garage door repair and installation service. We can restore your garage door and make it secure and functional, bringing it back to life. 
Common Garage Door Problems
Facing garage door problems is common. If your garage door makes noises or performs slowly, you may need to fix it.
You can also rely on AAA garage door repair for these additional problems. 
Broken Springs – The spring supports the weight of your door. It steadily moves along the tracks to open and close on command. Sometimes the track can fall out due to the pressure. In such cases, AAA garage doors help you fix the door or the spring repair it needs. 
Damaged Panels –

Have you noticed the damage in one or more of your garage door panels? Usually, rust or dents cause this problem, and you need to replace the panels as soon as possible. We can replace the panels rather than having to replace the entire door.

Faulty Openers –

Many garage doors will not open or close because of faulty openers. These problems are common and can get easily fixed with the team of experts in AAA garage doors.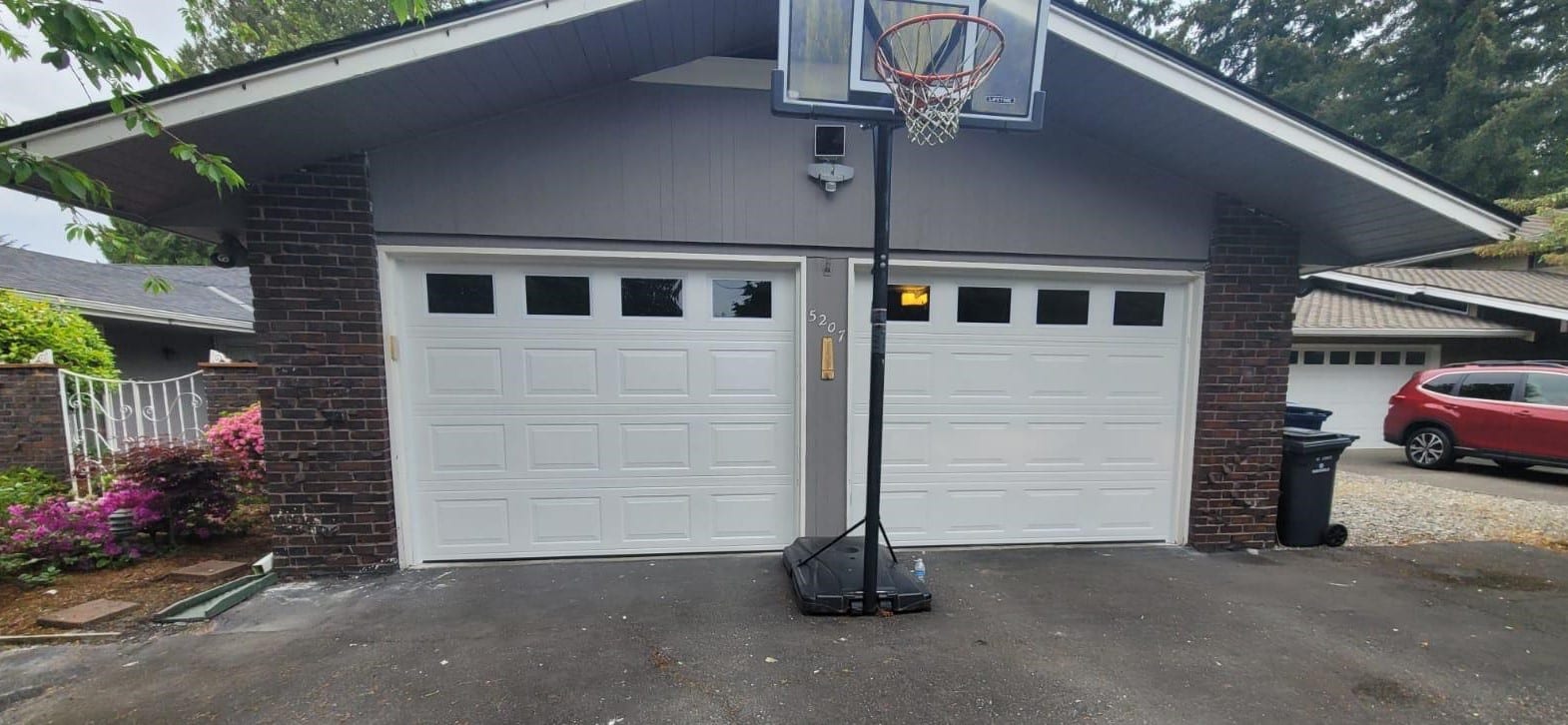 Repairs For Residential and Commercial Garage Doors
Garage door installation and repair services are our specialties in various garage door installation and repair services in Bellevue, WA. Our repair services include the following:
Restoring shattered springs, cables, rollers, and hinges

Fixing damaged openers, panels, tracks

Diagnosing your garage door's problems

 

Providing a customized repair service to resolve the problem
If you choose to hire us, you are in good hands as our technicians are well aware of all major models and brands of garage doors. Our service includes:
Garage doors should be operated smoothly, safely, and efficiently.

Improve the appearance of your garage doors by restoring and maintaining their aesthetics.

Your doors will last longer, saving you money over time.

Identify potential safety hazards before they become problems.
Garage Door Installation in Bellevue, WA
A secure and reliable garage door is necessary. AAA garage door provides exceptional services to customers with various products and materials combining size, type, style, and longevity. 
As a way of ensuring that the installation process is effective and efficient, we perform the following steps: 
Consultation 
Before deciding about your broken garage door, consult experts like AAA garage door. We will start by monitoring your garage door's problems and then discuss your requirements, whether you want to fix or build a new one. 
Selection Of Material 
Afterward, you must decide what material you need for your garage door. We provide various materials, including aluminum, steel, wood, and fiberglass. This will help you understand your garage door's overall look and quality. 
Design Customization
If you have creative ideas for your doors, then AAA garage doors are ready to make your dream door into reality. You can choose colors, styles, and windows that perfectly complement your garage door's aesthetics.
Door Installation 
Our team of skilled professionals installs garage doors with precision, enabling smooth operation and long-lasting results.
Follow-up Services
Following the installation, we offer maintenance and repair services for your new garage doors. Our professionals will arrive on time to inspect the garage door's operation and, if necessary, repair any problems.
Your Premium Choice for Garage Door Repairs and Installation in Bellevue, WA
Are you ready to experience world-class garage door repair, replacement, and installation in Bellevue, WA? Count on the expertise of our experienced professionals to handle all your garage door needs. We also extend our services to garage door spring repair, garage door openers and parts. 
Experienced Professionals
Our highly experienced and certified team delivers top-notch workmanship and unmatched customer satisfaction. We invest continuously in training and certification to keep our technicians at the forefront of industry advancements.
Competitive Pricing
At AAA Garage, we understand the importance of providing quality service without compromising affordability. It is not necessary for homeowners or business owners to sacrifice quality in order to save money. A reasonable price is all that is needed.
24/7 Availability
You know garage door problems can be extremely inconvenient. For garage door repair in Bellevue, WA, our company is available 24/7 because we realize just how important it is to get the job done as soon as possible.
Customer Satisfaction
The AAA Garage is committed to ensuring your satisfaction with excellent service and up-to-date solutions to your garage problems. We also believe in exceeding your expectations with our services.
Get A Garage Door That Fits Perfectly For Your Home Or Business
With the help of AAA Garage Door's repair and installation services in Bellevue, WA, you can get a garage door that fits perfectly, securely, and beautifully, whether for a home or business. Additionally, we offer dependable and affordable repairs. Contact us today!
Our Services Are Provided In The Following Bellevue, WA Neighbourhoods
We provide our garage door repair and installation services in the following Bellevue, WA, neighborhoods:
Bridle Trails
East Gate
Factoria
Lake Hills
Medina
Somerset
West Bellevue
Wilburton
Frequently Asked Questions (FAQs)
In Bellevue, garage repair generally costs between $150 and $350 per door. However, components such as additional customization, the door's maturity, the material of the door, the distance of your house from the garage door repair company, model of the door, labor overheads, etc. can also have a significant impact on your garage repair cost. 
Openers, torsion springs, panels, tracks, rollers, etc., are some of the most expensive parts of the garage door.
Start by removing the hardware and installing the angle iron and flat metal. Now drill holes and install a new board and the remaining hardware. Finally, mount the hardware and do test runs. 
The garage door installation cost can change due to various factors such as the material of the door (steel or wood), dimensions of the door, complications in the door, and the garage door company you hire. You can expect to spend an average cost of $600-$1500 per door for a single-door garage door repair. Similarly, the starting price of a double-door garage installation is $1500 per door, which can go up to $4000. 
To repair the garage door cable, you must first take measurements and remove the old cable. After that, unwind the old cable and blend on the new cable. Now, wrap the new cable in and release the vice grips. The final step is to test the garage door cable and attach the safety lever. 
No, it would be best if you did not try to install a new garage door yourself. Installing a new garage door is risky and can pose serious safety issues. On top of that, the prices could pile up instead. So, it would be best if you left installing the garage door to the professionals. 
On average, the standard door installation time is 4-6 hours. Depending on the door's type, size, and complexity, a strenuous one can take more than a day. You can confirm with your garage door service company for a more accurate personalized estimation. 
In order to repair the garage door frame, cut out the old molding and create a pattern to repair the garage door frame. After that, cut and laminate the pieces. Finally, prepare the wood and attach the board. 
Yes. In Bellevue, you can easily repair a dented garage door. AAA Garage Door can help improve the appearance of your garage doors by restoring and maintaining their aesthetics.