Welcome to AAA Garage Door, your one-stop shop for all your garage door parts needs in Everett, WA. We have everything you need to ensure your garage door operates safely from the smallest components to the largest. Need to replace or repair rollers, cables, drums, hinges, brackets, and springs? – Well, we have all of these components in stock! With years of experience in the garage door industry, our team provides exceptional customer service, competitive pricing, and trustworthy door products to meet your needs. Contact us today!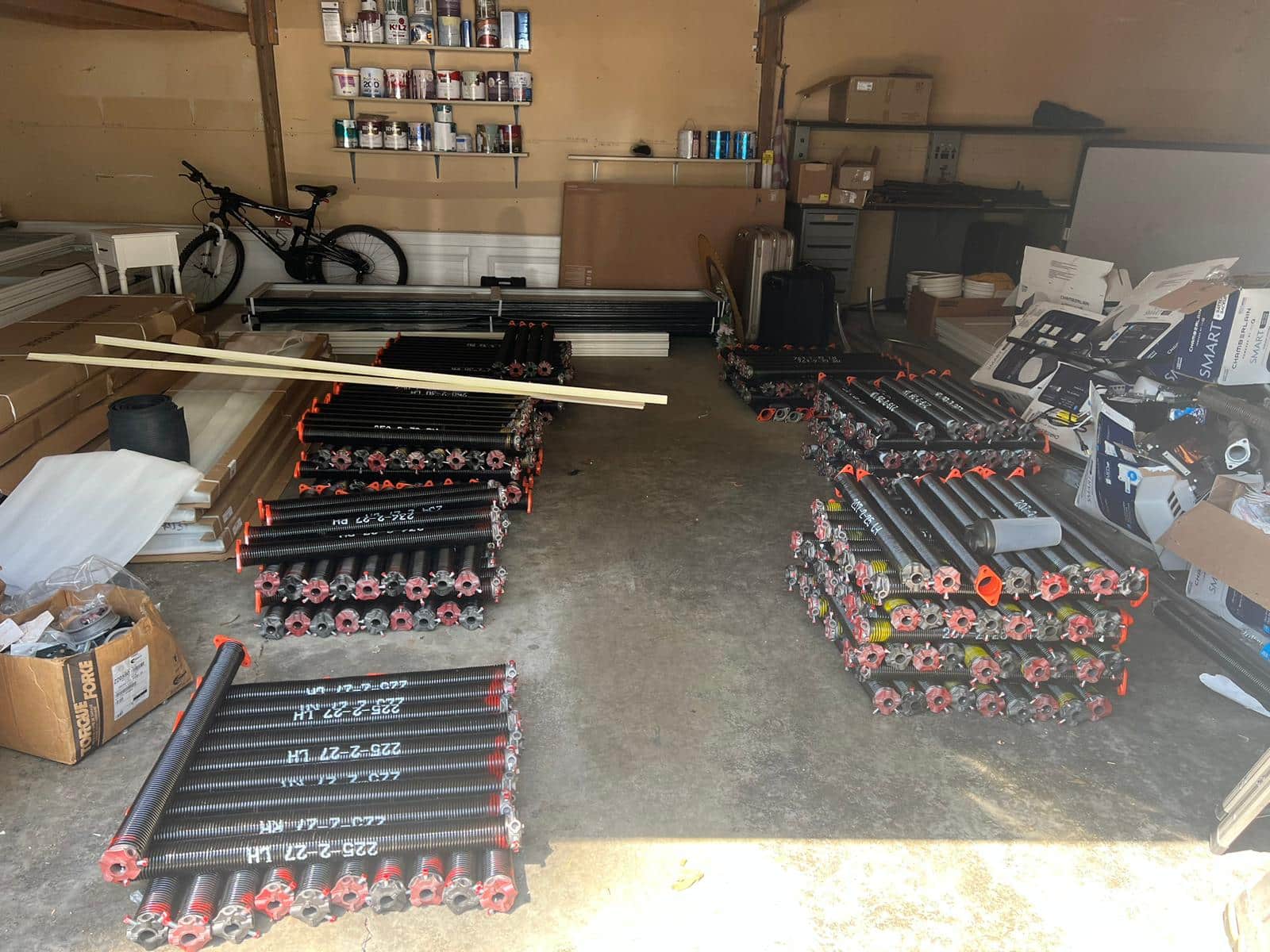 We Provide All Garage Door Parts In Everett, WA 
At AAA Garage Door, we understand that each garage door is unique and requires specific parts for optimal performance. That's why we offer a wide variety of high-quality parts for garage doors to cater to all types, sizes, plus brands of garage doors. Our inventory includes–
Springs
Cables
Rollers
Hinges
Brackets
Pulleys
Tracks
Weatherstripping
Garage door openers
Garage door opener accessories
Remote controls
Keypads
And much more!
Whether you're looking for a specific garage door part in Everett or need guidance finding the right one for your garage door, our knowledgeable team is here to help!
Install & Replace Any Garage Door Parts
Explore our garage door parts installation and replacement services–
✓ Garage Door Part Installation – Whether you need a new spring, cable, or roller, our technicians will ensure the garage door part gets installed correctly and your door operates smoothly. We provide garage door repair and installation services for all parts.
✓ Garage Door Part Replacement – If a garage door part is broken or has reached the end of its life, our technicians will promptly replace your garage door with a high-quality, durable replacement.
✓ Custom Garage Door Solutions – Our garage doors are available in several styles and materials for custom garage door designs. From carriage-style garage doors to steel, aluminum, glass, and wooden garage doors, we have garage doors in various sizes that fit your property!
Our Garage Door Parts Are Warrantied & Original
AAA Garage Door takes the reliability and safety of your garage door very seriously. That's why we offer 100% original and genuine parts tailored for all garage door types and a warranty (i.e., manufacturer's warranty & workmanship warranty). We also collaborate with the industry's top door parts manufacturers to facilitate you with necessary garage door parts. All because we are committed to providing the best durable, reliable, and long-lasting door parts in Everett, Washington.
Call us right now for any parts for the garage door!
Cost Of Different Garage Door Parts in Everett
Here is the general price overview of different garage door parts in Everett. AAA Garage Door can also assist with the installation of it, so we've listed the installation cost as well–
| | | |
| --- | --- | --- |
| Garage Door Parts | Price (Per Pc) | Installation Cost (Per Project) |
| Bracket | $5 to $40 | $80 to $175 |
| Cable | $10 to $50 | $85 to $350 |
| Cable | $20 to $50 | 100 to 375 |
| Roller | $25 to $40 | $90 to $200 |
| Track | $50 to $100 | $125 to $400 |
| Sensor | $35 to $50 | $110 to $200 |
| Springs | $45 to $200 | $150 to $375 |
Note: The prices mentioned in this table are just a rough estimation. To know its accurate costs, please call us at (206) 309-8798!
Panel Design, Colors, and Glass Design Options For Garage Doors
Panels come in six different styles, allowing you to choose the perfect match for the design of your home. Panel designs available for garage doors in Everett include: 
Short-raised (traditional)

Long-raised (ranch)

Country

Cottage

Shaker

Flush
The panels are available in seven standard colors, ready for the personal touch to enhance the look of your home. 
White

Sandstone

Almond

Brown 

Black

Medium Wood Grain

Dark Wood Grain
Note: Medium and Dark Wood Grain colors are not available for Flush design.
Furthermore, our glass options for the garage doors that you can choose from are as follows: 
 ⅛" Clear

⅛" Bronze

White Laminated

Black Laminated

Satin Etch

Frosted Gluechip

⅛" Greylite

⅛" Mistlite

⅛" P516 Obscure
Contact us for sample pictures for your design choice, and you can also visit us for samples for your garage door. We offer a range of panel designs, color, glass, and window options.
Contact AAA Garage Door For Genuine Garage Door Parts
Don't leave your damaged or malfunctioning garage door unattended – contact AAA Garage Door today and schedule an appointment. Our experts are waiting to help you with all your garage door needs with genuine garage door parts in Everett, WA! We also provide garage door spring repair, garage door opener installation and garage door repair services.
Areas We Serve In Everett, WA:
We provide garage door parts in the following Everett, WA, neighborhoods:
Bayside
Boulevard Bluffs
Cascadeview
Casino Corner
Darlington
Delta
Delta Junction
Edgewater
Evergreen
Fairmont
Glacier View
Glenhaven
Intercity
Lowel
Northwest Everett
Pinhurst Beverly Park
Port Gardner
Riverside
Seahurst
South Forest Park
Valleyview
View Ridge Madison
Frequently Asked Questions (FAQs)
Here are the parts of a garage door system–
Exterior Garage Door Parts
Interior Garage Door Parts

Decorative Hardware

Door face and frame

Doorstop

Door joint

Lites

Windows

Panels

Trim

Hinges

Jamb

Rollers

Sections

Spring

Stiles

Track
Some of the important parts that actively work during garage door usage are as follows–
Hinges –

This metal part connects the garage door section and allows the door to bend as it opens/closes.

Rollers –

It is a door part through which the tracks go up and down.

Springs –

It helps to lift the garage door.

Opener –

This part helps to open the garage door without having to do it manually.
Here are some parts that you can replace–
Panels –

You can also replace a single panel.

Springs –

They are responsible for lifting the garage door. So you need to replace them every 7 to 8 years!

Hinges, tracks, and rollers –

They take a lot of wear and tear while you're operating your garage door every day. So, replace them every 10 years.

Garage door opener –

It's always a good idea to change your garage door opener for advanced features like sensors, emergency release rope, drive mechanisms, etc. However, always change your garage door opener every 10 to 15 years!
Remember, a garage door lasts 15 to 30 years, but only with the maintenance and timely replacement of these components. So always have them inspected every 6 months and replace them if needed.
Garage door panels are the exterior door you can see when the garage door is closed. A common door panel size is 18″ and 21″. There are many panel styles for garage doors – single, sectional, raised, carriage, traditional-style, contemporary slab, and more! These garage door panels usually last for 15 to 30 years. And it is absolutely possible to replace just a single panel on a garage door. However, if your garage door needs multiple panel replacements, replace the entire garage door because it's cheaper.
Absolutely! AAA Garage Door is a one-stop solution whether you just want to buy garage door parts or need replacement, installation, or maintenance service. Our experienced professionals can install and replace various garage door parts, such as springs, cables, hinges, brackets, tracks, openers, and more. And it takes us around 1 to 2 hours to complete the replacement or installation of garage door parts.
Here are some parts you need to buy when you're replacing a new garage door–
Door opener

Springs (Choose Torsion!)

Tube Shaft

Rollers and Tracks

Drums

Cables

Brackets and Hinges

Weather Seals

Safety Sensors

Emergency Cord
To check whether a garage door part is authentic/original or not–
Look at the serial and model number that is in the packaging. The genuine door parts always have uniform labeling

Check the official brand logo.

Always request a warranty certificate or receipt.

Compare the product pricing. Usually, counterfeit product suppliers have low prices.