If you require expert garage door repair or installation services in Federal Way, WA, then AAA Garage Door is here for you. With over 10 years of experience handling Garage doors, our technicians can work with all major brands and models of garage doors. Our expertise lies in various garage door installation and repair services. We offer all of our garage door services to residential and commercial properties.
Common Garage Door Problems & How to Fix Them?
Due to being constantly used, garage doors can cease to function properly. Here are some common problems and how AAA Garage Door can help repair garage doors in Federal Way, WA. 
Disbalance – An underlying issue may be

 if your garage door is imbalanced and doesn't remain aligned when manually lifted. Our professionals can examine the problem and provide the necessary

garage door repair in Federal Way, WA

to restore balance and functionality.

Sensor Obstruction –

Difficulty opening or closing the door could be due to blocked or obstructed sensors. Our technicians will inspect the surroundings for any objects or obstacles, clean or adjust the sensors, and ensure proper functioning.

Broken Springs –

When the extension or torsion springs break, it can lead to sudden door drops, posing safety risks. Attempting to open the garage door in such situations is dangerous. Instead, reach out to AAA Garage Door immediately. Our professionals will repair or replace the broken springs and ensure your safety.

Roller Issues –

Old or rusty rollers can impede the smooth movement of your garage door. Our team will lubricate the rollers and assess their condition. If lubrication doesn't resolve the issue, we can replace the rollers with high-quality ones to restore optimal functionality.

Worn-Out Opener – We offer quick replacement services if your garage door opener is beyond its expected lifespan and causing inefficiencies

. Our experts for

garage door repair in Federal Way, WA

, will install a new, reliable opener, ensuring efficient and hassle-free operation.
Remember AAA Garage Door to fix these issues. We also repair other issues like the transmitter, unsynced keypad, etc. Do you have any garage door problems? AAA Garage Door has its solution!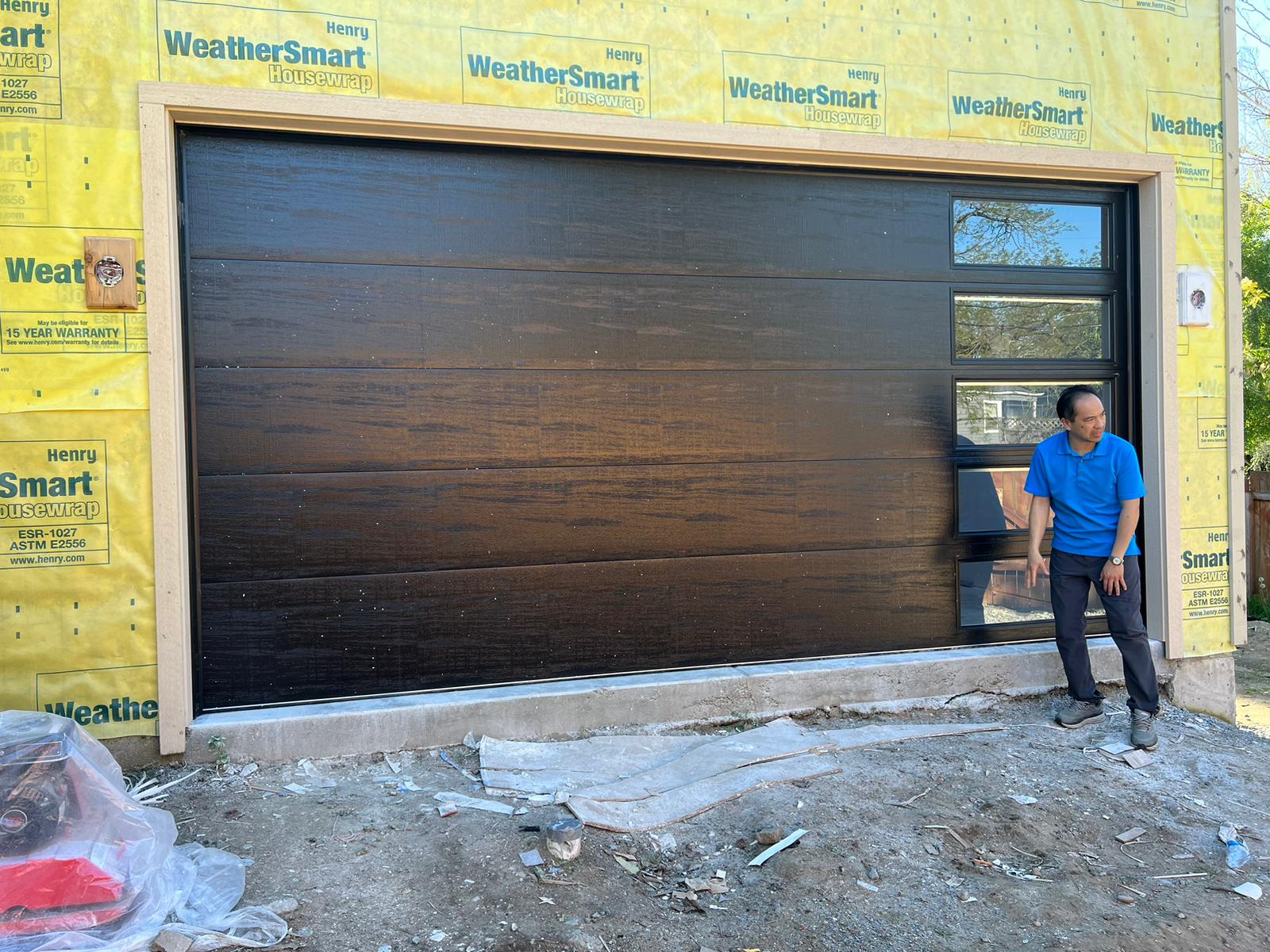 Benefits of Hiring Professionals For Garage Door Repair and Installation 
Hiring professionals of AAA Garage Door for garage door repair and installation service in Federal Way, WA, has three key benefits.
✓ Safety 
Garage doors are generally very heavy, and when attempting to fix the door on your own, you could injure yourself. Our professional garage door technicians will complete all garage door repairs or installations efficiently and safely.
✓ Saves Time
AAA Garage Door not only ensures your safety but also saves time. Repairing or installing a garage door is complex and can be time-consuming if you're inexperienced at it. Our 24/7 garage door repair service in Federal Way ensures your garage gets fixed quickly.
✓ High-Quality Workmanship
With AAA Garage Door, you can expect high-quality workmanship. Our technicians take pride in their attention to detail, and we also provide a 90 day workmanship warranty on our garage door repair services in Federal Way, WA.
Garage Door Options Available for Installation in Federal Way, WA
If you require garage door installation in Federal Way, WA, look no further than AAA Garage Door. Our extensive garage door options ensure you find the perfect fit per your budget and demand for functionality. 
✓ Wooden Garage Doors – If it is the elegance you want, then we have a range of beautiful wooden garage doors that make your property look warm and elegant. Our wooden doors also come with exquisite designs to improve the aesthetics of your property even further.
✓ Steel Garage Doors – If you're seeking strength and durability over looks, then our steel garage doors are an excellent choice. They offer enhanced security and protection for your property. Furthermore, steel garage doors come in different thicknesses and insulation options. 
✓ Aluminum Garage doors – These doors are great if you're looking for a lightweight and corrosion-resistant option. They are available in various finishes/colors to complement your property's design.
✓ Fiberglass Garage Doors – If you want low-maintenance garage doors, then they are a great option! These doors can resist dents, rust, and other forms of damage.
Additionally, when you select AAA Garage Door for garage door installation in Federal Way, WA, you can choose from various functional styles. They include–
✓ Section Doors that open vertically 
✓ Roll-Up Doors that save space
✓ Swing-Up Motion Doors for a unique look
✓ One-Piece Doors for a classic touch
AAA Garage Door stands behind the quality of our products and services by providing manufacturer's warranties for 1 year (depending on the material). We value your confidence in our services!
Why Choose AAA Garage Doors Services?
At AAA Garage Door, we dedicatedly provide our customers with outstanding garage door installation services. 
✓ Skilled Garage Door Installation 
Our team of experienced professionals excels in garage door installations, ensuring precise fitting and delivering long-lasting results. With their expertise, you can expect a smooth and efficient operation of your newly installed garage door.
✓ Flexible Scheduling 
Our team understands the importance of your time and strives to provide you with a convenient experience. That's why we offer flexible installation appointment times to accommodate your busy schedule. We aim to work with you to find a suitable time slot for the installation that aligns with your availability.
✓ Quick Turnaround
In most cases, our highly skilled technicians can complete the garage door installation within a day, minimizing disruptions to your daily routine. Our efficient service allows you to swiftly enjoy the benefits of your new garage door without prolonged inconveniences.
✓ Warranty & Customer Support 
All our garage door installations have a warranty for extra peace of mind. Furthermore, our customer support team can always address any questions or concerns.
Experience Seamless Garage Door Solutions With Us
If you are facing problems with your garage door in Federal Way, AAA Garage Door is here to help. Don't hesitate to contact us for garage door repair and installation in Federal Way, WA. You can contact us at (206) 309-8798 or visit us at Federal Way, WA, to discuss your needs in person. We have professional garage door spring repair, openers and parts services as well. 
Areas We Provide Services In Federal Way, WA:
We provide our garage door repair and installation services in the following Federal Way neighborhoods:
Adelaide
Alderbrook
Buenna
Campus Highlands
Kitts Corner
Lakota
Laurelwood
Madrona
Marine Hills
Mirror Lake
Steel Lake Neighborhood
Twin Lake
Frequently Asked Questions (FAQs)
You need to fix your garage door or replace it if you notice the following problems–
There are dings and dents in your door

Your wood door is starting to rot and has holes, cracks, and peeling paint

Your door is starting to droop

When it opens or closes, your door vibrates or makes a lot of noise

Your door has damaged wires, cords, or components

It's very challenging to open and close your door

Your door either responds slowly or won't open or close

You have an old door
With their superior panel construction, steel guiding, and five rollers on each side, sectional garage doors provide the highest level of security and reliability. There are no leverage points for intruders to exploit because the panel is so strong. The system provides reliable protection against all types of intrusion, including brute force attacks. When properly installed, a sectional door displays no signs of weakness and acts as a strong restraint.
In Federal Way, WA repairing a garage door can cost $254 on average (per project). And replacing door panels can cost between $350 and $1,675 (per project). Repairing a single garage door track can cost around $220 to $330 (with labor charges). Additionally, replacing the roller can cost around $100 to $220 (per project). Once replaced, it can last up to 5-7 years. Also, repairing the remote of garage door openers costs between $100 to $350 (per project).
To repair a garage door panel, you need to follow the following instructions–
Place a new garage door bottom panel on the ground.

Attach both sides to the tracks using the vice grip.  

Position the new garage door section parallelly to the ground.

If necessary, drill the pane to accommodate the bottom brackets.

Then install the bolts (with flange nuts) on both sides.

To attach the cable to the bottom bracket, place the garage door panel on the ground

Vice-grip the bottom brackets and tracks with the rollers before moving to the upper section.

Mount the cable on the bottom bracket by approaching it from both sides.

Enter the bracket with the roller.

Secure the track by using hoists to lower the garage door on the bottom portion.

Secure the hinges to the bottom section before removing the clamps, vice grips, and hoists.

Reposition the opener and re-plug it.
The procedures for installing a garage door are as follows–
Install the drive unit and connect the track (the drive has a motor that lowers/lifts the door).

Connect each section of the track in a standard radius to a vertical lift track order.

Affix the mounting bracket to the end of the track and the beam above the door opening. 

Connect the motor to a ceiling beam precisely at the exact center of the garage. 

To power the motor, connect its ceiling-mounted wires to a wall switch.

Consider adding infrared sensors as they detect the objects trapped under the door.

Attach the garage door to the system for opening garage doors.
To install an exterior garage door, you should go through the following steps–
Over the opening, install a drip cap or Z-flashing. 

Raise the top leg behind the tar paper or house wrap behind the siding.

Put a bead of high-quality sealant across the floor along the new door.

Inset the new unit's top first and slide the exterior molding beneath the Z-flashing.

Press it to ensure the unit beds are firm in the caulk.

Ensure the threshold is at its level when the door is in the opening.

Shim below it until the bubble of the level is in the middle of the lines.

Near the top of the hinge side of the jamb, fasten the unit with a temporary screw.

Ensure the gaps between the door and its frame are uniform from the inside. 

After fastening the jamb to the studs, close the door.

 Look at the opening between the door and the jamb.

Run a tidy bead of caulk between the siding and the exterior trim.

The door is ready for paint and a lock once it dries.
The average installation time for a 16-foot door is 3–4 hours. Removing/replacing a door with one of the same type and size should take four to six hours. Installation of a large door typically takes longer than a smaller one. A larger, heavier door requires more work to move and install and might need more crew members.
To repair a garage door cable, you need to follow the instructions mentioned below–
Remove the garage door opener's power supply.

Place a clamp or vice grip to hold the garage door in the open position. 

Look for any signs of fraying, loose connections, or broken strands. 

To lose the tension on the cables, locate it first near the bottom corner brackets.

Then turn the adjustment bolt counterclockwise with an adjustable wrench.

Use pliers to release the retaining clip holding the cable in place.

Remove the clip and use the puller system to slide the cable out of the bracket.

To tighten the cables, turn the tension adjustment bolt clockwise.

Take out the vice grips or clamps that were keeping the door open. 

Lower the garage door gradually to see if it works.
Here is how to fix a dented garage door window:
Place a square of wood on the side of the extending dent.

Use an elastic hammer to tap the square to straighten out the dent.

Sand the indented area with some 120-coarse sandpaper to smooth out the surface.

Blend a suitable amount of auto body filler with hardener on some scrap cardboard. 

Use a plastic puffy to fill the indented area of the garage door.

Sand the repair with 12-grit sandpaper to make it even smoother.

Apply groundwork to the repair before painting it.

The garage door should remain open while the painting finishes to repair the dents.