Are your spring cables getting loose, or is your door heavy and opens only six inches? Do you hear squeaky noises in your springs? Looks like it is time to repair your garage door springs. Due to constant use, garage door springs can wear out or break over time, posing inconveniences and potential safety risks. We at AAA Garage Door in Mercer Island, Washington, know how important properly maintained garage door springs are.
Extension garage door springs, torsion garage door springs, and other spring-related problems are all areas of expertise for our professional services. With our dependable solutions for your garage door spring repair in Mercer Island, WA, you can take advantage of the convenience of an accessible, secure garage door that runs without any hassle. To receive first-rate services that improve the functionality and longevity of your garage door system, get in touch with us right away!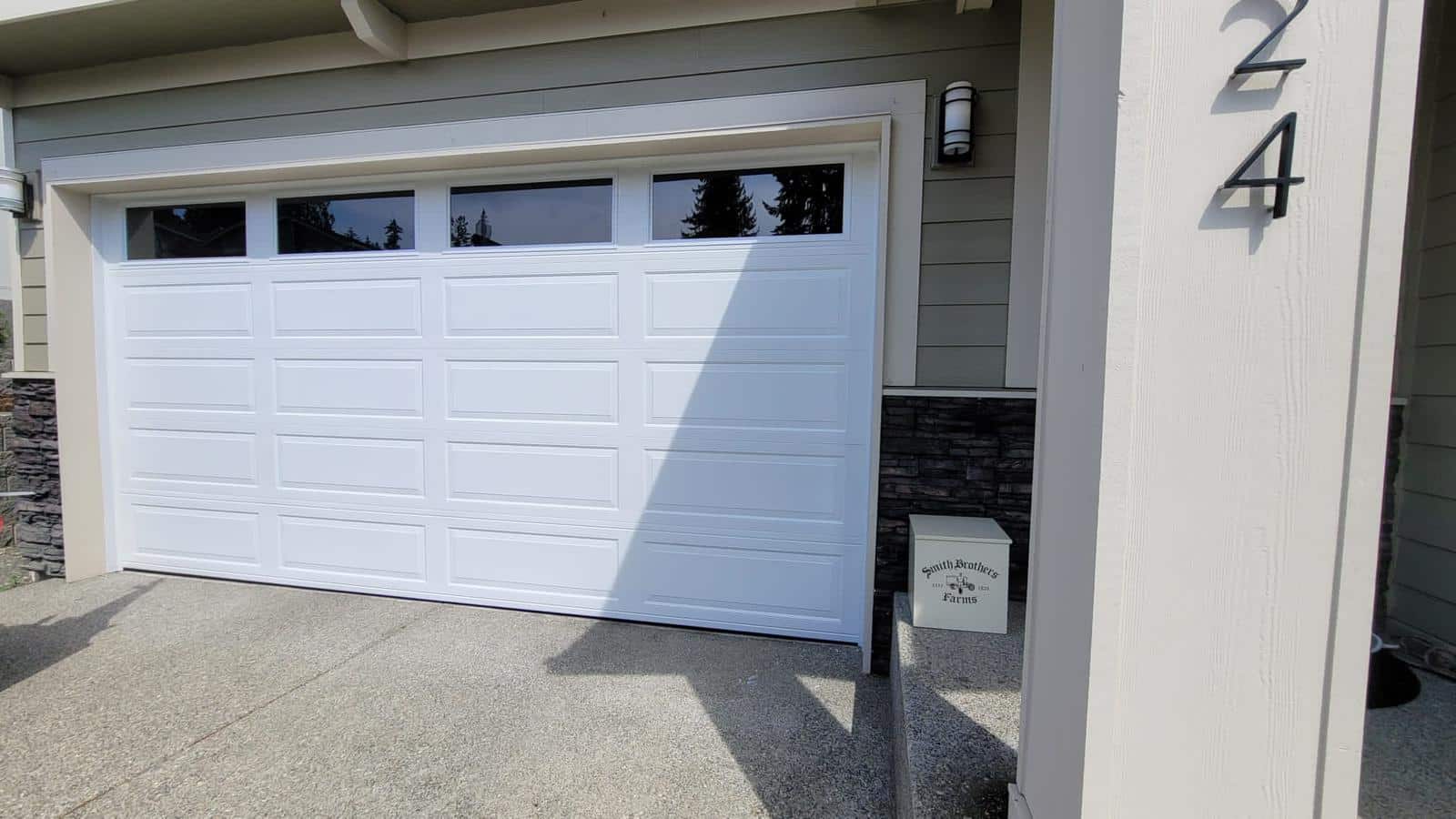 Damaged Garage Door Springs? We Have You Covered
We have considerable expertise in broken garage door spring repair in Mercer Island, WA and ensure your garage door operates without any issues. Following are some typical problems with garage door springs and the solutions our skilled technicians can provide–
Loose Springs – Having open springs can cause an unbalanced garage door movement, leading the door to fall. We tighten and adjust the springs to maintain proper tension and balanced door operation.
Broken Springs – Your garage door may become immobile if a spring breaks. Our knowledgeable technicians quickly swap out broken springs for high-quality replacements to get your door back in working order.
Springs that are worn out – Over time, wear can cause garage door springs to lose their tension. We carefully examine the springs and modify their tension to improve performance and increase spring life.
Rust and corrosion – The rust and corrosion weaken the springs' structural integrity. We lubricate, treat, and clean springs to prevent further deterioration and increase lifespan.
Noisy Springs – Springs that are grumbling or squeaking indicate too much friction and insufficient lubrication. Our experts apply the proper lubricants to reduce noise and guarantee smooth spring movement.
Cost Of Garage Door Spring Repair In Mercer Island, WA
To make wise decisions, you should thoroughly understand the garage door spring repair cost in Mercer Island, WA. The price may vary depending on the spring's type, the damage's degree, and the repair's difficulty. The total average price to fix a garage door spring in Mercer, WA, ranges from $120 to $350 (per project).
Some of the factors that affect the cost of garage door spring repair in Mercer Island are–
The severity of the spring's damage or malfunction significantly impacts the price. Minor adjustments such as balancing, winding, and lubricating or repairs can be less expensive and cost from $40 to $80 (per repair project), whereas extensive repairs can cost more.
Garage doors require one spring or two, depending on their design and weight. Hence, repair costs will vary depending on whether one or both springs need repair. Here's an overview of the costs–
| | | | |
| --- | --- | --- | --- |
| Type of Spring  | Springs (per spring) | Labor (per project) | Replacement Cost (per project) |
| Single Torsion | $30 to $70 | $110 to $200 | $140 to $270 |
| Double Torsion | $50 to $100 | $150 to $250 | $200 to $350 |
| Single Extension | $20 to $40 | $100 to $120 | $120 to $160 |
| Double Extension | $30 to $50 | $130 to $150 | $160 to $200 |
Extension and torsion springs are the two main types of garage door springs. Torsion springs are widely popular in commercial and modern garage doors because of their durability and precision. Extension springs counterbalance the garage door's support, making it perfect for residential purposes. Torsion springs for garage doors range from $30 to $100(per spring), and extension springs from $20 to $50 (per spring), respectively. Replacing torsion springs can cost $140 to $350 (per project), whereas replacing extension springs can cost $120 to $200 (per project).
Emergency repair services may charge you from $500 to $1000 (or more) if you need immediate assistance with a broken garage door because of the quick response.
Skilled technicians with garage door spring experience ensure proper diagnosis, repair, and installation. Labor costs differ depending on the complexity of the repair and the technician's level of expertise. It can cost $25 to $50 per hour (or more depending on the project).
Before beginning any repair, AAA Garage Door provides transparent pricing and a thorough assessment. Our goal is to provide cost-effective solutions without sacrificing service quality.
We Repair All Kinds Of Garage Door Springs In Mercer Island, WA
Your garage door will operate perfectly because AAA Garage Door has the knowledge and experience to handle various garage door spring repairs in Mercer Island, Washington. Some of the many types of garage door springs that our knowledgeable technicians can successfully repair are–
Extension Garage Door Springs
Older garage door systems frequently use extension door springs, which expand and contract to help move the door. We specialize in fixing issues with extension springs to ensure your garage door operates securely and effectively. Here are some of the extension garage doors that we are happy to fix–
Open-looped ends – These springs don't require opening the eyebolt or taking apart the pulley. This extension spring is the simplest replacement.
Double-looped ends – This spring has two coils at its end that connect to the pulley and eyebolt, making it stronger than springs with double-looped ends.
Clipped End – These springs are the strongest ones available. The spring is put under the least amount of strain by the clips, which prolongs the spring's life.
Torsion Garage Doors Springs
For their sturdiness and precise balancing abilities, tension springs are quite popular. Our technicians have experience identifying and resolving torsion spring-related problems, ensuring your garage door opens and closes easily. Some of the types of torsion garage door springs are–
Early Set Torsion Spring – The torsion shaft's middle contains early set torsion springs. Close to the cable drums, different types of hardware get installed on each end of the shaft.
Steel Rolling Door Torsion Spring – Generally, torsion springs for steel rolling doors get installed in torsion barrels that support rolling doors in buildings.
Torque Master Torsion Spring – These springs are the safest torsion springs available. Each torsion rod's winding cone inside the shaft holds them in place.
More Than Just Repair – We Offer Spring Installation & Replacement in Mercer Island
AAA Garage Door offers comprehensive replacement, installation services, and garage door spring repair in Mercer Island, WA, to meet your needs. We take a meticulous approach to installation and replacement, prolonging your garage door system's useful life and dependability.
Garage Door Springs Installation
At AAA Garage Door Services, our knowledgeable technicians excel at offering first-rate spring installation services. Our installation process includes the following–
Assessment – Our experts will consider your garage door's characteristics, weight, and dimensions to choose the best spring type and size.
Professional Installation – We will carefully install the selected springs to ensure proper alignment and tension for maximum functionality.
Testing – To ensure smooth operation and even balance, we rigorously test the garage door's movement after installation.
Safety first – Installing garage door springs can be dangerous due to the high tension. Safety is a top priority for our technicians as they complete the installation.
Garage Door Spring Replacement 
Garage door springs may deteriorate or snap over time, impairing the door's functionality. Our replacement services intend to improve your garage door's functionality:
Complete Assessment – Our knowledgeable technicians will evaluate the state of your current springs to determine whether replacement is required.
Good Springs – We use premium springs from reputable suppliers to ensure sturdiness and longevity.
Expert Substitution – Our technicians will carefully remove the old springs and expertly install the new ones to ensure proper tension and alignment.
Testing and Balancing – To ensure the door opens and closes smoothly, we will carefully balance it and run extensive testing.
In Mercer Island, Washington, AAA Garage Door is your go-to company for installations, replacements, and repairs. Your garage door will continue to be a valuable addition to your house thanks to our commitment to providing high-quality garage door spring repair service in Mercer Island.
Why Choose AAA Garage Door For Spring Repair Services
AAA Garage Door is the best option for ensuring the dependable performance of your garage door springs. Here are some strong reasons for why our service is great–
Various Spring Types – We specialize in repairing different spring types, including extension and torsion springs. Our all-inclusive approach guarantees that all your garage door spring requirements are satisfied.
Highly Trained Professionals – Our expert technicians have all the skills, tools, and great experience of fixing different garage door spring problems. We meet your repair requirements with accuracy and skill thanks to our technicians' extensive knowledge. Our services also extend to garage door repair and garage door opener repair.
Service on Time – We know how inconvenient a broken garage door can be. We prioritize prompt assistance to restore your garage door to operation as soon as possible.
Exemplary Craftsmanship – Our work demonstrates our dedication to quality. To guarantee the longevity and effectiveness of your garage door springs, we only use premium materials and follow best practices in the industry.
Pricing Transparency – We support honest and reasonable pricing. Our thorough cost breakdowns guarantee you know the costs before any work gets done, building trust immediately.
Complete Package – We provide various garage door spring services, including installations, repairs, and replacements. No matter the problem's complexity, we have the know-how to provide workable solutions.
Customer satisfaction – About our service, our delighted customers speak highly. We prioritize your needs and ensure you're happy with the repair work's outcome and with the quality of garage door parts.
Contact Garage Door Spring Repair Experts in Mercer Island, WA
Avoid letting a broken garage door spring ruin your schedule. Get specialized assistance from Our team of experts will undertake your spring repair in Mercer Island, WA, effectively and precisely. Contact us at (206) 309-8798 and schedule an appointment with us today. We can make your garage door springs reliable and functional once more, giving you peace of mind.
Our Service Areas In Mercer Island, WA Cover
Beaumont
Fortuna
Mcagilvara
Mercer Heights
Mercer Island Town
Roanoke
Frequently Asked Questions (FAQs)
Take the following steps to repair an extension or torsion garage door spring–
Detach the first spring from the bracket (it's the furthest from the door!)

From the bracket, disconnect the lift cable

Unthread the loose cable from the pulley

Detach the safety cable, then run through the spring

Insert the new cable through the spring and fasten the ends through the brackets

Attach the lift cables back to the bracket

Plug back the door opener and remove the clamps

Test the functioning of the door by opening and closing it
Yes, it is absolutely necessary to replace both garage door springs! If you return only one spring, an imbalance arises as the other spring has to endure all the strain. Moreover, replacing only one spring causes wear and tear on the garage door, leading to potential injuries. By replacing both springs, you can ensure the door's smooth operation. Similarly, you can also reduce the risk of the failure of the other spring shortly after replacement.
Some common reasons for garage door spring breakage include the following:-
Corrosion

– Exposure to moisture and changing weather conditions can lead to rust and corrosion. This exposure weakens the spring's structure and makes it prone to breaking.

Natural Wear

– Springs have a limited lifespan due to the repeated strain they undergo. With regular use, they weaken and eventually break.

Incorrect Spring Type or Size

– If the springs don't get properly matched to the weight and size of the door, they can wear out faster due to improper tension distribution.

Poor Maintenance

– Lack of regular lubrication can accelerate wear and reduce the spring's lifespan.
If you have the following signs, then it's time to replace your garage door springs-
Uneven Door Movement

– When one of the springs gets weakened or broken, then the door opens or closes unevenly.

Visible Damage

– If the springs show obvious signs of wear, such as gaps or cracks, you must replace your spring as soon as possible.

Door Has Trouble Staying Open

– A broken spring may be to blame if the door has trouble staying open or closes too quickly.

Excessive Noise

– Squeaking or creaking noises while the door moves could indicate that the springs need replacing.
The fact that garage door springs weigh up to 400 pounds makes them dangerous. They assist in moving the garage door and are, therefore, its biggest moving component. Garage door springs are under great tension, and releasing them incorrectly without the right tools and training can result in mishaps and injuries. Cases include head injuries, lacerations, and broken fingers.
Garage door springs can break for different reasons, including:-
Lack of Maintenance

– Lubrication and inspection during routine maintenance help extend the life of springs. Premature breakage can result from poor maintenance.

Poor Quality Springs

– Because they are less durable, springs of lower quality are more likely to break.

Improper Installation

– Using the wrong springs for the door's weight or performing an incorrect installation can hasten wear and breakage.

Extreme Weather

– Sudden temperature swings and moisture exposure can hasten corrosion and rust, weakening the springs.

Limited Lifespan

– Springs can only withstand several cycles before failing. Breakage is likely if they have reached the end of their useful life.