Are you currently dealing with the headache of a malfunctioning garage door? Are your garage door parts showing visible damage, like cracks and gaps? If so, AAA Garage Door is here to help with the highest quality garage door parts in Mercer Island, WA. We're bringing back the convenience to your garage door with parts like rollers, cables, drums, hinges, brackets, torsion springs, and extension springs. Let us enhance the functionality of your garage door without you having to worry about it anymore. From replacing broken springs to fine-tuning faulty openers, we'll do it all for you. Ready to leave behind your garage door-related frustrations?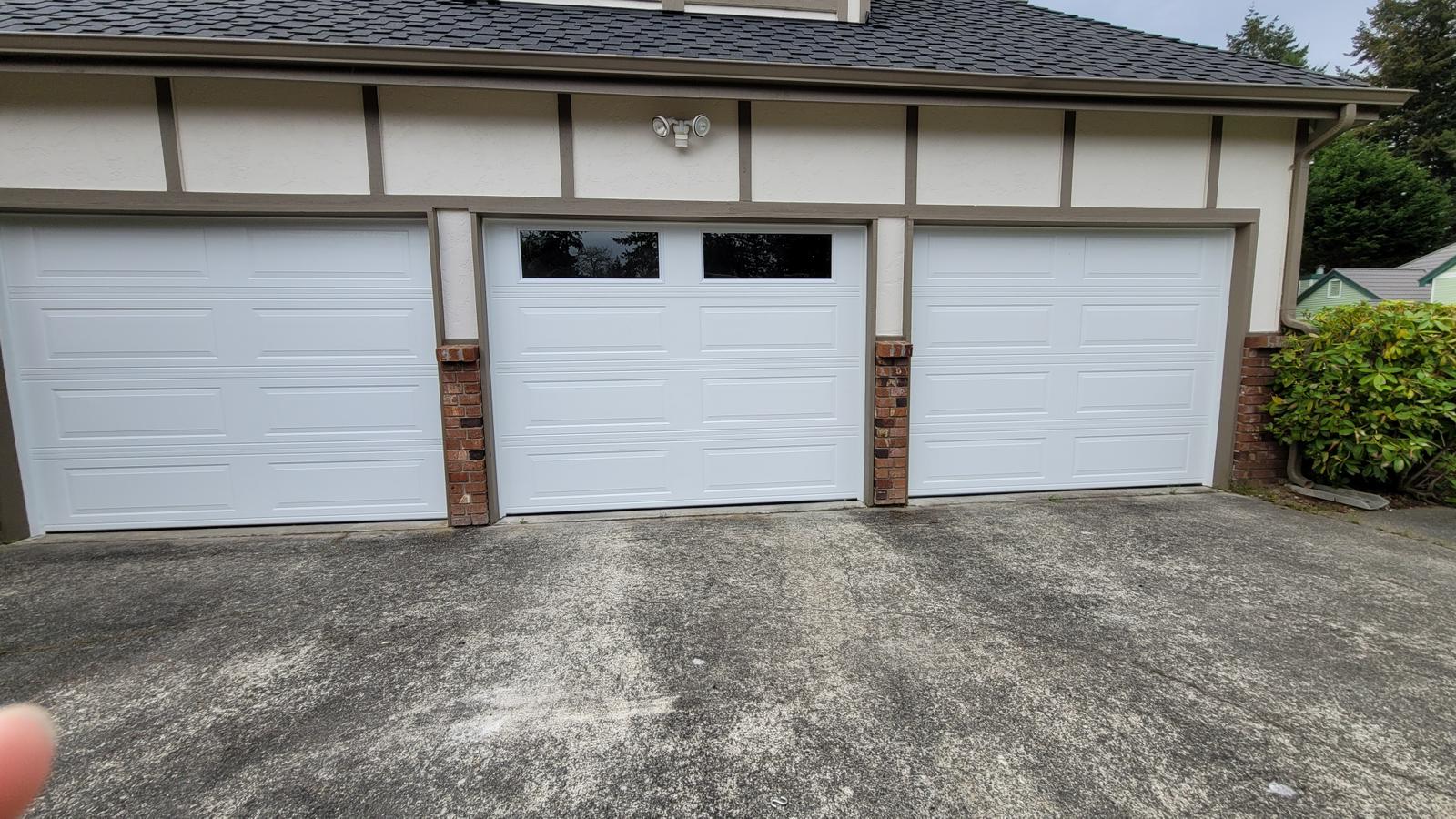 Find All Garage Door Parts In Mercer Island, WA, With AAA Garage Door 
At AAA Garage Door, we have experience handling garage door issues, including bent or damaged panels, misaligned sprockets, broken door cables, and non-functional openers. As such, we provide a variety of garage door parts in Mercer Island, WA, to satisfy all your garage door requirements.
Springs
We have a variety of springs, including extension springs and torsion springs, to suit any garage door brand you have. Furthermore, we make it a point to use only high-quality springs sourced from trustworthy manufacturers that have demonstrated their reliance and durability. We also offer services to repair garage door springs.
Torsion Spring –Our torsion springs are known for their durability and good value for money. They help to counterbalance the load of the garage door for a seamless opening and closing experience.
Extension Spring – Our extension springs can handle different light loads and specific garage door conditions for smooth operation. Our extension spring counterbalances the garage door's weight, making it easier to open and close.
Rollers
Rollers are responsible for allowing your garage door to move smoothly on the tracks. At AAA Garage, we offer rollers of all sizes and brands. The rollers we provide will improve the performance of your door by ensuring it opens and closes quietly and efficiently.
Cables
Flexible cables operate the door's opening and closing mechanisms. When the wheels of the roller turn, the wires get pulled upwards, enabling the door to move easily. AAA Garage Door offers excellent heavy-duty cable options for commercial and industrial garage doors.
Drums
Drums are round, metal-wheel-looking parts wrapped around the cables on a torsion spring door at each end of the garage door. Our garage door drums come in different sizes, ensuring that it helps to reduce the wear and tear on the door while it opens and closes properly.
Hinges
Garage door hinges attach a door to its frame and support the opening and closing mechanism of the door. We have hinges for every type of garage door and every size. You can choose hinges from us as we have various options and customize your security without sacrificing style.
Brackets
Garage door brackets help support your garage door's weight. It allows your garage door to operate smoothly. We have different garage door brackets, such as struts, spring anchor brackets, garage door opener brackets, and garage door roller brackets, for you to choose from.
If you want to purchase the best-quality garage door parts in Mercer Island, WA, look no further than AAA Garage Door!
Fix, Replace & Install Your Garage Door Parts In Mercer Island
At AAA Garage Door in Mercer Island, WA, we understand with different garage door systems, your needs for garage door parts are also different. Along with highly durable garage door parts, we also provide equally good services. Whether you need to repair existing components, replace worn-out ones, or want a brand-new installation service, we'll do it all for you–
✓ Garage Door Parts Repair
Does your garage door have the following problems?
Squeaky garage door rollers
Faulty openers
Damaged or frayed cables
Broken springs
Difficulty in opening and closing the door
Uneven or crooked doors
If you're dealing with these issues, it's time to fix your garage door system. Our experts can quickly identify and repair any garage door parts. Using modern tools and methods, we will guarantee that we repair your garage door parts and function for a long time. Whatever problems you're having with the components of your garage door, from spring repair to opener repair, our professionals will carefully fix them.
✓ Garage Door Parts Replacement
Sometimes, garage door parts become so worn out that they are beyond repair. If that's your situation, we're here to help with our flawless replacement services. They will assess the state of your garage door before starting the installation and make repairs as necessary. Furthermore, our professionals will walk you through each step if you need help deciding which parts to use during installation.
✓ Garage Door Parts Installation
Properly installing garage door parts is crucial to ensure the safety of your garage door. That's why our experts at AAA Garage Door offer unmatched and professional installation services. Before proceeding with the installation, they will check the current condition of your garage door and make repairs if necessary. Moreover, if you need to know which parts to choose for installation, our experts will guide you through every step.
Check For Garage Door Parts Warranty
When purchasing garage door parts, a warranty is a crucial factor to consider. You can ensure you're making a wise investment with a proper warranty. Here are some reasons why you should check for garage door parts warranty–
You become confident about the quality of the garage door parts
When sudden malfunctions occur, you can save money for repairs and replacements
Manufacturers offering warranty will offer reliable after-sales services
At AAA Garage Door, we want to ensure that you have peace of mind and financial protection for unexpected repairs when purchasing parts for your garage door. For this reason, we provide a 90-day labor warranty and a 1-year warranty on repair parts. You can be sure you're making the best decision when you choose us.
Cost Of Different Garage Door Parts in Mercer Island, WA
Understanding pricing from different service providers can be quite a task. That's why we've compiled a list of the approximate prices of garage door parts in Mercer Island, Washington–
Garage Door Parts

Cost

(per material)

Cost Including Labor 

(material + labor)/door parts

Springs (x2)

$30 to $200

$150 to $350

Roller

$20 to $40

$90 to $200

Cable

$15 to $50

$90 to $350

Panel

$150 to $1,000

$350 to $1,500

Bracket

$5 to $40

$80 to $150

Opener

$30 to $40

$125 to $350
Panel Design, Colors, and Glass Design Options For Garage Doors
Panels come in six different styles, allowing you to choose the perfect match for the design of your home. Panel designs available for garage doors in Bellevue include:
Short-raised (traditional)
Long-raised (ranch)
Country
Cottage
Shaker
Flush
The panels are available in seven standard colors, ready for the personal touch to enhance the look of your home.
White
Sandstone
Almond
Brown
Black
Medium Wood Grain
Dark Wood Grain
Note: Medium and Dark Wood Grain colors are not available for Flush design.
Furthermore, our glass options for the garage doors that you can choose from are as follows:
 ⅛" Clear
⅛" Bronze
White Laminated
Black Laminated
Satin Etch
Frosted Gluechip
⅛" Greylite
⅛" Mistlite
⅛" P516 Obscure
Contact us for sample pictures for your design choice, and you can also visit us for samples for your garage door. We offer a range of panel designs, color, glass, and window options.
Why Choose AAA Garage Door For Your Next Garage Door Part Purchase?
Choosing the right service provider when purchasing garage door parts can be confusing. But to choose the best one is extremely important to ensure you're making a wise investment. By selecting us for your next garage door part purchase in Mercer Island, WA, you will get benefits like–
Expertise of seasoned professionals
Our garage door specialists have extensive experience fixing, replacing, and installing garage door parts. Not just that, they also have high knowledge about garage door parts. At AAA Garage Door, we consistently update ourselves with the most recent industry standards to ensure we provide our customers with the best solutions in Mercer Island.
Solutions that fit within your budget
At AAA Garage Doors, we strongly believe that you shouldn't trade off quality for price. That's why our garage door parts don't cost a fortune. Moreover, we are extremely transparent about pricing; therefore, you don't need to worry about hidden fees.
24/7 emergency accessibility
We know that a garage door crisis doesn't wait around for anyone. That's why our services are accessible 24/7 in an emergency. You can contact our team immediately if you have a garage door emergency. We'll send our professionals right away to your location.
Incredible-quality products
At AAA Garage Door, we pride ourselves in providing 100% original garage door parts from trusted manufacturers. By delivering high-quality components, we ensure your garage door has a long life span. Moreover, damages and repairs aren't frequent when you use our products.
We have high regard for your satisfaction at AAA Garage Door. We offer the best solutions to your diverse needs, from garage door parts repair to installation to replacement. We are proud to receive high ratings from credible platforms like Angi and Yelp for providing excellent customer service to our clients.
Contact AAA Garage Door For Genuine Garage Door Parts In Mercer Island, WA
AAA Garage Door is your ultimate destination if you want to buy authentic parts for your garage door. With us, you can maintain the quality and longevity of the parts. Moreover, our excellent repair, replacement, and installation services are here to fulfill all your garage door parts requirements. Trust us for genuine garage door parts in Mercer Island, WA. Call us today at (206) 309-8798 and schedule your first appointment!
Areas We Cover In Mercer Island, WA
Beaumont
Fortuna
Mcagilvara
Mercer Heights
Mercer Island Town
Roanoke
Frequently Asked Questions (FAQs)
Yes, garage door openers and springs have replacement parts. Garage door openers have a life of 10 to 15 years, whereas garage door springs last for 7 to 10 years. Sometimes, these parts may not last their life span due to accidents, wear and tear, and a lack of maintenance.
You can find the best garage door spare parts in Mercer Island, WA, at AAA Garage Door. We've got you covered whether you need springs, openers, cables, drums, or any other garage door parts. Our collection only keeps parts from well-known brands and trusted manufacturers. The durability and dependability of these components increase the security of your garage door. Additionally, we provide a 1-year warranty on repair components, so you won't be responsible for unforeseen repairs.
Yes, the garage door parts available in AAA Garage Door are 100% original. You can check the originality of the parts by–
Looking at the documentation that came along with your professional installation service

Checking brand stamps and stickers containing supplier information on your garage door parts

Assessing the packaging that the parts came in

Evaluating the quality and finish of the parts
Absolutely! At AAA Garage Door, we not only provide authentic garage door parts, but we also offer excellent installation services. Our professionals can assist you if you want to replace damaged parts or update your current garage door system. They use the best tools and procedures to ensure a secure installation. They will also provide you with suggestions on the maintenance of the parts.
At AAA Garage Door, there is no policy for return on the garage door parts. We do not accept items for refund, exchange or credit unless merchandise is defective or misrepresented.