The Garage Door Opener Saga:When it breaks, it takes up all your morning because the door won't open or close, open in reverse, or make unusual noises! Well, AAA Garage Door heard you. We specialize in providing superior and affordable garage door opener repair and replacement in Everett, WA. For that, AAA Garage Door has kept an inventory of an extensive selection of openers like Belt driven openers, Chain driven openers, Screwdriver openers, Wall-mount openers, and Jackshaft openers that can perfectly fit your home's or business's garage doors. Want to fix your garage door openers in Everett, WA? – Call AAA Garage Door. We just want to give you a hassle-free garage door experience!
Get Premium Garage Door Openers In Everett, WA 
Have you been thinking about installing or replacing a garage door opener? If the answer is Yes!, then AAA Garage Door has you covered! We specialize in providing various opener models to ensure the right solutions for every one of our customers. Our garage door opener and garage door parts selection includes the following–
Belt-Driven Openers – These openers are comparatively more silent and operate more smoothly. These openers are ideal for homes with living quarters near the garage.
Chain-Driven Openers – These garage door openers are dependable, cost-effective, and perfect for large or heavy garage doors.
Screw-driven openers – It only has a few moving parts and requires very low maintenance. These openers are considered great long-term investments.
Wall-Mount Openers – The design of these openers provides overhead room experience. It has a sleek appearance and is extremely efficient and functional.
Jackshaft (Direct drive) Oeners – Its side-mounted design can easily lift heavy or oversized garage doors. It also has unique garage configurations and is quite space-saving!
Smart Openers – You can use a remote control or a mobile device to activate smart openers connected to your smart home system.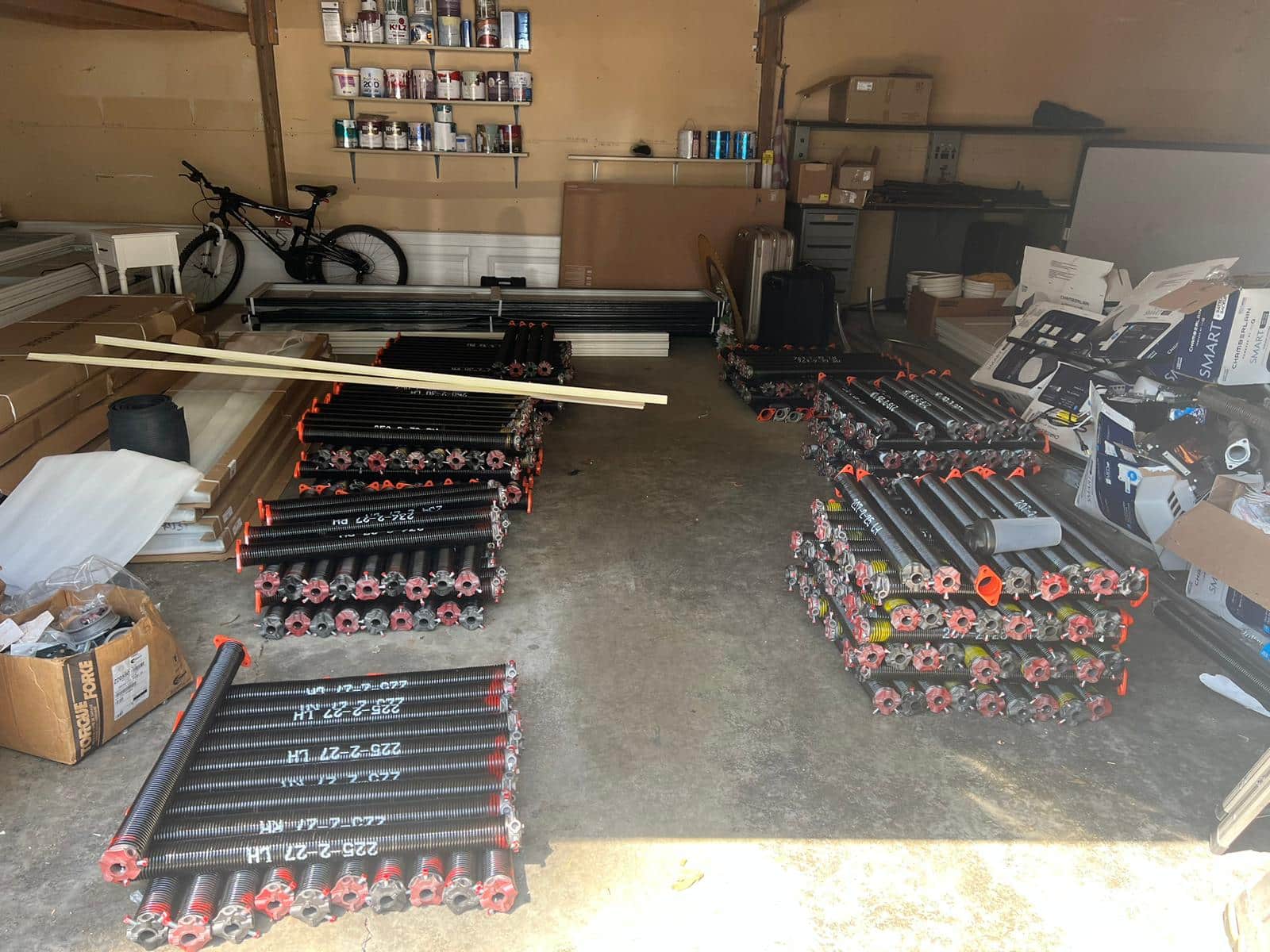 Garage Door Opener Service Costs In Everett, WA 
An average professional garage door opener installation costs $600 to $1,080 (per project) in Everett, WA. For garage door opener installation, the labor cost is $65 to $85 (for 2 to 6 hours), and the material (i.e., opener) costs $818 to $1,000, depending on its type. A total garage door opener installation cost depends on the type of opener, labor in terms of the installation difficulty, and the type of garage door.
Here is a quick cost overview of garage door opener installation, repair, and replacement in Everett, WA, as per its type–
Type of Opener

Installation Price

(Per Opener)

Repair Price

(Per Repair)

Replacement Price

(Per Replacement)

Belt Driven Opener

$450 to $700

$80 to $250

$400 to $900

Chain Driven Opener

$300 to $600

$75 to $200

$350 to $850

Screwdriver Opener

$350 to $700

$85 to $225

$375 to $875

Wall-Mount Opener

$400 to $800

$100 to $300

$300 to $900

Jackshaft (Direct Drive) Opener

$600 to $1,000

$125 to $350

$500 to $1,200
Note: The prices mentioned above are just a rough estimation. So call us if you want to know the exact cost!
As per these scenarios, the garage door opener service costs (Installation/Repair/Replacement) in Everett, WA, go higher or lower–
Prices Are Higher If–

Prices Are Lower If–

Your garage door needs more than one opener installation.
The electric outlets are not quite accessible.
The opener has a battery backup.
Your opener has 1+ horsepower
The opener needs a complete replacement.
You live far away.

Your garage door needs only one opener installation.
The electric outlets are accessible.
Your opener doesn't require battery backup.
The garage door opener is less than 1 horsepower.
There's no need to remove the existing opener.
Your location travel time is near.
AAA Garage Door offers 100% convenient garage door opener installation, warranty (manufacturer's and installation) coverage, and timely safety inspections to see if it's working fine.
We Also Offer Garage Door Opener Installation Services
You need a new garage door opener installation when–
Your garage door opener has stopped working.
It is 10+ years old.
The opener model is not available now.
The opener unit doesn't have photoelectric safety.
You just want to upgrade the opener to a newer advanced model!
AAA Garage Door takes great pride in providing high-quality, dependable, and efficient garage door opener installation in Everett, WA.
Here's how we assist you–
Selection – We'll help you choose the most suitable garage door opener based on your requirements, budget, and property. Don't worry about getting the materials yourself; we equip our technicians with the necessary openers and their parts.
Installation – Our professional team will install the opener expertly and safely while avoiding any disruption to your property.
Testing – We thoroughly test the system to ensure it functions correctly and safely.
Tutorial – We provide you with a quick tutorial on how to operate your new garage door opener, along with any necessary maintenance suggestions.
For professional, reliable, and efficient garage door opener installation, you know who to call – AAA Garage Door! We'll keep your garage door running smoothly and always looking good!
Damaged Garage Door Openers? We Fix, Repair & Replace
Don't lose sleep over your damaged garage door opener. Our technicians can diagnose and repair a comprehensive range of issues, such as (but not limited to!)–
Motor malfunction
Remote control problems
Sensor issues
Gear and belt replacements
For any garage door opener repair in Everett, WA – contact AAA Garage Door!
Searching for "Garage Door Opener Replacement In Everett, WA" because you are ready for an upgrade? AAA Garage Door can replace your garage door opener with a new, powerful unit that guarantees smooth operation and top-notch security. We have a selection of top-rated brands, including–
LiftMaster®
Genie®
Chamberlain®
Craftsman®
Additionally, we offer an extensive range of garage door opener parts and accessories to enhance your garage door system. From replacement remotes to wall consoles, you'll find everything you need to keep your garage door running smoothly.
Why Choose AAA Garage Door Services?
Here's why AAA Garage Door stands out among all of the other garage door services:
Customer-Centric – We value each of our clients. That's why by putting your needs first, we have earned our reputation of providing top garage door opener service in the Everett, WA, area.
Top-of-the-Line Openers – We offer a wide range of reliable, high-performance garage door openers. We ensure you can find the perfect opener match per your garage door needs.
Professional Installation 24/7 – Our experienced (i.e., 10+ years!) technicians have unrivaled expertise in installing garage door openers. Their installation is quick, and our team is always on standby 24/7 at your service!
Affordability – We believe that quality and affordability can go hand in hand, so we provide premium garage door openers and expert installation services at competitive prices in Everett, WA. That's why our services are accessible to everyone here!
Contact Expert Garage Door Opener Services in Everett, WA
Don't let a damaged or non-responsive opener disrupt your daily routine or put your vehicle and belongings at risk. Call AAA Garage Door at (206) 309-8798 or schedule an appointment for any expert garage door opener services in Everett, WA! We also provide garage door spring repair service and garage door repair and installation in Everett, WA.
Areas We Serve In Everett, WA:
We provide our garage door opener services in the following Everett, WA, neighborhoods:
Bayside
Boulevard Bluffs
Cascadeview
Casino Corner
Darlington
Delta
Delta Junction
Edgewater
Evergreen
Fairmont
Glacier View
Glenhaven
Intercity
Lowel
Northwest Everett
Pinhurst Beverly Park
Port Gardner
Riverside
Seahurst
South Forest Park
Valleyview
View Ridge Madison
Frequently Asked Questions (FAQs)
Many things can cause garage door openers to stop working, such as faulty power supplies, worn-out or damaged parts, misaligned sensors, issues with remote controls, and circuit board failures. AAA Garage Door can help you determine the exact cause of door opener malfunction. We will also further assist you in the repair/replacement process.
Increased noise during operation, slow or inconsistent response to commands, sporadic operation, failure to fully open or close the door, or recurrent component failures indicate that a garage door opener is going bad.
A properly maintained garage door opener can typically last 10 to 15 years. Garage door openers' longevity varies based on usage frequency, environment, and maintenance. However, if you see that your garage door opener is moving slowly, making loud noises, getting stuck, or opening and closing on its own, then you need a garage door opener replacement as soon as possible!
If you have a standard aluminum garage door, you need ½ horsepower garage door opener. However, if you have a one-piece oversized garage door for your home's main entrance, you need an opener with ¾ horsepower and 1 ¼ horsepower. If you have a garage door near your bedroom/living room, choose a belt or wall-mount garage door opener, as it operates quietly and offers minimal disturbance. If you want to access your garage even if there's a power outage, then choose the garage door opener with battery backup.
Given how well you have maintained your garage door, you can replace your garage door opener every 10 to 15 years. Remember to always properly lubricate the moving parts and balance the door correctly to maintain your garage door. If you properly maintain the openers, then it can last 20 years! Additionally, replacing your garage door opener with newer models is always a great idea. You will get advanced features like quieter operation, keypad units or fingerprint detection, battery backup, smart-home features, etc.
Absolutely! For any garage door, either light, large, heavy-duty, or even extremely tall models, you must hire a professional for garage door opener installation. Because professionals always have the appropriate equipment, skill, and manpower to do the job. In contrast, if you went ahead with the DIY garage door opener installation, you might tweak some springs in the process, which can cause serious injuries, so only try to do it if you have some experience handling garage doors.
Yes! However, if you have an outdated or worn-out garage door opener, replace the whole garage door opener unit because you might end up spending a lot of time and money trying to fix it. As well as in comparison, fixing multiple issues is far more costly than replacing an opener unit.
Here are some parts that come with a garage door opener–
A motor

Rail

Belt or chain (as requested)

Safety sensors

Wall control device

Galvanized Aircraft Cable (GAC)
It takes a maximum of 4 to 6 hours to install a garage door opener. The garage door opener installation duration depends on whether you are installing the opener to a new garage door or if you're replacing an existing unit.